My winning trip to Amsterdam
Day 1
(04:00) Somewhere across the planet
What a great feeling! Two weeks ago I got a call from my affiliate manager informing me that I'm one of the winners of the contest. The affiliate network I've been working with for more than a year, Advidi, ran a contest among their affiliates, called 'Kings of Advidi'. More than 200 people competed to win a 4-day trip to Amsterdam, and only 6 won. I am one of them.Four days to be spoiled and treated like a king! Ready to take off!
(14:30)  Arrival in Amsterdam
At the airport a driver was waiting for me. We headed to the hotel where I met my affiliate manager and we had lunch together. The hotel is awesome, I definitely recommend it! People from Advidi thought about everything – they booked a private wing at INK hotel, with a luxurious room for each of us. Even working space – my campaigns will still be running while I'm here. I love the drawings on the walls too. They represent an imaginary map of the city made by Jan Rothuizen, part of his book "The Soft Atlas of Amsterdam".
(19:30) Dinner time
The weather is not really on our side. Luckily, my affiliate manager borrowed me his winter jacket. People from Advidi seem ready to do everything for us to feel as comfortable as possible. A van left us in front of the restaurant where I met the other 5 affiliates, winners of the contest. It is great to be on a (non) rounded table with the rest of the 'Kings of Advidi'. What a great international team – Canada, Hong Kong, Malaysia, Czech Republic, Switzerland and Finland. This is real proof of the global recognition and success of Advidi. At that moment, I felt really proud to be part of this amazing group of people.
Day 2
(11.00) Visit at the Advidi office
What the…?! The office is impressive! People working here are warm and helpful, such a good vibe.
A table with freshly prepared breakfast is waiting for us. These guys have their own chef!
Iwert and Mike, the founders of Advidi, welcomed us as well.
(11:30) Welcome speech
You don't really hear every day how the whole industry started. Mike was an affiliate himself. Sharing his knowledge and the story of the beginning of Advidi definitely caught my attention. A few things that he stressed on were really important. For example, the fact that Advidi is a Dutch company, and that the Dutch law protects also the clients who work with local companies. This means that whoever does business with Advidi, not only because of this law, should not worry about the payments. Next to this, Advidi is prefinancing the affiliates, paying them even if advertisers are late with the payment.
After the speech we were supposed to have a bike tour around the city. But the weather was really (crap!!!) bad. That's why they had a plan B – a boat tour around the canals of Amsterdam. Hidden from the rain we enjoyed the incredible views of the city. Looking at European architecture really made my day. I'm surprised at how many stories the Advidi team knew about every corner of the city. They are passionate about Amsterdam, as much as they are about affiliate marketing.
(19.30)  If only restaurants had bigger glasses for beer!
This dinner was definitely a King's feast, we had steak, seafood, beef tartar, mackerel, mussels and lots of beer and wine! We stayed more than 5 hours talking about business and life in general. The only thing I've missed were bigger glasses for beer 🙂
After the dinner we wandered around the 9 Streets, passed through the Red Light district (oh, my !) and ended up in a bar.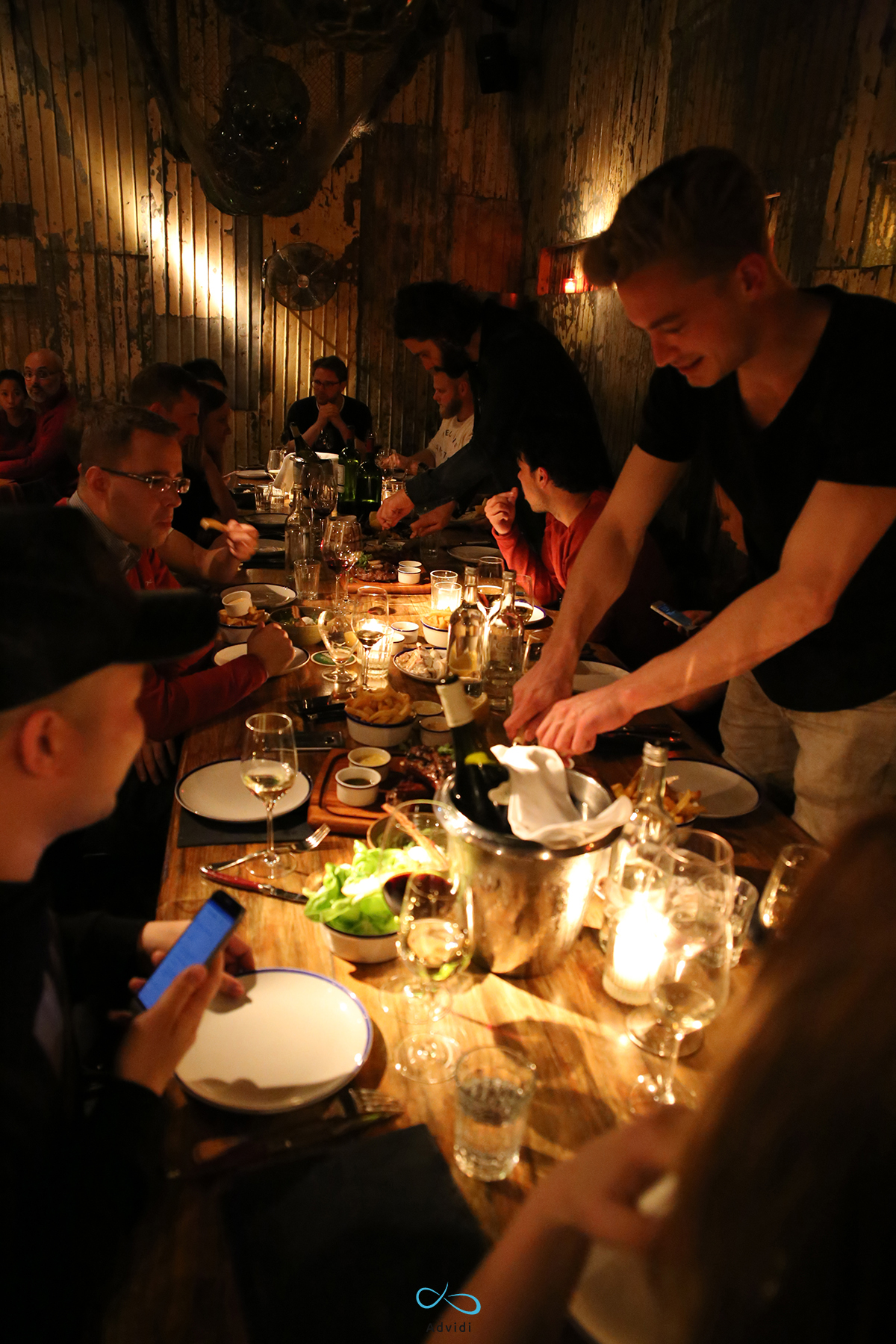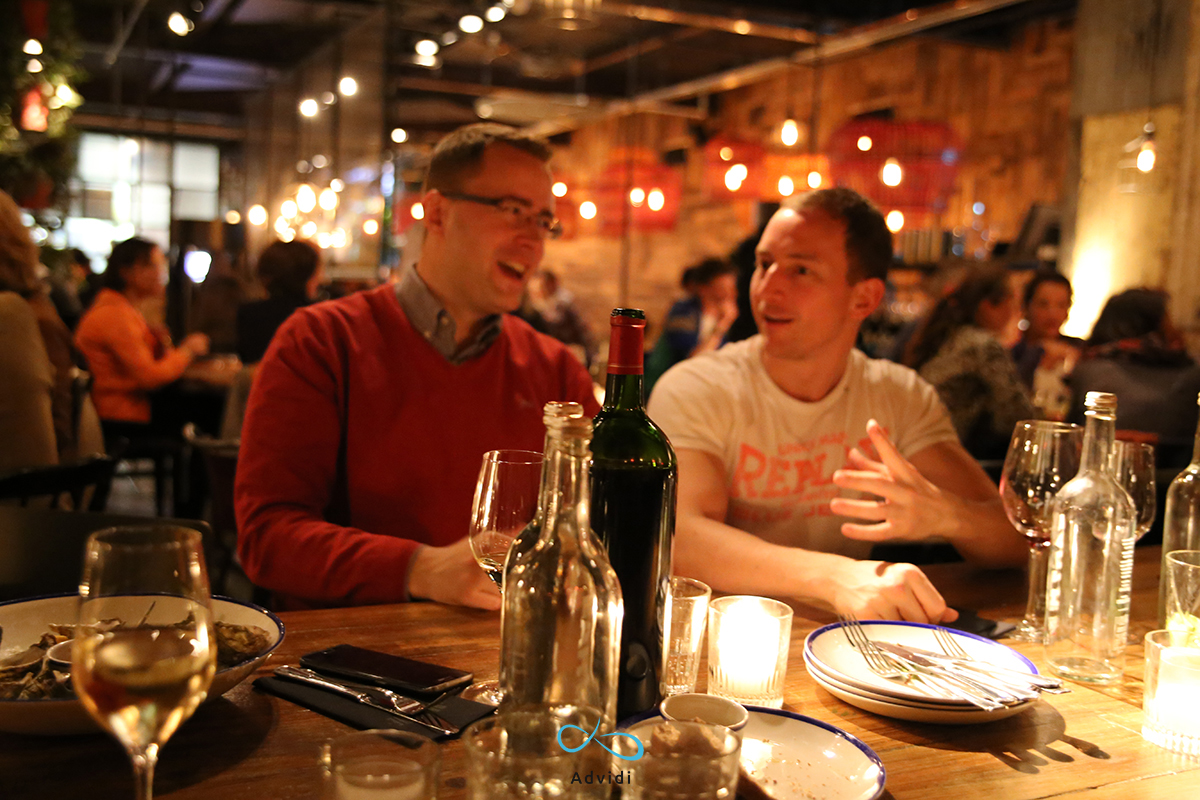 Day 3
(13:00) Take a bow, It's King's Day!
Seems that the best was kept for the last day.  A private boat party, in the middle of the city, on Prinsengracht. The Advidi team got it all well planned – unlimited booze, sandwiches, snacks. A hostess, cool DJ, orange t-shirts and crowns, and tents to be covered if it rains. This is crazy! Boats packed with people are passing around us. I'm having the time of my life.
(??:??)
Sorry, but don't really know what time I was back in the hotel. Guess why 🙂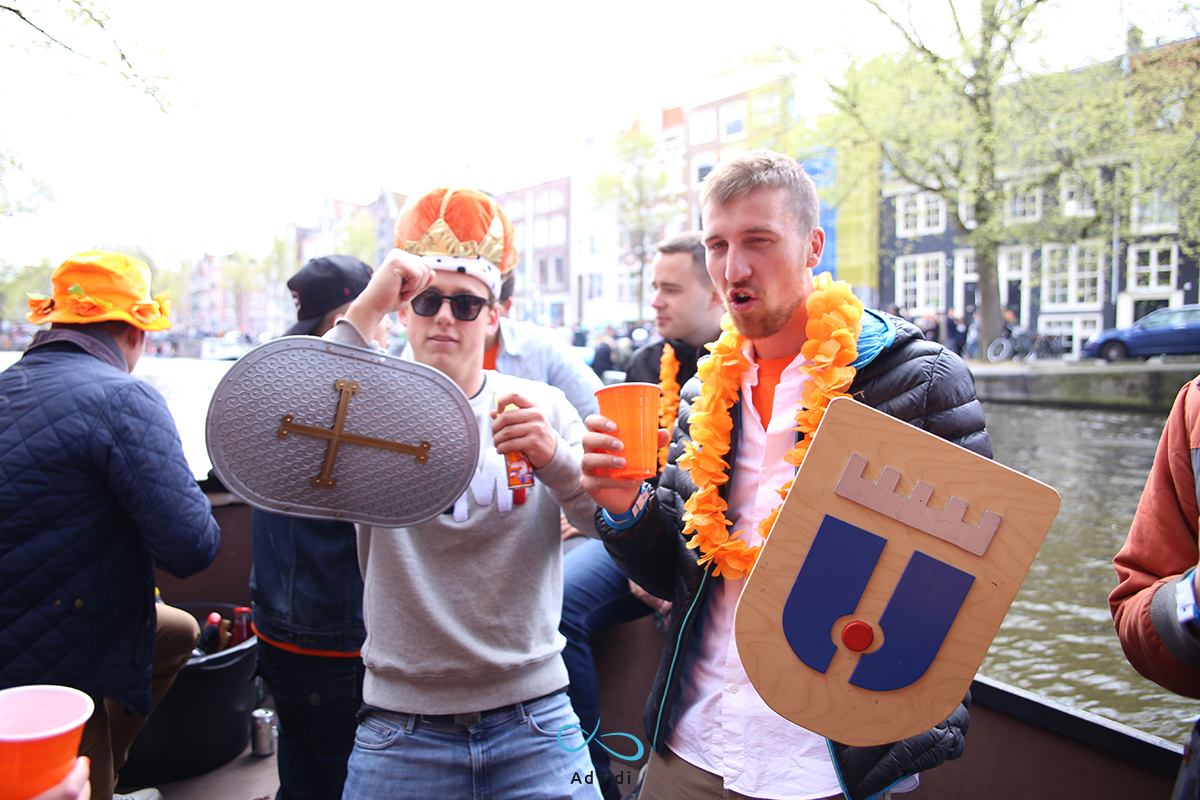 Day 4
(10:00) Time to go home
All good things come to an end. I've never had so much interaction with people from just one network during a meetup. Their main focus was to make our stay enjoyable and spoil us to the maximum. A lot of networks think that they can just bring people all together and then leave everyone on their own. Luckily this was not the case this time. They have set the mark rather high for any upcoming event. I hope I will meet them again in the near future!
***This story is based on feedback collected from the affiliates who participated in the event.