Mainstays of performance marketing
The finance and insurance vertical is one of the mainstays of performance marketing. There is fierce competition between financial institutions, and insurance companies, to attract customers.
In October 2019 we were excited to announce that we expanded our portfolio by adding new Finance and insurance offers.
A large number of Finance and insurance products are high-consideration offerings which means they require time and consideration before the consumer decides to purchase. 
So we understand why some ask the question: Why bother? Is it worth it? 
No vertical is without its challenges, but once you find your feet with the Finance vertical offers lots of opportunities for campaign expansion, advertisers are often launching several new products and services throughout the year in order to entice new customers.
With offers from all types of insurance and financial loans and debt, there is never a shortage of high converting offers. Although these offers work in a slightly different flow to our other verticals, the process is very simple.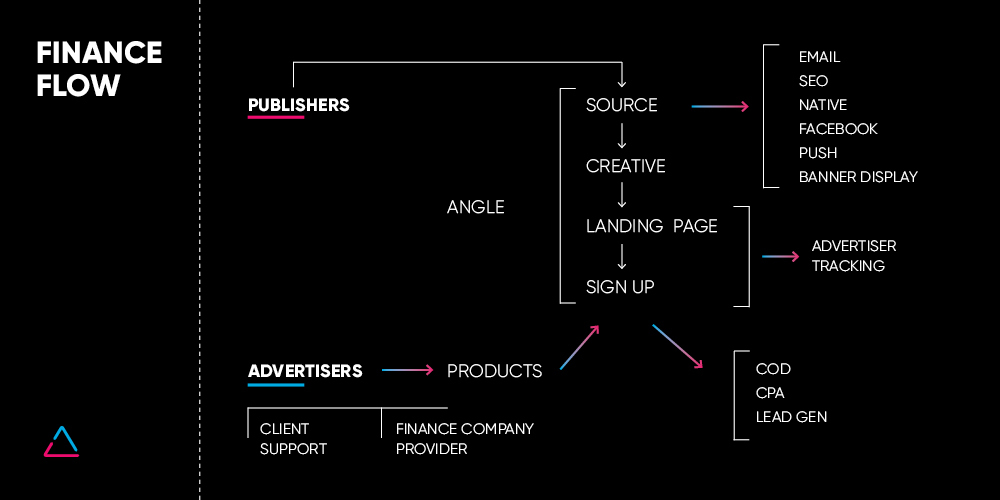 HOW THE FINANCE VERTICAL WORKS
The flow might seem complicated on paper, but when put into practice, it's quite simple. 
It all starts with an advertiser. The advertiser has a product or service they wish to sell. The most common sub-verticals with the fiance vertical are:
Insurance
Health

Home

Life

Funeral 

Automotive
Loans
Auto

Debt relief

Personal 

Payday
HOW FINANCE OFFERS ARE SOLD
Cost per action (CPA)
A CPA based advertising model is where the advertiser determines how much each conversion is worth. A conversion can be seen as a click, a lead or a sale.  These leads are "sold in real time" for either a flat CPA/fee or depending on the quality of a sold lead.  
Cost per lead (CPL)
CPL is where leads are qualified into genuine leads before being sold or converted. 
The majority of Finance and insurance offers are based on CPL. It looks like any SOI but with one page submit or click here to apply button. However, there's one additional step in the flow. The end user must pre-qualify on certain KPIs related to that offer.
For example, with a PayDay Loan, the end user must prove that they have an "x" amount of debt and are "currently employed". KPIs vary from one offer to the next but are far easier to target, as most people experience some form of debt, insurance needs, or are looking for loans. 
Our payment cycle is tailored to ensure optimal risk management and positive cash flow. 
HOW FINANCE OFFERS ARE MARKETED
So we now know the format through which Finance services are sold. It's now time for the affiliates to take control.
This is why advertisers should go to a trusted affiliate network. Networks have a strong understanding of the traffic and campaigns they can provide, and they already have affiliates who have experience with promoting Finance and insurance offers. 
You will find the Finance vertical to be more sensitive than some of the others because there is zero tolerance for fraud. Networks, like us, have a strict and thorough approval process for affiliates, as well as the precise Code of Conduct, to ensure the quality of the affiliates who join a network.
Due to the nature of the offers, the quality of traffic is more vital than quantity. Finance offers are historically better quality if they are available during office hours, Monday through to Friday. Leads sent in off-hours are historically low quality and hard for an advertiser to optimise.
Advidi is a strong example of a network that understands building relationships. We leverage the strength of our connections in each vertical and have built a community that connects the best people in the affiliate industry.  
Finance offers are global, but we find our top performing GEOS for Finance offers are particularly English speaking countries; US, UK, NZ and Canada. 
HOW ADVERTISERS DETERMINE TRAFFIC QUALITY FOR FINANCE OFFERS
It's clear by now what is considered valuable high-quality traffic in this vertical. 
Advertisers are looking for quality traffic, that has the following aspects: 
The leads contact information is valid/current 

Employed, especially for payday loans 

Currently insured 

Offer signup confirmation 

Qualify for an offer, depending on KPI's: For example, employed for payday loans, insured for insurance offers, have a car for auto offers, etc.

Eligible for offer depending on GEO (many US offers are either state targeted or excluding certain states)
WHO IS MASTERING THE VERTICAL
The Finance vertical provides a profitable, optimised flow that engages customers interested in the offers. That means the affiliate, advertisers and affiliate network work closely together to optimise campaigns.
The advertisers and affiliates who stand out and succeed with this vertical: 
Create quality offers that benefit customers 

Use honest, enticing creatives and angles that attract ideal customers

Target the customers who meet their KPIs 

Establish long-term relationships with networks

Find an angle that works and scale it rather than hopping from offer to offer

Avoid using faulty promises or tricks

Advertise with the right traffic source at the right time
THE FUTURE OF FINANCE
The Finance vertical has been around for over 5 years but has recently become more sort out in the past year in the industry. 
Regardless of an individual's interests, issues related to money will always be relevant. As an affiliate marketer, this opens doors to a range of opportunities across numerous demographics.
The possibilities are endless with the vertical. It's the age-old saying 'follow the money'. There is fierce competition between financial institutions, and insurance companies, to attract customers. Lucky for you, this results in high payouts for insurance and finance affiliate networks.
Whether you're looking for the next breakthrough offer, need high-quality traffic, or simply want to see which opportunities await you, reach out to your AM today.
Not an Advidi affiliate? Click here to sign up today.