Planning a trip to Amsterdam? You should!
And when you get here, you'll probably discover an interesting challenge… there's too much to do. As one of the top cities in the world, Amsterdam is packed with worthwhile ways to spend your vacation days.
So, how do you know which sights are worth seeing? Where's the coolest café? Which boat is best?!
Don't sweat it – the Advidi crew has your back. When we're not busy behind our desks, you can usually find us exploring every corner of this exciting maze we call home. We've picked up some pretty outstanding tips along the way – and we're happy to share our favorites with you!
To kick things off, we asked a few adventurous colleagues (Steffanie, Marlou, Pieter, Anetey and Ben) to name one – just one! – of their favorite places. It wasn't easy, but they managed somehow…
Marlou (Affiliate Manager): De Waterkant
Sticking with the water theme, we're headed to one of the top hotspots for a drink with good friends! De Waterkant isn't far from the center of the city, though it's just outside the chaos of the most popular districts. The Surinamese-inspired spot is ideal throughout the year, though it truly shines in the summertime.
Marlou, what makes it such a winner?
I recommend De Waterkant to everyone! It's a good place to have a drink and a bite, though be warned: it can get busy during the weekends, especially in the summer. Be prepared to sit on the edge of the canals if it's packed – that's what everyone does when the tables are taken.
It's my favorite place in Amsterdam thanks to its chill atmosphere, fun staff, and great selection of drinks – especially craft beers and gin & tonics. The food is great, too… Surinamese classics with a modern twist.
The location can't be beat, either. It's right by the water. The best part is that it still feels cosy even when it's busy. Everyone can enjoy the nice vibes and have a good time!
Pieter (Health & Beauty Team Lead): The EYE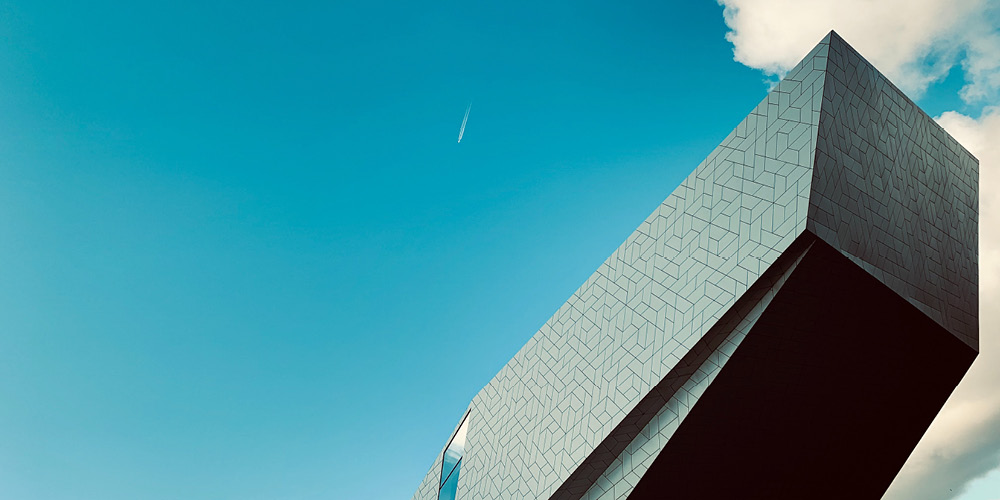 The EYE Film Museum is located just across the IJ waterfront – you can catch a free ferry from Centraal Station and get there in a matter of minutes. It's a continuation of the Dutch Historical Film Archive, which was founded in 1946 – this updated edition opened in 2009 and features a sleek design that appears to be a watching eye from across the water.
Pieter is a movie buff – and this is why the EYE is high on his list of must-see spots in town:
The EYE is an iconic landmark of modern architecture, so that's a draw in itself – but you can also catch both modern and classic films in its spacious theaters, including a unique, always-changing selection of international and Dutch movies.
Its museum also hosts artifacts from the beginning of Dutch filmmaking, back in the 19th century… so if you're interested in film history, you can't afford to miss it.
It's among my top places in Amsterdam because of the extensive terrace, waterfront location and great views it offers. It's the perfect place for lunch – and while you're there, why not catch a movie? Two birds, one stone!
Anetey (Market Analyst): Breakfast Club
Had a long night? Of course you did. Now it's time to recover properly. Amsterdam has many brunch options, but The Breakfast Club stands out for a few reasons.
We'll let Anetey tell you why he takes every chance he gets to drop by – but note that there are now multiple locations. If his description of the unique neighborhood entices you, be sure to check out the Haarlemmerplein 31 spot!
To those who are recovering from a night out in Amsterdam, I recommend delicious pancakes at The Breakfast Club.
For me it's in the best place to be in Amsterdam: close to Advidi and beautiful Westerpark. I often visit to get a feeling of the neighborhood vibe. It has a view of what I call miniature Amsterdam "Bellagio fountains" – you can usually find children bravely running through them on relaxed weekend mornings, and they are a nice accompaniment to the iconic Haarlemmerpoort arched gateway (a former excise post from Amsterdam's earlier days).
The place is always packed and they don't take reservations, but don't hesitate to join people sitting outside on a bench. It's worth the wait!
Ben (Copywriter): OT 301
OT 301 is definitely one of the better-hidden places on this list, but if you prefer alternatives to mainstream activities, it's tough to beat. The community center is run by volunteers, featuring a vegan restaurant (De Peper) and a rotating schedule of artsy activities.
Ben is our copywriter by day… but most Tuesday nights at OT 301, he transforms into something else…
I don't consider myself a ping pong legend – that's just what everyone else says. Thankfully, all skill levels are welcome at this off-the-beaten-path spot along the Overtoom, just down the street from Leidseplein.
The former squat has an artsy, anarchistic vibe, but don't let that turn you away. Everyone is welcome – and nothing beats Tuesday nights, when they clear out the bar area and set up 3 ping pong tables. Two are for competitions, but the real show is in the main area. Everyone plays at once, making a huge circle around the table. When you miss, you're out. The final two have a 3-point showdown for temporary glory – then it starts up again.
I was drawn to the place because of its inclusive, cheerful vibe (and cheap beers). I keep coming back because of all the great people who show up on Tuesdays – including tons of tourists and new faces. Everyone is welcome… but be ready to plug your ears when you go to the bathroom. (You'll see what I mean when you get there.)
Steffanie (Business Development Manager): The Canals
Amsterdam's famous canal belt (Dutch: "grachtengordel") has earned it the right to call Venice "The Amsterdam of the South" – perhaps a bit ambitious, but accurate enough with the right bias. They may not be a secret, but the best way to enjoy them is.
Everyone has their opinion – but we like Steffanie's:
I have too many favorite places to pick just one, but if I can choose "the canals" as my favorite place in Amsterdam, that should cover it. I don't know why, but I love water! And there are many great ways to enjoy the canals.
I recommend renting your own boat and being the captain. Boaty (English site: http://www.amsterdamrentaboat.com/) has good prices.
Of course, you have to prepare for your trip first. I always get my bites at the local Turkish supermarket or grocery store (olives, bread, hummus, etc) and bring a cool box with all kinds of drinks for a picnic on the boat.
After, I love to eat at the Portugese restaurant Girassol aan de Amstel – they have sun until late on their huge terrace. Or, you can order food directly to your boat from Pizzeria San Marco. [Note from the editor: you're cheating, Steff – that makes it three places now…]
Anyway, there's no better way to take in the city. My favorite part is seeing all the houseboats (Dutch: "woonboten") and taking in the calm water… you can't take a wrong turn, because the whole city is beautiful!
Okay! Now you know where to go in this a-maze-ing city – or at least where to start. Just don't get lost… (and don't worry – you will, and that's the best part).
We hope to see you cycling around our city soon!