Stefan Winter about Advidi:
My name is Stefan Winter, and I've been an Affiliate Manager at Advidi for two years now. The adventure and excitement of affiliate marketing pulled me in from the start – and the journey is far from over. Join me on a trip across the world as I show you what life is like as an affiliate manager at Advidi!
My role at Advidi
As most of you know, Advidi covers four verticals: Dating, Health & Beauty, Mainstream and iGaming. I was initially focused on Health & Beauty, but I've more recently invested time into Mainstream and iGaming to master those verticals as well.
Of course, my role goes beyond offering insight and optimization. I also represent Advidi at conferences around the world and set up personal meetings with my affiliates. As fun as things can get on Skype, most of the good stuff comes through meeting in person. That's why I took off from Amsterdam at the end of November and headed out for a month of nonstop travel, meetings and excitement!
The Schedule
I had a packed schedule ahead of me:
First up was Malta for the SiGMA conference (a major iGaming event).
After that, I came home for one evening… and then flew to Hong Kong for meetings and sightseeing.
From Hong Kong, I hit up Hanoi, Vietnam to enjoy street food and meet affiliates.
Next was Da Nang. This part was pretty relaxed, which was great, because the final destination would take all the energy I had left…
Last stop: Bangkok for Affiliate World Asia, one of the biggest shows in the industry.
Although I was sure I would have a great time, I knew it wouldn't be all fun and games. These trips take a lot of preparation. I worked closely with my team lead to identify goals for the trip and work out logistics – my interactions with affiliates are always natural, but it's good to come prepared with some insight to offer them.
Taking off! First stop: SiGMA in Malta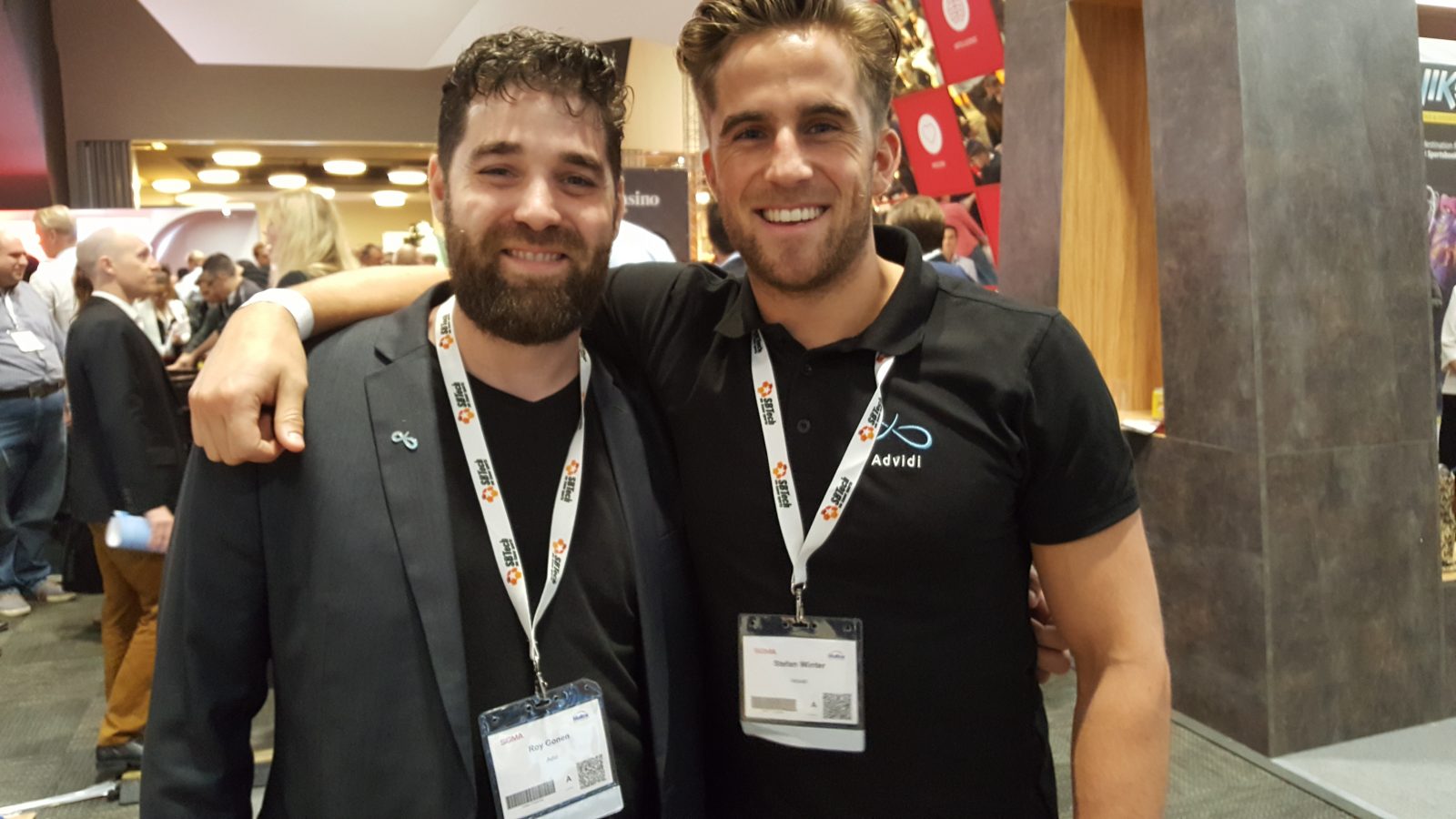 Great time in Malta with my colleague Roy
Wednesday, 16 November
The first week I went with Roy, our Senior Business Development Manager for the iGaming vertical, to SiGMA (Summit of iGaming, Malta). My main focus was to gather new information about the vertical. A lot of my affiliates that are/were active in the Health & Beauty vertical are using Facebook as source, which lends itself well to iGaming offers. I had to learn more to make sure our affiliates' ROIs keep going through the roof!
Not sure what happens during a convention? Here's my experience:
First, I check stats (obviously). I'm always on call to react to any issues, including networking with the Business Development team to jump on high-performing offers.
Next, I go to the gym. It's important to keep your routine, especially when traveling. Taking some personal time early in the day allows you to give full attention to business later on.
After getting a solid start to the day, it's time to hit the floor. They're typically packed with company booths and representatives discussing the opportunities they offer. I always schedule in time for specific meetings that I planned before the convention.
During shows like SiGMA, there's always a lot of stuff going on. At a show focused on iGaming, you can imagine there were some operators who promoted their business through gambling games. It's great to have something interactive along with the business talk. That's something we do at Advidi – always trying to offer something extra and interesting.
When the show ends around 5pm, it's time for networking drinks. There are always several events per night; I went with Roy to most of them and got in contact with all sorts of interesting people in the industry. Numbers get a lot of attention in our industry, but the connections we make are the true foundation of our business.
Asia bound! Hong Kong, here I come…
Friday, 18 November
I got back from the show in Malta on Friday at 9pm, and on Saturday I was already on a plane to Hong Kong. Yes, it was intense, but I love the fast pace of the business… and thank god we have sleeping pills for planes!
Traveling through time zones is always a struggle. My advice is to adjust to the time zone you are traveling to as soon as possible – even before your trip if you can. Get a head start by changing the time on your watch and sleeping at hours that are normal to your destination.
Sunday, 20 November
1:45pm (Hong Kong Time)
I headed to my hotel in the city center of Hong Kong to adjust before getting some work done, then I went to see the city. I have to say… the skyline of Hong Kong is insane. Walking there feels like walking in an urban jungle. I grabbed some street food along the way – I've learned that wherever you go in Asia, the food will always be good and people will always be friendly.
8:30pm
Time for the first dinner and drinks with affiliates! Always a good feeling to finally meet people you've had contact with for a long time on Skype. We enjoyed the food and then went to a rooftop bar for cocktails. Nights out with affiliates always involve a combination of work and private talk. It's really important to me that we keep this balance. When affiliates and I share a good relationship, it almost feels like we aren't working.
Monday, 21 November
9pm
I was a bit confused when I woke up, but the view from my hotel room made me realize it:
Oh, right – I'm in Hong Kong!
After a short gym session, I went to the other side of the city to visit a huge street market. It's clear that offline advertisers are still prevalent here.
4pm
Back at the hotel, I joined a Skype meeting with my team to define action points for the upcoming week. I find it very insightful when I get the chance to work from other time zones. It helps me find out what the biggest struggles are for affiliates in various areas around the world.
When my team went to lunch, I had dinner and then prepared for a night out with a group of affiliates. I've known those guys for more than a year already, and I know they're always down for a party. The night started with beers and some business talk, but then everyone was in to celebrate the success of last year with champagne at a club. It's always fun to check out the club environment in other cultures!
Tuesday, 22 November: Headed to Hanoi
10am
I caught my flight to Hanoi with only five hours of sleep (and a slight hangover). I had a great time in Hong Kong and I'm sure I will be back someday – and hopefully they'll take advantage of Advidi's open invitation for all our affiliates to visit Amsterdam!
5pm
I landed in Vietnam and, after some visa stuff, headed to the city. Because I was traveling the whole day, I blocked my agenda to work during that evening – but problems with my AirBnB meant I finally finished the stuff I had to do around 2am. By then, the bar was closed. Bummer…
Wednesday, 23 November
11am
This was the start of a great day! I was about to meet with one of my affiliates that has really become a friend to me. In the morning I worked a bit and finalized the guest list for the rooftop party we were hosting in Bangkok during AWA, then it was time for some sightseeing.
I ended up finding a restaurant that I went back to almost every day. The woman who owned it was really nice, the food was great and the wifi connection was strong (always important). She even started hooking me up with free beers after a few days and told me about her daughter's restaurant in Da Nang, which I checked out when I went there. It's nice to make those connections when you're away from home – it makes the work a lot more comfortable.
10pm
Time to find out what kind of crazy things the nightlife of Hanoi had to offer! The rooftop bar we went to was one of the fanciest places I'd ever seen. Together we recapped our year, including how we started working together, the struggles we faced, and how things are going at the moment.
Thursday, 24 November
After a short night of sleep, it was time to catch up on some work with affiliates that are based in the Asian and PST time zones. In the afternoon I went for lunch with a girl that I knew from back home (always fun to meet with old friends), then it was time to do some work before meeting another affiliate later that evening.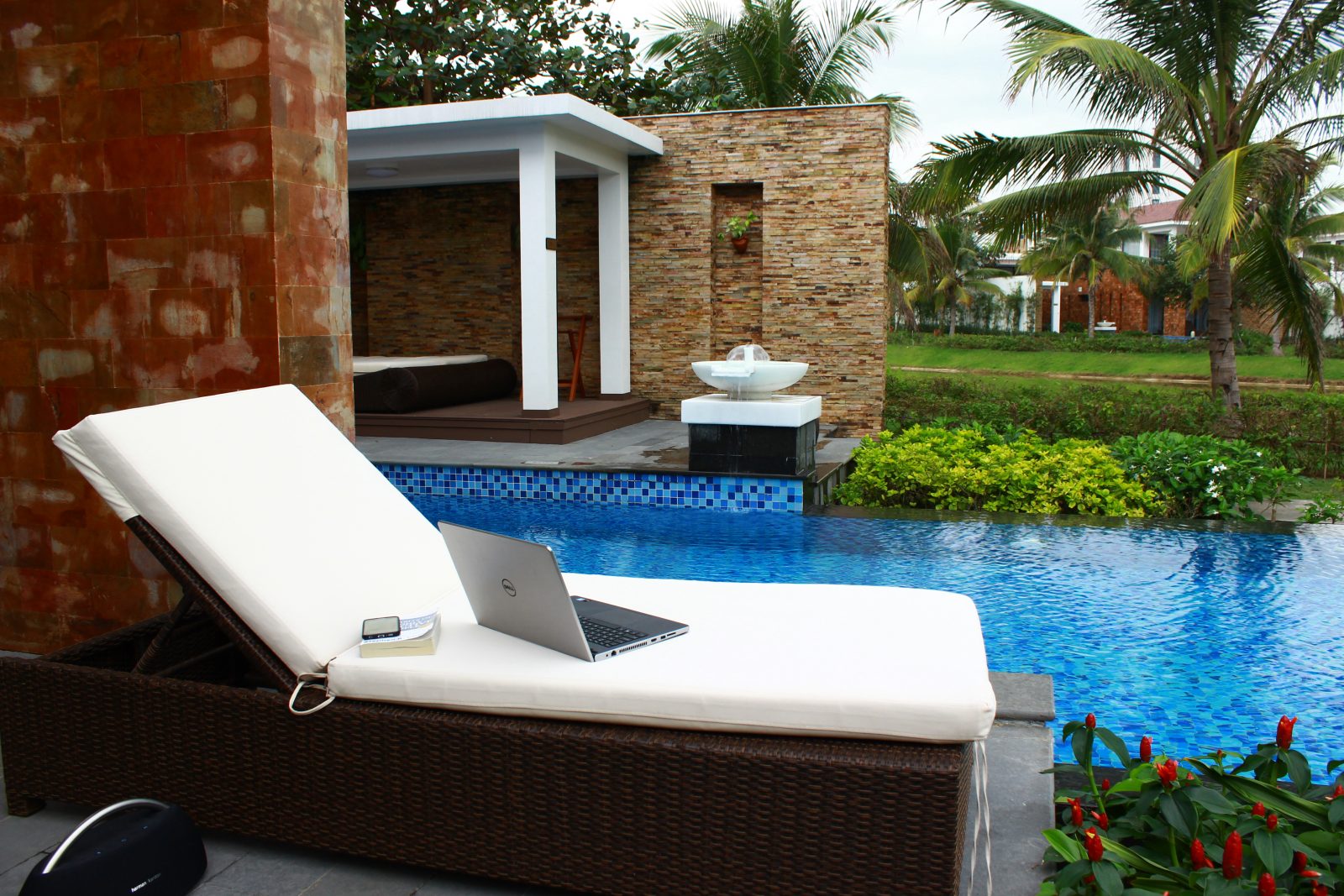 6pm
The affiliate picked me up at my hotel and we went to his office. It was great to see how proud he was of the team he'd created in such a short time. That's one of the things I like the most about this business: people who are dedicated and work hard can become one of the most important players in the industry very quickly.
8pm
Ready for another round of awesome Vietnamese food and some Vietnamese beers! The affiliate brought one of his team members, so we started with some business talk. Because our Skype conversations are usually about CAPs, EPCs, EPVs, CRs and rebill rates, it can be difficult to get to personal talks. After this meeting, we finally had time to get a better idea of each other's personal lives as well.
Midnight
After having a great time with the affiliate, I headed back to the hotel. The hostel next to my hotel had a party, so I checked it out after I finished some work. I had some beers with a group of guys from New Zealand and called it a night. (They were awesome – I ended up going on a small holiday to Halong Bay with them later in the trip.)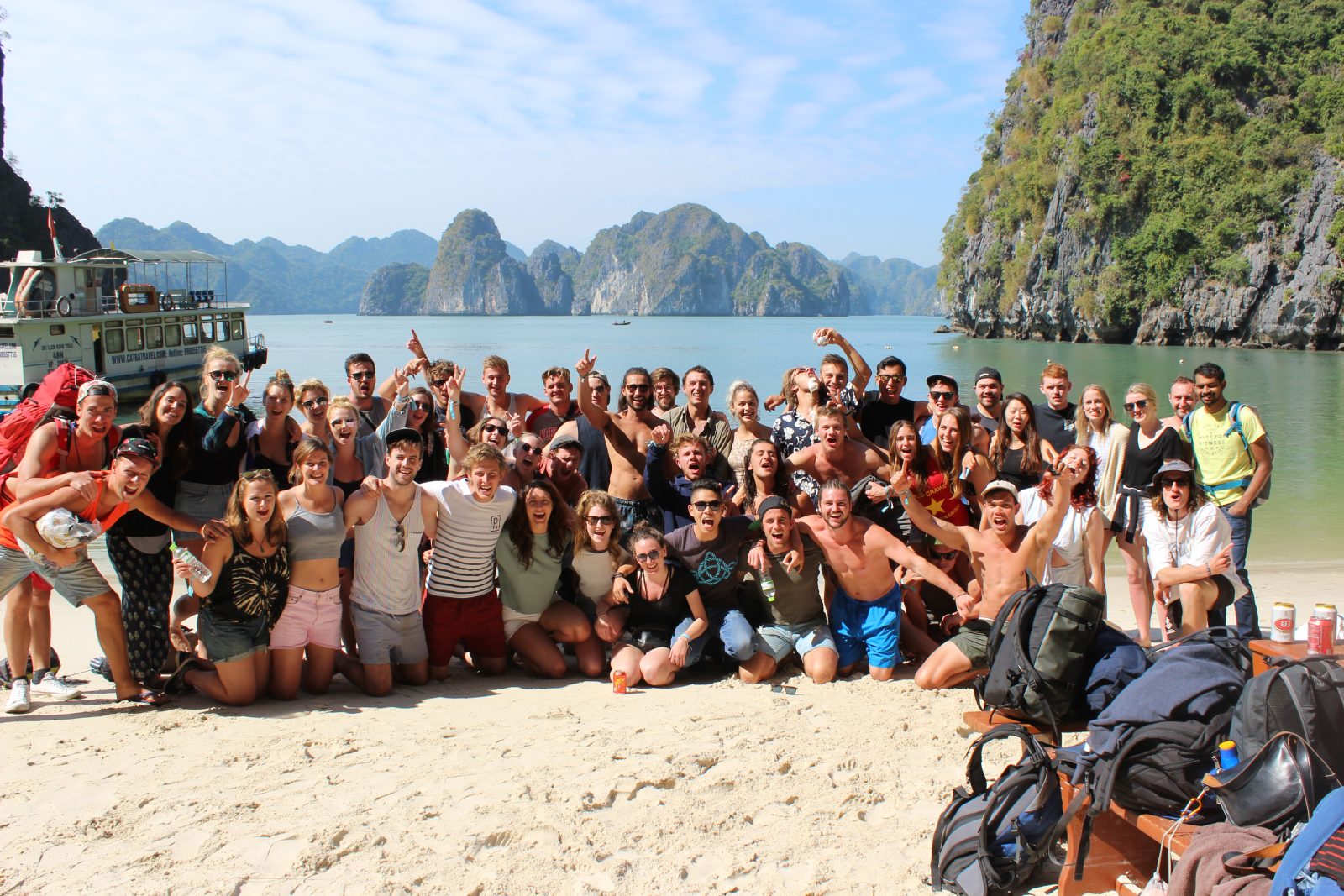 Trip to Da Nang & Halong Bay
The next couple days I went together with an affiliate to Da Nang (a port city in central Vietnam). He rented a villa and asked me to come with him – who am I to say no to that? It was all about chilling and relaxing… it felt great to finally relax for a bit.
Tuesday, 29 November
I got back late in the afternoon and the next day I went to Halong Bay with the guys from New Zealand and my friend from the Netherlands. This place was on my bucket list for a long time; I think the best way to describe it is "Avatar world with water". I think I don't need to get too much into details – I think the fact that we all have new tattoos says enough!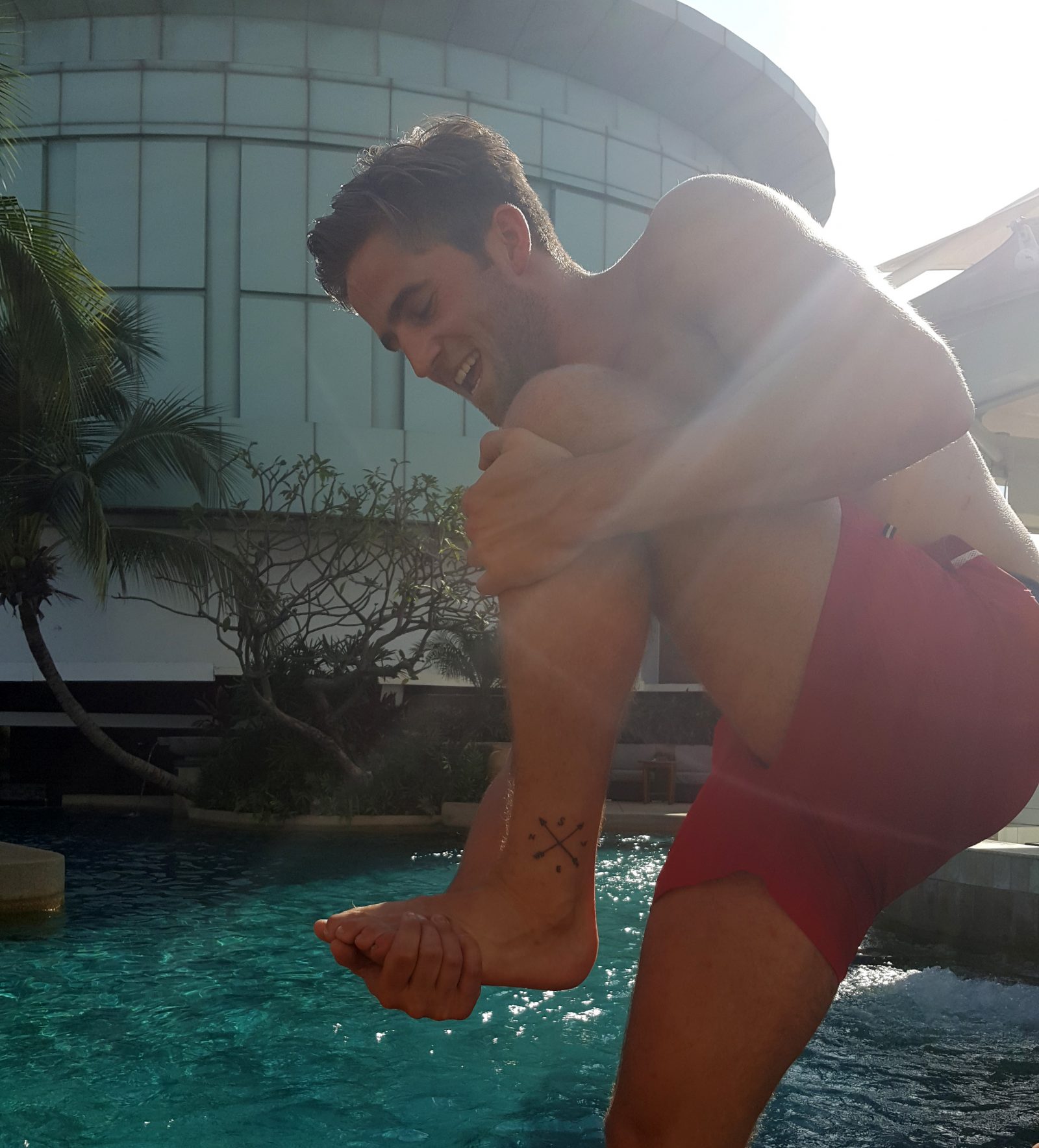 It IS a real tattoo 🙂
Bangkok bound!
Friday, 2 December
I got back from Halong Bay and prepared to head to Bangkok for the grand finale of my trip: Affiliate World Asia in Bangkok! I'd seen some of my affiliates already, but that was nothing compared to what was coming in the next few days.
Saturday, 3 December
I got in a bit later than the rest of the Advidi team, so I waited at our hotel. They were planning to go for a "Bangkok experience" – I had a boat party planned with Gotzha and the High on ROI group, though, so we split up for the first night.
The boat party was great! I met a lot of guys from previous shows and it was awesome to see my friends again. Because I had 3 more Bangkok nights ahead of me, I decided to not go totally crazy the first night and went home around 1 AM.
Sunday, 4 December
5pm
This was one of the best moments of AWA – all the affiliates we've been working with came to the Octave Rooftop Bar to have some drinks. As an affiliate manager, nothing beats connecting with your affiliates on a personal level. I think the vibe was great and that is also why we continued until 8pm instead of 7pm. Shout out to everyone there!
8pm
After having dinner at a great dim sum restaurant, we checked in with some other Advidi affiliates. Some of them already know each other because of our Kings of Advidi meetup in Amsterdam earlier this year. After some drinks at Route 66, we decided to go to Onyx. We had a table there with some affiliates already, and then we met some other guys from the conference that joined us too. After some drinks I realized that it was a good idea to head back because we had one more day for some new biz.
Tuesday, 6 December
D-day, part two! It was obvious that most of the guys were recovering from a late night, so we had some time to walk around to check out some other booths. It got crowded after 1pm, and the quality of the discussions I had was exceptionally high. I also got a chance to check out my friend Rishan's panel on hitting $50k/day, which was both interesting and informative – well done to all the panelists!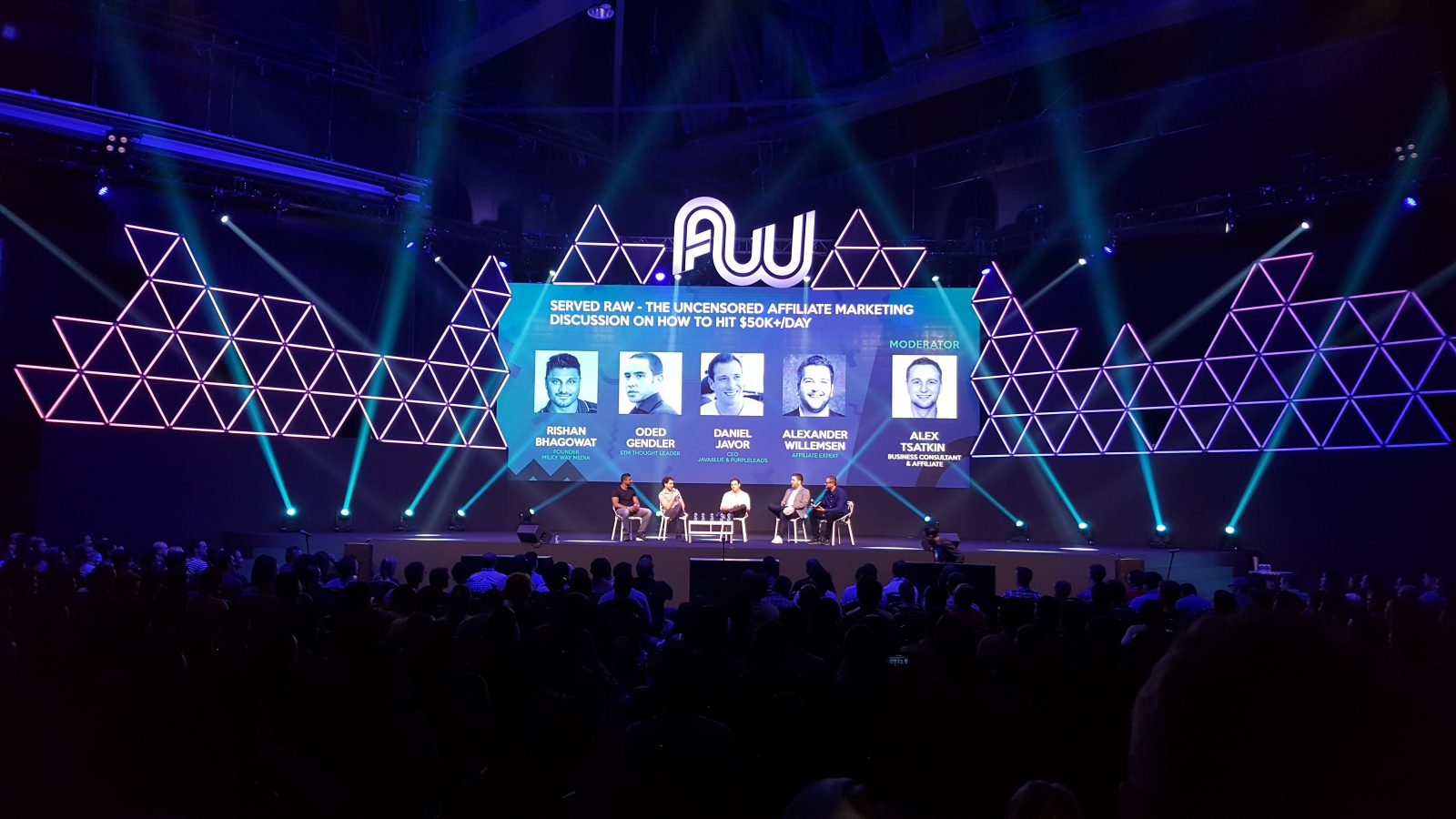 5pm
We all grabbed a beer to celebrate the success of the show so far and it was time to pick a winner for our free flight contest! The lucky recipient was Stephan, who lives in Bali right now. Congrats on the prize – hopefully we see you soon at the Advidi office in Amsterdam!
After the drawing, it was time to pack our stuff to refresh at the hotel before we went to the STM meetup at the rooftop. The vibe was positive; everybody was happy that the show was over (and that it was another big success). After that we headed all to Onyx for one last wild night in Bangkok. Basically all the well-known players from the industry were there, which made it even better. If you are working in the industry, a lot of guys become real friends instead of just people you do business with – this is one of the aspects I like the most from this exciting (but chaotic) industry.
Soon, it was time to go home at last… after 4 hours of sleep, we left to the airport and were on our way back to Amsterdam.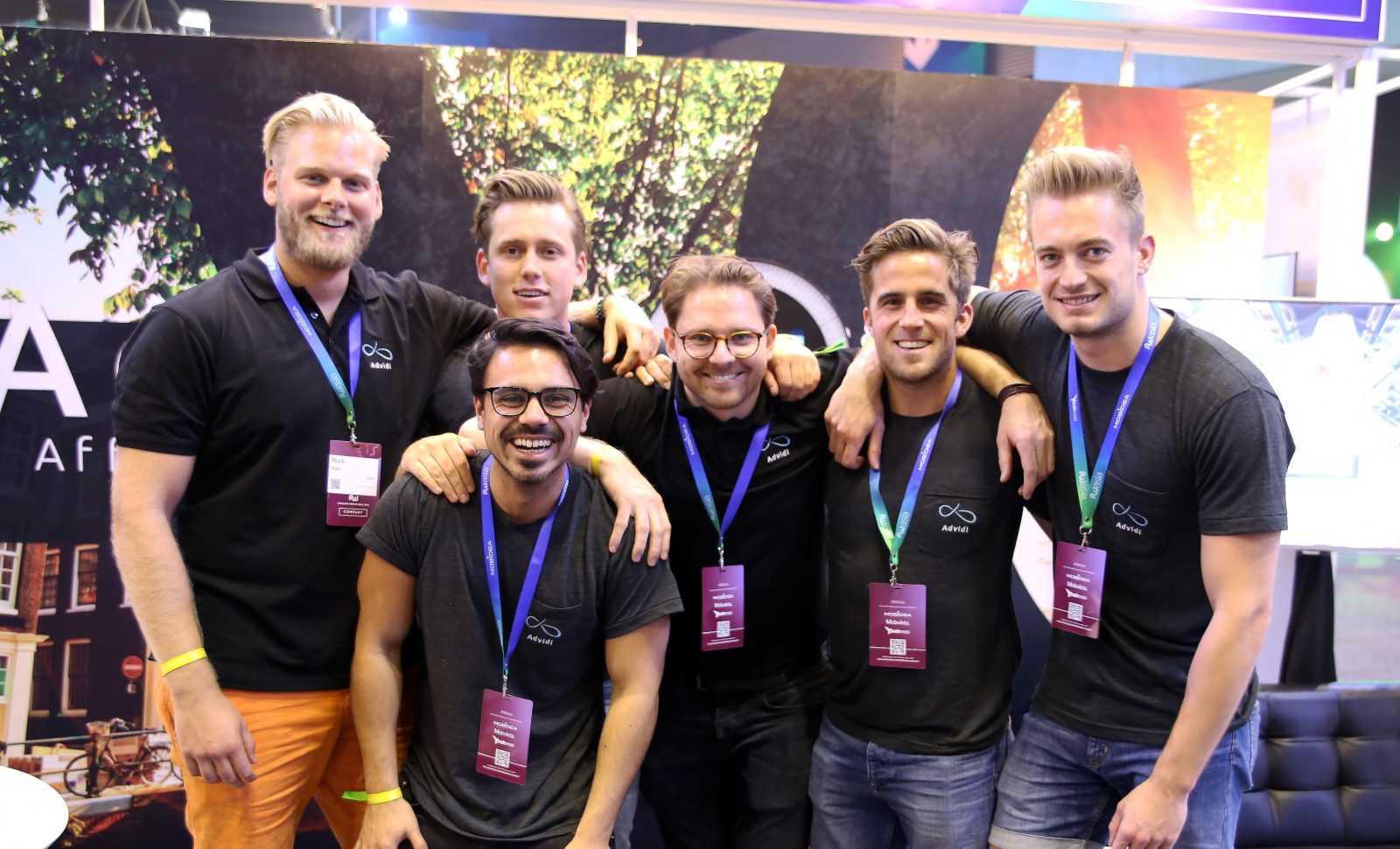 Thanks to all of you for a great month!
I want to thank all the people who were a part of this crazy month. I had the opportunity to finally meet people I've been talking to for more than a year, and I won't soon forget everyone I met in Bangkok. The STM Bangkok experience was great and I'm sure we will be back next year!
If you want to keep in touch, or maybe plan a great affiliate trip together, feel free to email me!