From heroes like Dalí and Gaudí to creative entrepreneurs like Facundo Bacardí and Eusebi Güell, Catalonia has long been a home to alternative-minded people. Its capital, Barcelona, is a perfect example; it blends art seamlessly with modern urban life, challenging every visitor to define it in their own way.
And this July, yet another alternative way of thinking will hit town: the affiliate marketing mindset!
With multiple events (including Affiliate World Europe, Geek Out, SheCommerce and more), the entire affiliate world will gather in this picturesque paradise – from beginners to veterans and all in between. You'll catch modern day heroes speaking on stages in front of hundreds of industry insiders, with some of the best and most recent information being shared publicly and behind closed doors.
To help you get the absolute most out of your visit, we've carefully scoured the internet and our personal experiences (which are many) to create a guide that is truly aimed at you – the best of the best in the performance marketing industry.
Let's not waste any more time – Barcelona, here we come!
Index
1. PREPARING FOR YOUR TRIP
Barcelona: What it's really like
Getting a Visa
Booking Your Flight
The Weather in Barcelona
Currency Exchange
Where to Stay
Transportation in Barcelona
In Case of Emergency
Spanish vs Catalan vs English
2. The Events
Affiliate World Europe 2018
Geek Out
SheCommerce
Parties and networking meetups
Speakers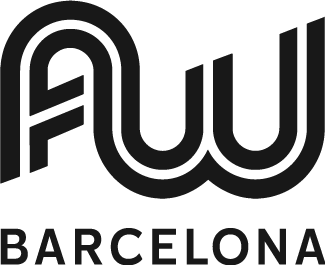 Tim Calwell
James Petrellis
Mirella Crespi
Nathan Chan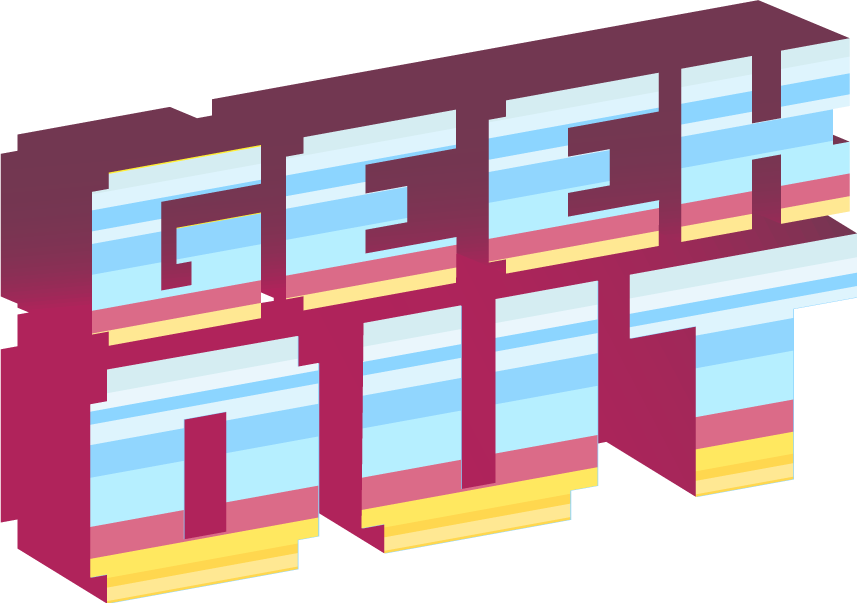 Ben Opsahl
Brandon Stewart
Maor Benaim
Josh Elizexte
3. Beautiful Barcelona
Beautiful Barcelona
Seven Surreal Sights
Beaches
Restaurants
Bars
Nightlife
Music/Dancing
4. Nearby Adventures
5. Meet Advidi in Barcelona
Preparing for your trip
In this section, we'll cover all the practical details about getting to Barcelona and enjoying the city in comfort. We'll get to the fun stuff later – the information below is all about helping you avoid hassles and get the most out of Barcelona.
Barcelona: What it's really like
The legendary city of Barcelona is a popular hotspot for beach parties, breathtaking architecture, football superstars, off-the-wall artists and too much more to list here.
Everyone has their own Barcelona experience – if you've been here before, you've likely heard many stories already. You may discover that the city is quite different from your expectations. Here's what we've discovered in our visits there:
It's big… really big
It gets hot… really hot
Things can move very slowly, especially in the summer
Most places close for the hottest hours of the day and reopen later
They don't speak Spanish, they speak Catalan (even though they definitely speak Spanish)
The beaches in town can be crowded (if you don't know where to go)
There are a lot of pickpockets
The food is amazing (if you like tapas)
Getting a Visa
First things first – you gotta be sure you can get in the country. Thankfully, it's pretty straightforward.
As Barcelona is in Spain, all visas to the Schengen Area will apply here. If you're planning a long stay, take note of the typical 90-day visa that most travelers receive; you'll need to refresh it or find out a sneaky solution if you plan to stay longer.
Here's a full breakdown of visa options
Booking your flight
If you've never done a Europe trip, AWE 2018 presents an excuse to get creative with your travel itinerary. There are hundreds of airlines based in Europe, each with hubs in different cities… and with different rates depending on how frequently they travel there.
THE WEATHER IN BARCELONA
Hot! It's going to be hella hot. And humid. The average temperature in July is 27°C (81°F) during the day, dropping to around 19°C (66°F) at night.
That's the average, so prepare for sweltering heat on occasion. Shorts, t-shirts, sunglasses, bathing suit… you won't need much else.
Currency Exchange
Spain uses Euros – most ATMs accept foreign cards, which is our recommendation. Check here if you're concerned your card might not work.
If you need to exchange cash, you can try the tourist areas like La Rambla, Sagrada Familia, etc. The rates are pretty competitive and you'll find lots of options. For small amounts, any place will do, but you'll want to shop rates if you're exchanging large amounts of cash. Check here for more insight.
Important note: Pickpockets are a real concern in Barcelona. They aren't threatening, but they are clever. When exchanging money or withdrawing from an ATM, be extra careful of your surroundings and store your cash in a secure location. (Fanny packs aren't just coming back into fashion – they're effective, too!)
If you prefer total security while exchanging, go to a bank – but note that they close around 14:00 most days.
Where to stay
As we said, Barcelona is big. Traveling across town can take some time, so we suggest finding a place near CCIB, where AWE will take place (and a short distance to other parties and events).
We have a few recommendations:
Hotels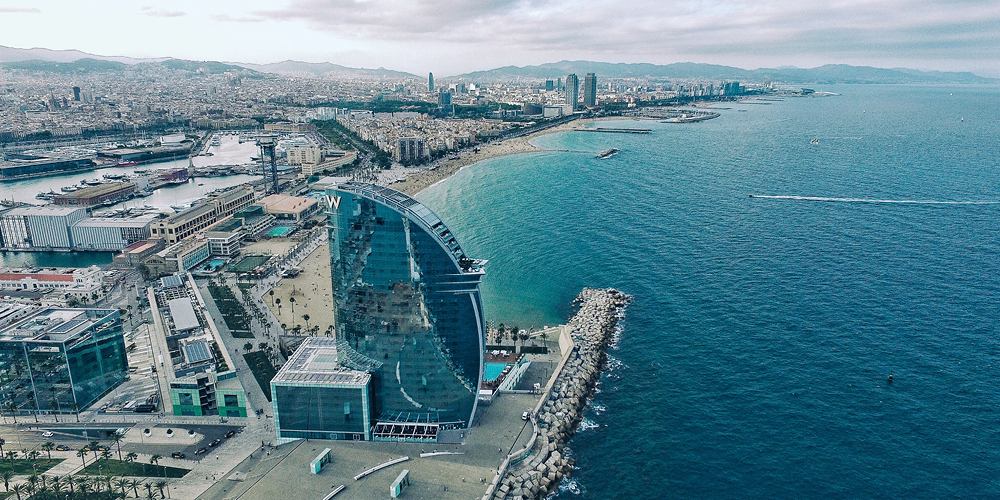 Here are some of our favorites – all a decent distance from the action:
AirBnB
AirBnB is also a great option for those who like to really live the local experience. Book now to ensure a great spot – they're already filling up. We recommend finding CCIB and using it as a reference point for picking your ideal location on the map.
Transportation in Barcelona
We'll be honest: getting around can be frustrating if you're running late. The city has a good amount of traffic, the metro is hot and gets delayed, and biking will empty you of essential salts within a few minutes on the wrong day.
As such, we recommend you budget extra time for travel, and to focus on enjoying the experience. Barcelona is a beautiful city – why not include the scenery in your transportation plans?
Uber, MyTaxi, Cabify or Traditional Taxi
After three years, Uber is back in Barcelona. If it's already your go-to, then sticking to it will serve you well… but you should know that most locals have adapted to using MyTaxi, which is essentially Uber but integrated with local taxis. It's a similar experience – book and pay through the app.
There's another challenger in town, though. Cabify is trying to unseat Uber, so you might get better rates. No reason not to check both if you're a price-smart inner-city wanderer.
Finally, there are the traditional taxis. They'll work well in a pinch, but there's a reason they've been protesting ever since Uber came to town… ride booking apps are better across the board (safer, digital trace, better rates, on-demand ordering, etc).
eCooltra – Scooter Rental
eCooltra is – forgive us for this – the coolest new service in Barcelona. If you want to zip around in style, this is the solution – it's basically Car2Go for scooters. They have a large fleet around town, and you can easily pick up/drop off on demand. Insurance, a full battery, helmets and maintenance are included. Great for getting from place to place or a leisurely tour of the city.
Metro & Bus
The public transport system is pretty simple and effective (enough). It's centralized through TMB, so your metro and bus tickets work together.
Here are some facts:
Single tickets are €2.20, one-way.
We highly recommend the T10 pass, which includes 10 (one-way) fares. It's €10.20 for 10 fares; you'll save over 50% if you buy single tickets.
Hola BCN! Travel Cards are probably the best and easiest multi-day option – they offer unlimited bus/metro travel and come in 3-, 4- and 5-day variants, starting at €15.
The Barcelona Card is a great option if you plan to make a lot of trips and check out tourist attractions (it includes discounts on entrances around the city).
This ain't Japan – delays do happen, and relatively often at that. If you're far away from your destination, we suggest budgeting an extra 20-40 minutes to account for potential disruptions.
Here's a complete overview of the metro and bus system in Barcelona.
Note: Getting to and from the airport can be a different story. You'll want to check your starting point; you might need a supplement or special ticket. Here's some more detailed info.
Walking & Biking
Barcelona is a joy to walk through, despite the broad corners that add a few steps to every intersection. Be sure to give yourself extra time to enjoy the sites and snap photos of strange buildings.
There are also a good number of bike paths in the city, but prepare to put some effort into it… the city is full of hills, making biking quite the challenge when compared to flat cities like Amsterdam.
In case of Emergency
Hopefully you won't need these emergency numbers:
Emergency (police / fire / ambulance): 112
Lost or stolen property: 010 (or, from outside Spain: +34 934027000)
A note on theft
Barcelona has a lot of pickpockets, we won't deny it. Luckily, they're lazy – and you'll be fine as long as you aren't also lazy.
Just avoid looking like a target:
Don't make withdrawals in crowded places or waving cash around
Don't leave your phone or laptop on the table while you go to the bathroom
Keep your hands on your pockets when you're in crowded spaces
Don't bring valuables with you unless you absolutely have to
Be extra careful on the crowded beaches like Barceloneta
Common sense stuff, but it's easy to get distracted.
Spanish vs. Catalan vs. English
In Barcelona, you'll find all three languages being spoken:
Spanish is the national language of Spain…
…but Catalan is the local dialect and official language of Catalunya (the region Barcelona is in).
However, most people speak English, especially in the tourist areas.
Within Barcelona, you shouldn't have a problem communicating.
It's good to know that the locals typically prefer Catalan. It's actually closer to French than it is to Spanish, so don't make the mistake of saying they're the same thing. (Seriously, don't even bring it up…)
Here's more info on the differences between Catalan and Spanish, plus some cultural info.
The Events
Lots of things are going down in Barcelona this July – the Affiliate World Conference series has acted as a magnet for more than a few affiliate events. There's one thing for sure: the best of the best will be in town, so now is the time to start scheduling your meetings and parties!
Affiliate World Europe 2018
This is the central meeting point for the world's top performance marketers – from all niches, across all traffic sources, you'll get real-life stories and tips from the best in the biz. It's a must-attend for the meet market alone, but don't miss the outstanding speakers – they always deliver the goods.
In addition to the main event, STM is launching a number of smaller, laser-focused events:
Mobile App Installs
Email Marketing
Lead Generation
Building a Brand Around Ecommerce
These events will take place during the main meet market, so be on the lookout if you're involved in one of these fields!
Speakers
Like every year, there are a ton of great speakers on the list – you've heard from a few of them already, but the list goes on:
Ezra Firestone – Co-founder and CEO at Smart Marketer Inc.
Ryan Deiss – Founder and CEO at Digital Marketer
Oli Gardner – Co-founder at Unbounce
Scott Rewick – Co-founder and President at Lexicon Digital Media Group
Nathan Chan – Founder at Foundr
Gretta van Riel – Founder and Partner at Skinny Me Tea, Fifth Watches and Hey Influencers
This is just a taste – find the full list of speakers on the AWE website.
Get tickets on the official AWE website. Prices rise over time, so be sure to get yours ASAP!
Geek Out
The ultimate source for knowledge and tactics that work today: Geek Out.
Run by Purple Knowledge Lab, this event is reserved for the "1% of the 1%" – the format features case studies and copy and paste methods from hard-working, passionate marketers who are in the trenches right now.
It's a tight group with a uniquely open format: each presenter will deliver real case studies, explain what they've learned, then boil it down into super-valuable, implement-it-today tips that are aimed at putting at least 5-10X the ticket cost in ROI back into every attendee's pocket.
It's an exclusive event that isn't for everyone, but if you want the best of the best in terms of current, raw and 100% effective knowledge, you need to be here!
Speakers
James van Elswyk: Owner of Purple Leads and high-volume media buyer, offer owner for both lead generation and e-com.
Nick Shackelford: One of highest-level e-commerce experts in the world, managing 27 brands and spending up to 700k a day.
Brandon Steward: Former Facebook rep turned direct response killer. He owns multiple brands, including a 2.4 million Q4 brand launch.
Josh Elizetxe: Successful serial entrepreneur and investor. Josh and his team have used the internet to drive over $1 billion (USD) in retail sales.
Anthony Sarandrea: Entrepreneur, keynote speaker, and philanthropist, helping countless companies across the world grow their business through a wide array of innovative digital marketing methods.
Maor Benaim: 10-year marketing savage who's spent over 100 million in ads on e-commerce and lead generation, both as an affiliate and an agency.
Ben Opsahl: Copywriter at Advidi with years of hands-on agency experience and an extreme passion for persuasion, compelling copy and branding.
Tickets
Seats are filling up quickly, so sign up here to reserve your ticket ASAP.
SheCommerce
SheCommerce is an exciting initiative from some of the top names in the performance marketing space. Focused on empowering women in marketing, the event features outstanding speakers who reveal next-level, actionable ecom tips to the next wave of female entrepreneurs.
AWE attendees get free tickets and there will be some outstanding knowledge being shared, making this is a must-attend for any ambitious female marketer in Barcelona next month.
Speakers this year include:
Mirella Crespi – Founder and CEO at PixelHaus (check her interview with us above!)
Sarah Bundy – Founder and CEO at All Inclusive Marketing (check her interview with us in our guide to Bangkok!)
Bonnie D'Amico – Team Lead at Shopify
Rhian Beutler– Co-Founder at Venntov
Aline Couto – Co-Founder at Infoprodutos Brasil
Katie Hudson – Affiliate Manager at Spotify
More to be announced soon!
Tickets
All AWE attendees get free tickets, but you have to reserve a spot – go to their website now to confirm. You can also buy single tickets for €59 (Gold Pass) and €29 (Founding Member).
Parties and networking meetups
There will be plenty of side events – many companies throw parties, and there are some themed networking events here and there as well. Check STM if you want to get in on those.
For a list of publicly shared parties, you can check this spreadsheet.
Of course, there's one event you truly shouldn't miss…

Advidi's Rooftop Party
Our most exciting party ever features a walking dinner with an open bar and incredible views of the city. Many of the biggest marketing names in Barcelona that week will be there, including all the speakers of the Geek Out session.
What: Advidi's Rooftop Party
When: 17 July 2018, 8pm-12am
Where: PuroBeach – Hilton Diagonal Mar
This is definitely a guest list you want to be on – so act quickly to get your spot.
Read more about it here, then contact your Advidi AM now to get on the list!
The speakers
Now that you know what's going down next month, let's quickly check in with a few of the folks who'll be speaking from stages.
Across their diverse experiences, you'll find one main theme: they're all on the ground now, working directly with the most current concepts in their respective fields. Everything you'll hear from them onstage (and in this article) is likely to be 100% applicable to you and your journey… no silver spoons, just hard work and learning.
Tim Calwell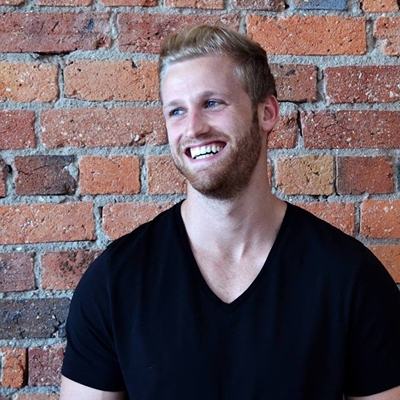 First up is Tim Calwell, a speaker at AWE and a seriously successful dropshipper. He took a business from nothing to 7 figures in less than 6 months, plus manages a huge array of shops and massive media buying budgets. His FB group is a source of excellent insights, and of course he'll be delivering an exciting speech from the main stage at AWE.
Here's what he had to say about his journey, the conference and beers by the beach in Barcelona:
1. You've recently launched a Facebook group and started making some excellent (and entertaining) educational videos, along with appearing on stage at AWE. Why did you decide to start sharing your knowledge?
I love the idea of giving back to the community and helping others achieve success with my tips. Also wanting to build out a personal brand around digital marketing/lifestyle entrepreneurship.
We've all seen Tai Lopez and his course prices, who wouldn't want a piece of that pie? (Granted you're delivering value for the price…)
2. What's going to happen to dropshipping in the next 6 months to a year? Any big challenges or opportunities?
Dropshipping is changing so fast, as is Facebook's algorithm. You really need to keep up with the game if you want to succeed.
Having said that, consumers are becoming a bit more "smart" so they're less likely to just buy from a link off Facebook. I think in the next 2 years or so, dropshipping will be saturated and very challenging, but as with anything there will still be a monster opportunity if you do it right.
Dropshipping has been around for ages when you think about it, and it will be around for ages to come. The game is just evolving.
3. What's the biggest mistake you see new dropshippers make?
Biggest mistake people can make is mindset.
They get into dropshipping and throttle their ads thinking they'll make 1000s in return. I've had mates spend hundreds of dollars on a single product with NO SALES. WTF? Haha.
This is a challenging game – don't come at it expecting to throw money at Facebook and for Facebook to throw more back at you. Ain't that easy anymore haha.
4. Who will benefit most from your speech at AWE, and why should they be sure to attend?
I think anyone will benefit really, obviously those who haven't cracked 6 figure months yet would get better benefits than those who have.
But it's always good to hear what's working in the marketplace, even if you're ahead – so you can test methods which may have better ROI than you're currently generating.
And of course, be there haha!
5. What are you most excited to see or do in Barcelona?
Super excited to get into the Spanish culture. Salsa dancing is amazing and I've heard nothing but good things about Barcelona. Honestly can't decide what I'm more excited for: meeting and networking with the biggest players in the space or cervezas a la playa. No doubt both, ha
James Petrellis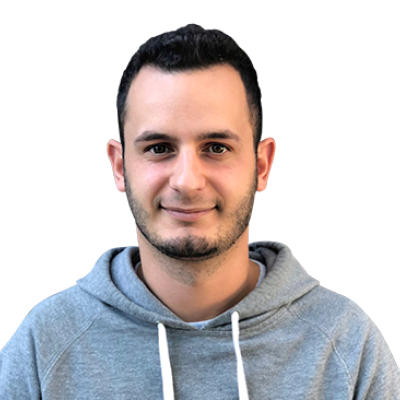 Next up, we have another AWE speaker – James founded Direct Offer Club just a few years ago, and it's already grown into one of the largest Ecommerce advertisers in the world; it's an 8-figure business with hits like the Lumify Flashlight and the Nomad Backpack.
We talked to him about his journey so far (and picked up a few excellent networking tips along the way).
1. You've gone from selling home security alarms on eBay at age 15 to co-founding a company that has generated $20m in sales over the last year. What's the most significant change you've seen in the e-commerce space in that time?
Back then, Facebook did not exist, nor did Instagram. Small e-commerce guys like me only had marketplace options like eBay or Amazon. Nowadays, it's super easy to build a store with services like Shopify and ad platforms like Facebook.
2. Who will benefit most from your speech at AWE, and why should they be sure to attend?
Anyone looking to focus their internet marketing efforts more on a customer-centric focus.
There's so much easy money to be made in the affiliate industry, but if we are in it for the long run, then I strongly believe that we should collectively be focusing on delivering quality to our end customers.
The reason Direct Offer Club has been successful in this space is that we make sure that our customers come first. This leads to having little to no compliance issues with ad networks.
Why work against Facebook and Google, when you can work with them?
3. What's the most interesting success (or failure) you've experienced in your time building e-com shops?
My most interesting success is definitely seeing how quickly we grew our Flashlight offer. We went from fulfilling 30 orders per day in my business partner's garage to renting a warehouse and having 4 packers working 6 days per week. Leading us to become one of the largest DHL e-commerce clients in Australia. This all happened within a month.
Funny story: I went to the bank to pay a $500,000.00 DHL invoice, as my internet banking login wouldn't allow a transaction that large… the lady at the bank congratulated me on purchasing a house… before stopping mid-sentence in confusion when she realised it was just a bill.
4. You hold relationships in high regard. Do you have any tips on connecting with like-minded people at a conference as large as AWE?
Definitely, I strongly believe relationships are everything. Not only in business but with life in general. It's also super rewarding to be able to work with fun like-minded individuals. It makes rocking up to work fun.
My advice for connecting at AWE is to basically just make friends. No one likes a value sucker. When you are being your true self, being self-amused and enjoying good company without an agenda, not only will you have a much better time, but you will be able to build solid TRUE friendships with others in the industry… the business benefits naturally come later, which really is usually a two-minute skype conversation.
5. What are you most excited to see or do in Barcelona?
Besides of course hanging out with all you guys at the mixers and after parties, you will most likely find me chilling on the beach drinking beers. Come and say hi!
Mirella Crespi
Mirella is the founder of PixelHaus, a full-service advertising solution for brands, and Women in Adtech. She's also a consistent presence at Affiliate World events – she brings many years of on-the-ground experience in performance marketing to life in her speeches. This time she's focused on Shopify and Ecommerce, with an extra bit of attention to women entrepreneurs during the SheCommerce event.
We checked in with her about how the conference has changed over the years, her current focus and a sweet tip for great views in Barcelona:
1. You have years of experience in direct response marketing across multiple advertising channels. Which channel are you focusing most on now, and why?
Search and social are my main focuses at the moment. I attribute the success of my campaigns to understanding the level of awareness and intent of the users I am targeting – knowing when to use the right traffic source and placement for each conversion objective is key. Adwords and Facebook are really a killer combination. If you know how to use audience pixels for cross-platform retargeting effectively, you take your media buying game to a whole new level.
2. Alongside AWE, you'll be speaking at SheCommerce – an event and community designed to connect and inspire the next generation of female entrepreneurs. Can you tell us a bit about the origins of this group?
When I first started media buying, I had very few successful affiliate women to look up to. It can be extra challenging for a young girl to succeed in an undeniably male-dominated space.
My goal with hosting the first Women in Adtech events was to connect the women who are trying to start with those who have built their own businesses. As the industry evolved towards e-commerce, so did our events.
SheCommerce will bring together women from 40+ countries to share their experiences, network and inspire each other to build and grow e-commerce businesses.
3. You've spoken at Affiliate World events in the past. How have you seen the conference change over the years?
Affiliate World transformed from a well-organized affiliate meet-up to a world-class marketing event. It's also the guiding force behind the evolution and maturity of the affiliate industry as a whole. It's really the best event to attend if you're an affiliate looking for inspiration and to learn what's next.
4. Who will benefit most from your speech at AWE, and why should they be sure to attend?
I will share the stage with Shopify and founders of multi-million dollar companies. Anyone currently running e-commerce or hoping to jump on it will benefit from attending – you'll get to hear first-hand what it takes to start and scale an e-commerce store to 8+ figures.
5. Can you reveal any of your favorite hidden gems in Barcelona?
For the best view of the city go to Bunkers del Carmel for sunset. Boca Chica is my favorite spot for pre-party dinner and drinks.
Nathan Chan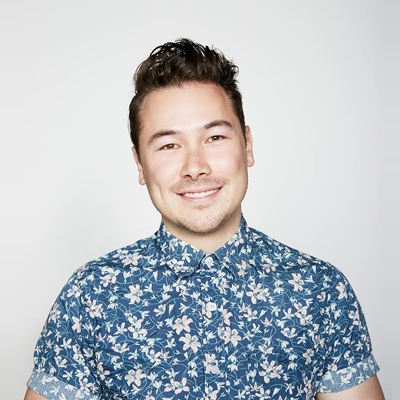 Nathan is the CEO & Publisher of Foundr Magazine. Foundr is a global media and education company that produces magazines and online courses for entrepreneurs. Millions of people consume Foundr's content every month, and their magazine covers have been blessed by the likes of Richard Branson, Arianna Huffington, Mark Cuban, Tim Ferriss and many more.
Here's what Nathan had to say about building relationships, crazy ideas and delicious Catalan cuisine:
1. As CEO and Publisher of Foundr, you're deeply immersed in the world of startups and self-made entrepreneurship. What challenges or opportunities should independent affiliates be paying attention to right now?
Challenges – increase in ad costs, increase in competition as more and more people are selling products online, trends are coming and going faster than ever.
Opportunities – to use the skills you have to build a sustainable long-term brand, that is not reliant on trends, or fads or others to handle everything after you sell the product. The opportunity here is to build an asset-based business that can be one day sold for a great multiple.
2. You've built relationships with some of the top entrepreneurs on the planet – what's your secret to networking successfully at such a high level?
Serving first and asking later, always try and find out how you can serve that person first. For most instances I use Foundr as the platform to give entrepreneurs a voice and to promote their book/product/story.
3. Who will benefit most from your speech at AWE, and why should they be sure to attend?
Anyone that is selling physical products and is not happy with the amount of sales they are generating via Instagram should definitely attend.
I'm going to be pulling back the curtain on how I've built the @foundr account to over 1m+ followers in 2 years and how we've built multiple companies using only Instagram to start – most recent company is doing over $45k p/m in 6 months selling only 1 SKU all via IG without paying a cent 😉
4. Foundr mentions that "there has never been a better time to be a batshit crazy ideas person." What's the batshit craziest startup idea you've ever heard (and did it succeed)?
Someone selling 'balls wash' (yes special shampoo for your balls) – and yes it succeeded MASSIVELY!
5. What are you most excited to see or do in Barcelona?
Love Sangria and the food! One of my favorite restaurants in Melbourne is called "Kanela Bar" and I love the Patatas Bravas and Gambas al Ajillo! Looking forward to also escaping Melbourne winter and getting to know all attendees and speakers!
Learn more about Nathan and find excellent interviews with entrepreneurs at Foundr Magazine.
Ben Opsahl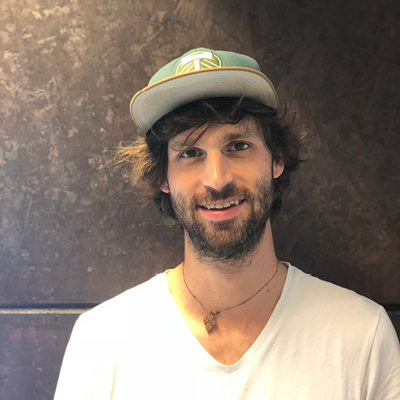 Ben is the sole copywriter at Advidi, responsible for all copy and written communications. (Yes, that means he wrote this article – and finally, after years, he's found the right excuse to put himself on the cover!) He'll speak at Geek Out Barcelona, presenting a case study on copywriting techniques.
Here's what he has to say about learning copywriting, his speech at the Geek Out session and skateboarding:
1. You've worked as a copywriter for various clients over the years, finally finding a home in the performance marketing world. What drew you to direct response copywriting instead of the traditional agency route?
Ah, I love direct response. It's measurable, there's a really strong community with a long history, and a ton of misconceptions that are really fun to break down.
Anyone can learn to be a copywriter, and it's a shame that more people don't treat it seriously. I think many people see copywriting as a stepping stone, but it's really a massive world in and of itself. You can constantly learn and never feel like you're getting enough, but yet, you can also apply the things you've learned and see results right away. It's exciting, fast-paced, and totally revolving around crazy ideas and critical thinking.
2. Got any tips for people who want to learn copywriting?
Focus on the principles. You can get a lot of mileage out of tactics, but only if you're well-grounded.
Read the books – the classics – before you start buying up courses. My favorite is Breakthrough Advertising, mostly because of the way Gene Schwartz teaches, but also because it's somewhat of an industry legend… lots of mystique around it. And it's created a ton of millionaires.
Niche down as soon as you can. When you try to appeal to everybody, you end up appealing to nobody in particular. Focus on a market, learn it, speak like they do, memorize and feel their fears yourself, kinda like an actor.
Finally, stay connected. Sign up to email lists, buy intro products to take notes on upsells, join groups, whatever it takes. The industry changes a lot. Ten years ago VSLs didn't really exist, and now there are copywriters just dominating new markets using the new tool. Only because they stayed connected and stole ideas (politely – usually).
3. Who should attend the Geek Out tour, and what will they gain from your speech?
This is really an exciting new format for a knowledge session. It's only aimed at a select, small group, so it's honestly not for everyone. But if you're smart enough to know what to do with other people's experiences, this is a gold mine.
The other speakers will show you some crazy results they've achieved, and they know just what to share with you so that you can replicate their results in your own way.
As for me, I'm going to show you a series of ads and break down my reasoning behind them, plus the results. I'll also focus on the "direct response copywriter mindset" – a way of thinking that, when you really burn it into your brain, will make writing copy an exciting challenge rather than a headache. Copywriting on autopilot – just add coffee!
4. Can you reveal any of your favorite hidden gems in Barcelona?
No, they're mine 🙂 nah but I had a great time when I was briefly living in Barcelona.
I loved skateboarding around and just watching people battling the heat on the streets. Drink some local vermouth with olives in it! There are also some cool private clubs if you know where to look. Sitges at sunrise was awesome, and the beach was empty. It's all good, you're gonna find something to love no matter what you like.
Brandon Stewart
Brandon is an ex-Facebook employee and Owner of Revline Digital LLC, a data-driven marketing agency that handles over 9 figures in ad spend across Facebook and Instagram. They specialize in ecommerce and lead generation, with campaigns ranging from $50 a day to $18 million in one day.
Here's what he has to say about his favorite thing in the world (data) and making connections:
1. You'll be speaking at Geek Out, a private session with 7 experts who are currently "in the trenches" and performing at the top of their game. Who will benefit the most from this event?
Intermediate media buyers that want to understand how to make data-driven decisions in scaling their marketing campaigns to the moon (or the budget your audience can hold lol).
2. Can you reveal any hints about what your Geek Out speech will cover?
Facebook and Instagram Campaigns, a fast start to 25k days in under a week (case study), Data-Driven marketing, Facebook's Auction and Bidding.
3. What industry trends do you expect to dominate conversations at Geek Out and AWE?
I'm from the US but I think GDPR will be big, along with what's working in the trenches of today's digital marketing.
4. When it comes to advertising, what's your favorite topic to "geek out" about?
Data!! Live it, breathe it. It's where I've made the biggest difference in campaigns. Data Rules All!
5. What are you most excited to see or do in Barcelona?
To connect with peeps I've seen in so many groups doing killer things! We are all just alike and underground in the trenches doing what we love. We want to reveal those underground tactics to the public.
Maor Benaim
Maor "The Wolf" Benaim has been totally obsessed with media buying for over a decade, relentlessly perfecting each and every campaign he touches. He is highly respected as a thought leader in the online media industry due to the huge numbers he's achieved as an agency and affiliate. He owns several agencies that run campaigns for the largest retail and leadgen companies in Israel.
Here's what he had to say about scaling strategies, geeking out for hours and more:
1. You'll be speaking at Geek Out, a private session with 7 experts who are currently "in the trenches" and performing at the top of their game. Who will benefit the most from this event?
I think Geek Out is for everyone. If you've heard about this gem, you probably have to attend. I look at it like the "upgrade" hyper-seminar for anyone who wants to step up their game – if you are new – it's going to save you A LOT of time learning, and if you are already in the game I can promise you have a lot more to learn.
2. Can you reveal any hints about what your Geek Out speech will cover?
My speech is going to be about my personal story and the industry; specifically, I'm going to go in-depth about scaling strategies in Google and Facebook and how to build the correct structure that will allow you to scale without losing ROI as much.
3. What industry trends do you expect to dominate conversations at Geek Out and AWE?
I think that it's going to be less technical in terms of the platforms themselves, and more about how the platforms have changed – from performance to policy, this one is really important because it's a really dynamic industry and it's a lot about how to adapt.
4. When it comes to advertising, what's your favorite topic to "geek out" about?
I love my job so much that I can talk about anything. Me and James [van Elswyk] find ourselves sometimes talking for hours about something that, looking back, is so small – till the conversion gets to the point where I tell him that we've been talking for a few hours and it's time to go to work hehe.
5. What are you most excited to see or do in Barcelona?
I'm excited about the adventure. Every time I go to one of these conferences or seminars I get to meet new people and new experiences that change my life for the better, so I know each time how I'm going to come but never how I'm going to leave as a person.
Josh Elizexte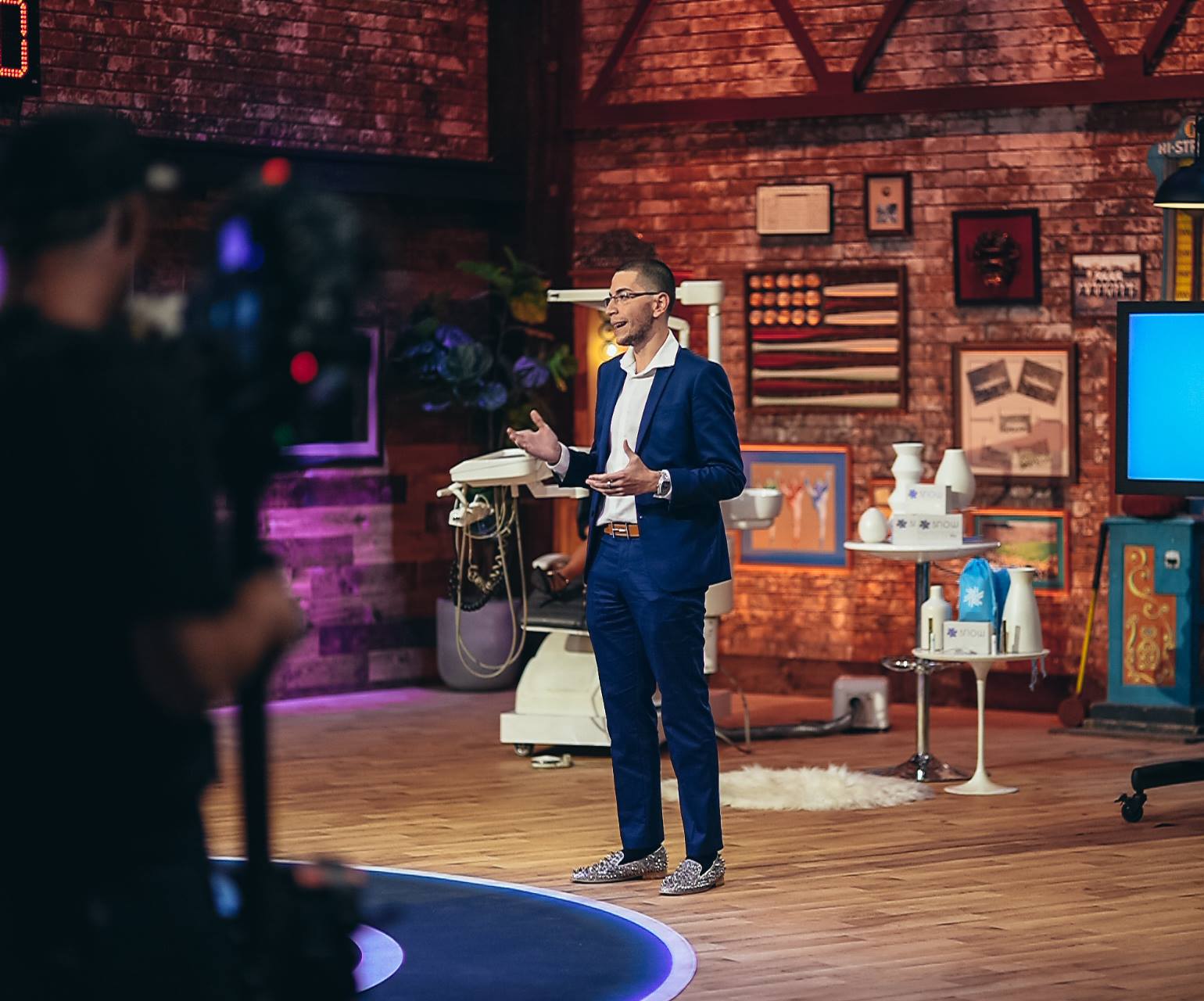 Aside from founding, growing, and advising 9-figure brands, Josh and his team have driven more than $1 billion in retail sales online. His expertise lies in marketing strategy, influencer marketing at scale, and profitably scaling companies beyond 8 figures without ever raising outside capital.
Here's what he had to say about spending hundreds of millions on ads, future trends and more:
1. You'll be speaking at Geek Out, a private session with 7 experts who are currently "in the trenches" and performing at the top of their game. Who will benefit the most from this event?
Anyone looking to evolve from income-chasing to business/brand building will benefit from this event. 2018 is literally the best time EVER to be building Internet brands and utilizing the latest marketing strategies to propel your business into 8, 9 and 10-figure revenue.
2. Can you reveal any hints about what your Geek Out speech will cover?
I will be sharing the patterns I recognized and now implement after spending hundreds of millions of dollars in online ad spend. These patterns are applicable to any business and are what it takes to scale into the highest revenue zones without losing your sanity.
Furthermore, I will share insights on building assets in your business, true brand equity that has value in it beyond just the monthly revenue numbers. This is where the real wealth is built, and it comes down to a matter of mindset and strategy.
I will break down how we spend millions of dollars per year on influencers and how to use them to build a moat around your business so competitors can never catch up.
3. What industry trends do you expect to dominate conversations at Geek Out and AWE?
I would say e-commerce, Facebook ads and its changing landscape, alternative traffic sources, influencer marketing and brand building.
4. When it comes to advertising, what's your favorite topic to "geek out" about?
I'm a huge fan of copywriting, having trained under Dr. Robert Cialdini. Furthermore, as a data science geek, I love to combine experimentation with regressive and predictive modeling to aid our product development process. This is important because advertising is not only a way to drive brand awareness and sales, but it should provide a feedback loop to smarter product development.
5. What are you most excited to see or do in Barcelona?
I'm excited to be in my family's home country of Spain and meet like-minded entrepreneurs looking to level up their businesses and their lives.
Beautiful Barcelona
There's too much to see and do in a weekend, but thankfully, it seems like everyone on our team has been to Barcelona. We polled everyone, searched online, we even read books… here's the best of the best.
Map
Seven Surreal Sights

Beaches
Barceloneta: The biggest and "main" beach of Barcelona. It surrounds the breathtaking W Hotel… along with all the tourists. Easily the most crowded, this beach is known for pickpockets and shady salesmen. It's not our top pick, but it's definitely where the action's at.
Bogatell: Between Mar Bella and Nova Icaria, Bogatell tends to be cleaner and calmer than its neighbors.
Nova Icaria: Good for water sports, near a movie theater (English features). Usually a bit on the quieter side, but still lively.
Mar Bella:A bit secluded (even going so far as to feature a nudist section), the Mar Bella beach is quite close to CCIB – great for a post-networking dip in the Mediterranean.
Restaurants
Food is a clear highlight in any visit to Spain – with mediterranean inspiration and years of local tradition, you'll find nothing short of a dazzling array of flavors and unprecedented preparations.
But which to choose?
We've broken this section up based on the mood we think you'll be in when making choices. From impressive rooftop views to authentic locales, this list contains more than enough to fill your stomach throughout your visit.
Tapas & Catalan Cuisine
Not sure which to pick? You can also try wandering around Passeig del Born. There are a few tapas restaurants there (EL DISET, El Chigre 1769, Sagardi BCN Gòtic Restaurant, Bona Sort), so you can stroll around until the right one calls out to you.
Fancy Places
Casual Eats Near AWE
Looking for a bite between banter? Here are some fast options near CCIB:
Bars
After (or before) noshing on tapas, you'll surely want a taste of the local bar scene and nightlife. Here are our top tips for those looking to get tipsy – also broken up based on style.
Traditional Spanish Bars
Nightlife
Wanna change it up? Try partying on a boat: theBooze Cruise can get wild, so be prepared (and book in advance).
Music/Dancing
Nearby Adventures
Barcelona isn't the only draw in Catalonia. There are some refreshing getaways within an hour or two by train or car.
Sitges
This is the closest spot to escape the big city feeling, but thankfully, you won't sacrifice the fun – Sitges is a small town just outside Barcelona. It features its own nightlife, chill beaches, and some relaxing restaurants on the seaside.

Costa Brava
Heading up north, you'll discover some peace and quiet rather quickly. Costa Brava contains beautiful sea views, charming little towns and very few public transportation options (plan accordingly).
If you're here for more than just a few days, we definitely recommend checking out this beautiful stretch of mediterranean coastline!
Valencia
A beautiful, clean city with modern buildings and classical structures, Valencia is definitely worth the day trip. You can get lost in the winding city center, or take a stroll along the stunning City of Arts and Sciences.
A great alternative for those who like the urban feel, but want to escape the vastness of the Catalonian capital. It's definitely farther from Barcelona than the other options, but it's worth the trip (4 hours or so by car).
Meet Advidi in Barcelona
Let's chat! We've got some exciting things going on in Barcelona – not just our massive party (Advidi's Rooftop Party). You can meet us at the party… or you can find us on the meet market floor during AWE… or you can find us with the Advidi Adventure winners at Geek Out… or you can schedule a meeting with us directly (let's meet near a beach though)…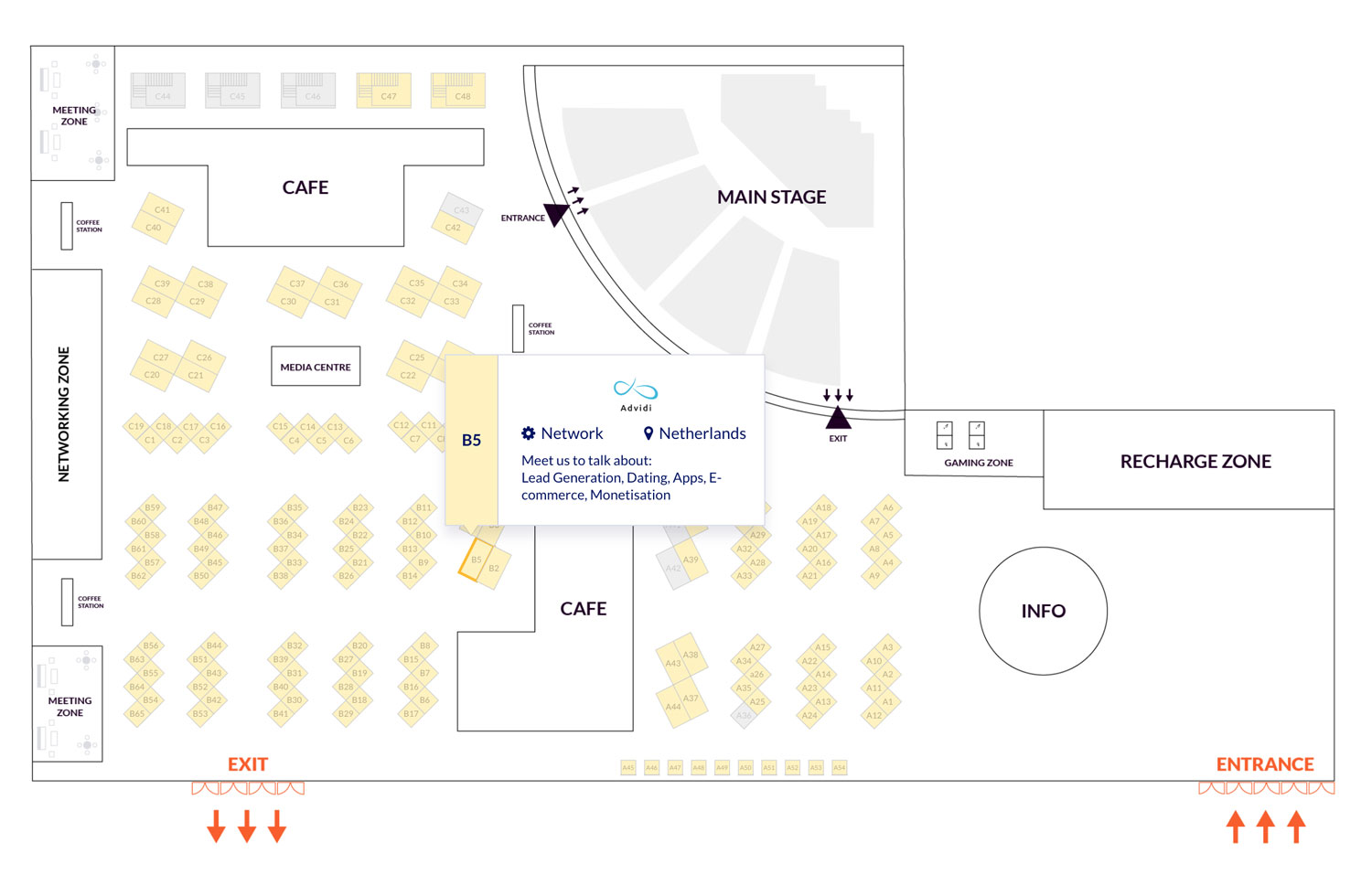 Basically, you can't miss us… we'll be everywhere! But do plan ahead, as our schedules are already filling up.
AWE meet market location
You can find us at Booth B5, right near the café at the center of the meet market. We'll have some fun stuff for you, plus more details on a huge surprise we'll be announcing at the rooftop party.
There's only one way to guarantee a meeting with us – takes two minutes:
BOOK YOUR MEETING
Enjoy the preparations and build-up, everyone. We'll see you in beautiful Barcelona nextmonth!