From heroes like Dalí and Gaudí to creative entrepreneurs like Facundo Bacardí and Eusebi Güell, Catalonia has long been a home to alternative-minded people. Its capital, Barcelona, is a perfect example; it blends art seamlessly with modern urban life, challenging every visitor to define it in their own way.
And this July, yet another alternative way of thinking will hit town: the affiliate marketing mindset!
With multiple events (including Affiliate World Europe, SheCommerce and more), the entire affiliate world will gather in this picturesque paradise – from beginners to veterans and all in between. You'll catch modern day heroes speaking on stages in front of hundreds of industry insiders, with some of the best and most recent information being shared publicly and behind closed doors.
To help you get the absolute most out of your visit, we've carefully scoured the internet and our personal experiences (which are many) to create a guide that is truly aimed at you – the best of the best in the performance marketing industry.
Let's not waste any more time – Barcelona, here we come!
Index
1. PREPARING FOR YOUR TRIP
Barcelona: What it's really like
Booking Your Flight
The Weather in Barcelona
Siesta
Currency Exchange
Where to Stay
Transportation in Barcelona
In Case of Emergency
Spanish vs Catalan vs English
2. The Events
Affiliate World Europe 2018
SheCommerce
Facebook Mastery Live
Ecommerce Mastery Live
Parties and networking meetups
Speakers
Oliver Kenyon
Hen Kinan
Ervin Hoxha
KJ Rocker
3. Beautiful Barcelona
Beautiful Barcelona
Seven Surreal Sights
Beaches
Restaurants
Bars
Nightlife
Music/Dancing
4. Nearby Adventures
5. Meet Advidi in Barcelona
Preparing for your trip
In this section, we'll cover all the practical details about getting to Barcelona and enjoying the city in comfort. We'll get to the fun stuff later – the information below is all about helping you avoid hassles and get the most out of Barcelona.
Barcelona: What it's really like
The legendary city of Barcelona is a popular hotspot for beach parties, breathtaking architecture, football superstars, off-the-wall artists and too much more to list here.
Everyone has their own Barcelona experience – if you've been here before, you've likely heard many stories already. You may discover that the city is quite different from your expectations. Here's what we've discovered in our visits there:
It's big… really big
It gets hot… really hot
Things can move very slowly, especially in the summer
Most places close for the hottest hours of the day and reopen later
They don't speak Spanish, they speak Catalan (even though they definitely speak Spanish)
The beaches in town can be crowded (if you don't know where to go)
There are a lot of pickpockets
The food is amazing (if you like tapas)
Booking your flight
If you've never done a Europe trip, AWE 2018 presents an excuse to get creative with your travel itinerary. There are hundreds of airlines based in Europe, each with hubs in different cities… and with different rates depending on how frequently they travel there.
Check out this interactive map of major airline carrier hubs for inspiration.
You can also consider the train if you're coming from a nearby country like France, Italy, Portugal – even the Netherlands.
The weather in Barcelona
Hot! It's going to be hella hot. And humid. The average temperature in July is 27°C (81°F) during the day, dropping to around 19°C (66°F) at night.
That's the average, so prepare for sweltering heat on occasion. Shorts, t-shirts, sunglasses, bathing suit… you won't need much else.
Siesta
The Spanish have taken the siesta very seriously, which means late afternoon is a dead period (usually around 13:30 – 17:00) when almost everything shuts down in the city, so people can rest and take a nap. Places like shops, restaurants, and more, will be closed during this period.
If you are planning to grab a late lunch or visit any shops during the day, be sure to check their website or call if they are open for business.
As far as we know, most tourist attractions should remain open.
All in all, we do recommend that you do plan ahead.
Currency Exchange
Spain uses Euros – most ATMs accept foreign cards, which is our recommendation. Check here if you're concerned your card might not work.
If you need to exchange cash, you can try the tourist areas like La Rambla, Sagrada Familia, etc. The rates are pretty competitive and you'll find lots of options. For small amounts, any place will do, but you'll want to shop rates if you're exchanging large amounts of cash. Check here for more insight.
Important note: Pickpockets are a real concern in Barcelona. They aren't threatening, but they are clever. When exchanging money or withdrawing from an ATM, be extra careful of your surroundings and store your cash in a secure location. (Fanny packs aren't just coming back into fashion – they're effective, too!)
If you prefer total security while exchanging, go to a bank – but note that they close around 14:00 most days.
Where to stay
As we said, Barcelona is big. Traveling across town can take some time, so we suggest finding a place near Fira de Barcelona Montjuïc, where AWE will take place (and a short distance to other parties and events).
We have a few recommendations:
Hotels
Here are some of our favorites – all a decent distance from the action:
Hotel Catalonia Barcelona This is the official hotel this year for AWE as well as the location for Advidi's notorious rooftop party. It is right across from the conference and will be the centre of the action with stunning views of Barcelona.
Ayre Hotel Gran Via: This hotel is just a 5 minute walk from the conference and is known for a delicious breakfast (especially the mimosas).
Pestana Arena Barcelona: A boutique hotel that offers a gym, sauna and even a Turkish bath. This will be a great place to relax between meetings and parties (if you have the time…)
Hotel Vilamari: Located close by away from the hustle and bustle with everything you need for a pleasant stay!

AirBnB
AirBnB is also a great option for those who like to really live the local experience. Book now to ensure a great spot – they're already filling up. We recommend finding CCIB and using it as a reference point for picking your ideal location on the map.
Transportation in Barcelona
We'll be honest: getting around can be frustrating if you're running late. The city has a good amount of traffic, the metro is hot and gets delayed, and biking will empty you of essential salts within a few minutes on the wrong day.
As such, we recommend you budget extra time for travel, and to focus on enjoying the experience. Barcelona is a beautiful city – why not include the scenery in your transportation plans?
Uber, MyTaxi, Cabify or Traditional Taxi
If you are planning to stick with your go-to ride, such as Uber or Cabify, be sure that you are aware with their new regulations in Barcelona. As of February 1st, you need to request their services 15 minutes ahead of your planned journey.
Another great alternative that you should know is that most locals have adapted to using MyTaxi, which is essentially Uber but integrated with local taxis. It's a similar experience – book and pay through the app.
Finally, there are the traditional taxis. They'll work well in a pinch, but there's a reason they've been protesting ever since Uber came to town… ride booking apps are better across the board (safer, digital trace, better rates, on-demand ordering, etc).
eCooltra – Scooter Rental
eCooltra is – forgive us for this – the coolest new service in Barcelona. If you want to zip around in style, this is the solution – it's basically Car2Go for scooters. They have a large fleet around town, and you can easily pick up/drop off on demand. Insurance, a full battery, helmets and maintenance are included. Great for getting from place to place or a leisurely tour of the city.
Metro & Bus
The public transport system is pretty simple and effective (enough). It's centralized through TMB, so your metro and bus tickets work together.
Here are some facts:
Single tickets are €2.20, one-way.
We highly recommend the T10 pass, which includes 10 (one-way) fares. It's €10.20 for 10 fares; you'll save over 50% if you buy single tickets.
Hola BCN! Travel Cards are probably the best and easiest multi-day option – they offer unlimited bus/metro travel and come in 3-, 4- and 5-day variants, starting at €15.
The Barcelona Card is a great option if you plan to make a lot of trips and check out tourist attractions (it includes discounts on entrances around the city).
This ain't Japan – delays do happen, and relatively often at that. If you're far away from your destination, we suggest budgeting an extra 20-40 minutes to account for potential disruptions.
Here's a complete overview of the metro and bus system in Barcelona.
Note: Getting to and from the airport can be a different story. You'll want to check your starting point; you might need a supplement or special ticket. Here's some more detailed info.
Walking & Biking
Barcelona is a joy to walk through, despite the broad corners that add a few steps to every intersection. Be sure to give yourself extra time to enjoy the sites and snap photos of strange buildings.
There are also a good number of bike paths in the city, but prepare to put some effort into it… the city is full of hills, making biking quite the challenge when compared to flat cities like Amsterdam.
In case of Emergency
Hopefully you won't need these emergency numbers:
Emergency (police / fire / ambulance): 112
Lost or stolen property: 010 (or, from outside Spain: +34 934027000)
A note on theft
Barcelona has a lot of pickpockets, we won't deny it. Luckily, they're lazy – and you'll be fine as long as you aren't also lazy.
Just avoid looking like a target:
Don't make withdrawals in crowded places or waving cash around
Don't leave your phone or laptop on the table while you go to the bathroom
Keep your hands on your pockets when you're in crowded spaces
Don't bring valuables with you unless you absolutely have to
Be extra careful on the crowded beaches like Barceloneta
Common sense stuff, but it's easy to get distracted.
Spanish vs. Catalan vs. English
In Barcelona, you'll find all three languages being spoken:
Spanish is the national language of Spain…
…but Catalan is the local dialect and official language of Catalunya (the region Barcelona is in).
However, most people speak English, especially in the tourist areas.
Within Barcelona, you shouldn't have a problem communicating.
It's good to know that the locals typically prefer Catalan. It's actually closer to French than it is to Spanish, so don't make the mistake of saying they're the same thing. (Seriously, don't even bring it up…)
Here's more info on the differences between Catalan and Spanish, plus some cultural info.
The Events
Lots of things are going down in Barcelona this July – the Affiliate World Conference series has acted as a magnet for more than a few affiliate events. There's one thing for sure: the best of the best will be in town, so now is the time to start scheduling your meetings and parties!
Affiliate World Europe 2019
This is the central meeting point for the world's top performance marketers – from all niches, across all traffic sources, you'll get real-life stories and tips from the best in the biz. It's a must-attend for the meet market alone, but don't miss the outstanding speakers – they always deliver the goods. Also the popular beer garden has returned! The conference will be taking place at Fira de Barcelona Montjuic on the 8th and the 9th of July.
There will be a very busy schedule full of:
Breakout sessions
Labs
Networking events
Speeches on the Main stage
Take a look at the full AWE schedule here!

Speakers
Like every year, there are a ton of great speakers on the list – you've heard from a few of them already, but the list goes on:
Oliver Kenyon – Co-founder, Landing Page Guys
Hen Kinan – VP Business Development, SHINEz
KJ Rocker – Director, KJ Rocker Fze
Kat Gaskin – Founder & Designer, The Content Planner
Ervin Hoxha – Co-founder, TheOptimizer.io
This is just a taste – find the full list of speakers with more to be announced soon on the AWE website.
Get tickets on the official AWE website. Prices rise over time, so be sure to get yours ASAP!
SheCommerce
SheCommerce is an exciting initiative from some of the top names in the performance marketing space. Focused on empowering women in marketing, the event features outstanding speakers who reveal next-level, actionable ecom tips to the next wave of female entrepreneurs.
It is taking place on the 7th of July and keep in mind that it is located at CREC Poble Sec in Barcelona.
There will be some outstanding knowledge being shared, making this is a must-attend for any ambitious female marketer in Barcelona next month.
Speakers this year include:
Kat Gaskin – Founder & Designer, The Content Planner
Cat Howell – Founder & CEO, Eight Loop Social
Savannah Sanchez – Facebook & Instagram Expert
Michelle Jakobs– Founder, LabEcom
Check out the full list here!
Tickets
Buy tickets on their site here
Facebook Mastery Live & Ecommerce Mastery Live
This is going to be their biggest two day event on record with 14 training sessions after 2 years of running these incredible events. Day 1 is focusing on Facebook Ads tactics and strategies whilst day 2 is covering Ecommerce brand and product strategies. The whole event is catered to building your network and sharing knowledge with others.
FYI you can get a 25% discount off of the 2 day pass by using 'advidi25' at checkout!
Parties and networking meetups
There will be plenty of side events – many companies throw parties, and there are some themed networking events here and there as well. Check STM if you want to get in on those.
For a list of publicly shared parties, you can check this guide to conference parties and networking events.
Of course, there's one event you truly shouldn't miss…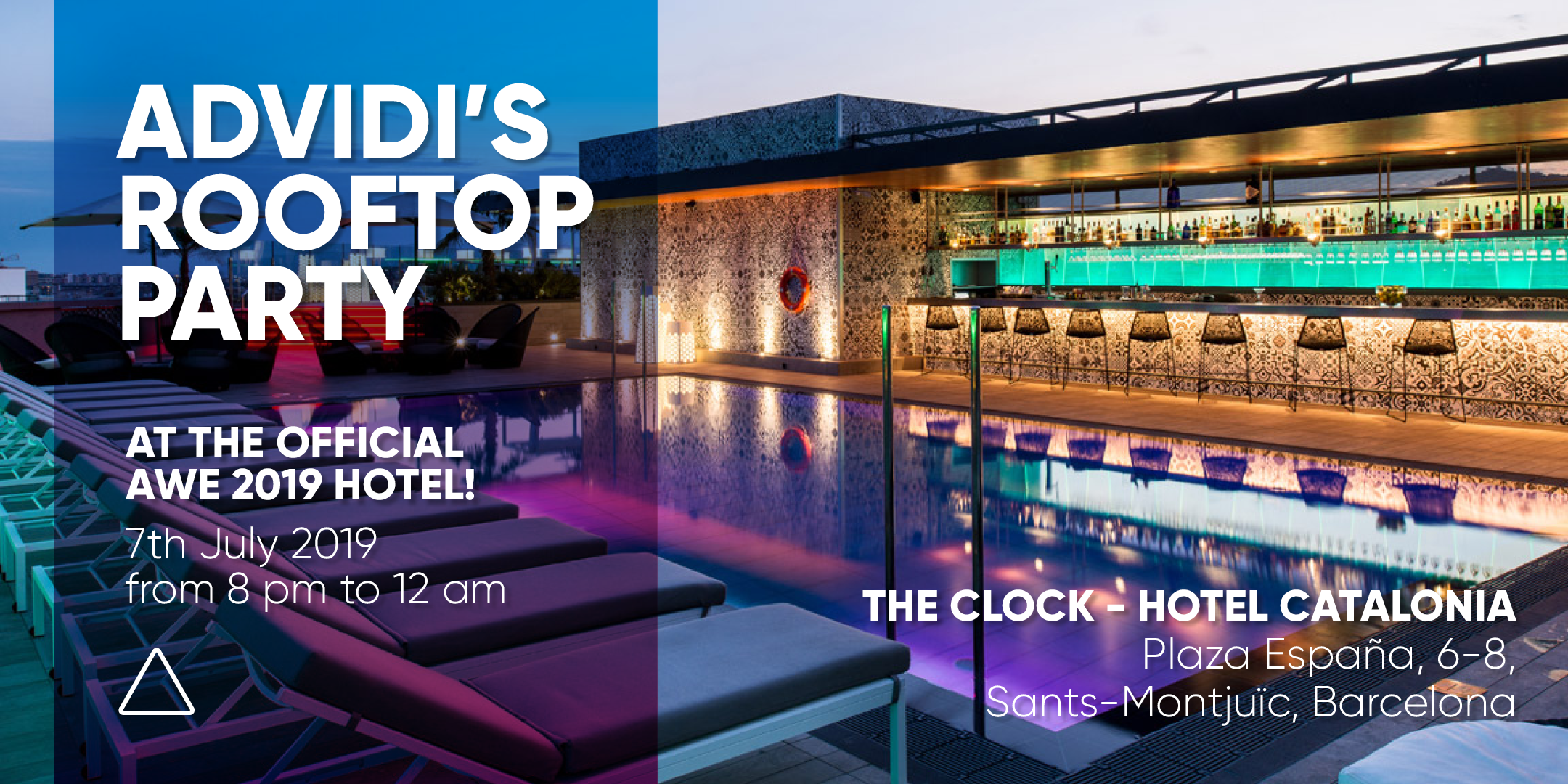 Advidi's Rooftop Party
Our notorious party is back again and features a walking dinner with 15 warm and cold Spanish dishes to choose from, an open bar and incredible views of the city. Kick of AWE the Advidi way, there is no better way to start. Many of the biggest marketing names in Barcelona that week will be there!
What: Advidi's Rooftop Party
When: 7 July 2019, 8pm-11:59pm
Where: The Clock, Hotel Catalonia, Plaza Espana
Need even more motivation? Check out last year's party here.
You know this is definitely a guest list you want to be on – so act quickly to get your spot. Register here now for your chance to get on the guestlist!
The speakers
Oliver Kenyon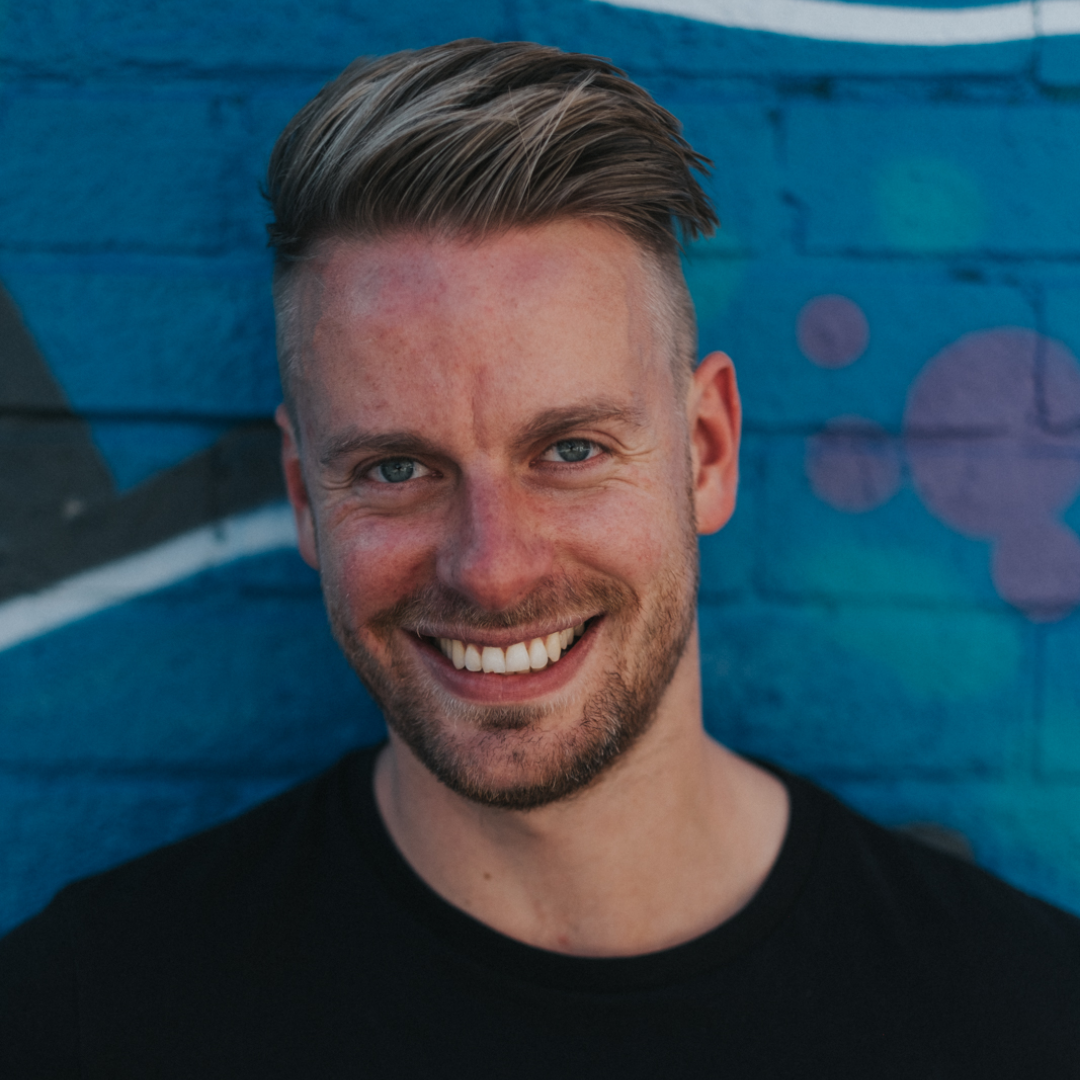 Oliver Kenyon is one of the founders of the Landing Page Guys, has started up several companies, as well as the founder of Affiliatefix. He is a successful online entrepreneur who took a brave risk at the age of 25 to quit being a professional chef and follow his lifelong dream!
Here's what Oliver has to say about the key to creating your first business, hacking the landing page, and his favorite part of AWE:
1. What would be your biggest tip for people looking to make the leap to create their first business?
Focus!
Too many people "leap" from shiny object to shiny object. Pick one thing that you enjoy doing and could see yourself making a future out of and stick to it. Someone far wiser than me once told me, keep doing what you're doing and the money will follow. So I'd advise, picking one thing, mastering it and don't get fixated with the money, it will follow.
2. Who will benefit most from your speech at AWE, and why should they be sure to attend?
Anyone who sends paid traffic to any sort of website or landing page. I'm SUPER excited to be sharing this talk for the very first time in Barcelona. It really is 10 actionable tips that ANYONE can apply to their landing page to instantly see better conversions. A few of these tips we've never shared before because they're so new and cutting edge and I can't wait to share them with everyone at AWE.
3. What kind of creative approach do you use to come up with new landing pages to test?
We firstly objectify the client's goals. Often people try to ask for too much at once or have conflicting call to actions. We try to simplify whatever the goal may be and then we follow our internal blueprint in order to create the highest converting landing page. Often the best looking landing pages will convert the worst, it's more about what's behind that landing page, I can't wait to share some of our blueprint in my speech.
4. How do you track performance and what metrics do you focus on to determine successful landing pages?
Our clients tend to track the performance and then voice it back to us to analyse. Often we'll take each step by step before looking at the overall funnel/conversion goal. For example, we'll look at the click-through rate on an advertorial and then optimise for add to carts. Once these are optimised we'll take a look at the goal of the overall funnel as ultimately this is the most important metric. The best advice I can give you on performance is to never be satisfied, always test and come up with new angles and split tests.
5. What are you most excited to see or do in Barcelona?
Networking and the beer garden. I'm so happy to see the beer garden is back this year and not because I just want to get drunk ha! We've been going to AWE for years and the best show was the first show in Berlin, because so much business was done with a beer in hand, sitting in the sun. I'm super happy it's back and I can't wait to see old friends and meet new ones. This show is amazing and it's always so fun!
Make sure also to check out his AffiliateFix event with ABC on the 7th before you hit up Advidi's rooftop party!
Hen Kinan
Hen Kinan is an industry veteran with his years of experience. He is the VP of Business Development at SHINEz where they make it simple and super profitable for media buyers/influencers to promote and profit off of viral content.
Here what Hen has to say on making viral content, the qualities behind an influencer, and why he keeps on coming back to the Affiliate World Conferences:
1. As this is not your first Affiliate World Conference what is it that keeps you coming back?
So actually, this will be my eighth time at Affiliate World Conference! Since first attending the 2015 Bangkok conference, I haven't missed a single AWC. I think the reason I keep coming back boils down to the conference's quality content and production – but mostly, it's the people I meet here.
2. What are the main qualities that make someone an influencer?
My line of work has led to many collaborations with influencers over the years. In my experience, the best influencers are those people who actually care about the content they create for their followers. They have to be real, genuine and authentic. Of course, like in any other business, their conduct needs to stay professional, as well.
On a personal note, I prefer to work with influencers who have strong values; people who try to make the world a better place.
3. In your opinion what is your biggest tip in making viral content?
Innovation. Successful viral content almost always has to be new and original. It's impossible to say what will work next; I've seen anything from baby elephants to stories about 1950s stars take off without warning, and it's always fascinating to try and understand why a particular story works. I guess my biggest tip would be to keep an open mind!
4. Who will benefit most from your speech at AWE, and why should they be sure to attend?
I've been working in the affiliate industry for many years now, and have recently discovered a relatively untouched vertical. Shinez, the company we've built over the past two years, offers powerful new tools which allow affiliates like us to get in on the action on the ground floor. I'm going to be presenting a few concrete case studies, with real numbers, and hope to let people in on the huge potential this vertical offers. If you're looking to make profit off of viral content, I think my talk will be a game-changer for you.
5. What are you most excited to see or do in Barcelona?
So first and foremost, I'm really looking forward to meeting and catching up with people from all over the world whom I work with on a regular basis. I can't wait to throw back a couple of gin and tonics with them- hopefully at Advidi's rooftop party! On top of that, I'm a big beach guy, and hope I'll get a chance to catch a few waves – or maybe even water ski!
Ervin Hoxha
Ervin Hoxha has been in the industry since 2008 and his years of experience led him to co-found The Optimizer. He will be speaking about "Pay Bumps and Placements: Leveraging Rep Relationships for Profits" at AWE this year.
Here's what Ervin has to say about how automation is affecting performance marketing, what are some of the most important factors in the industry, and what will be keeping him busy in Barcelona:
1. What initially drew you to affiliate marketing?
It all started during the university years, around 2008. I happened to be in the same class with bbrock32, one of the founders of STM Forum and a super affiliate.
Of course I never thought this would have turned out to be a career, at the time all I was looking for was to make some extra money that would help with my studies.
So bbrock32 introduced me to the industry, and here we are over a decade later.
2. Who will benefit most from your speech at AWE, and why should they be sure to attend?
The panel is part of the new formula introduced this year called "AW Labs", dedicated to Native Advertising.
It is a mix of events and networking that will allow everyone to not just attend the stage panel but have a chance to personally meet, ask questions and exchange experiences with all the speakers afterwards.
So who will benefit from this? Basically everyone in the Native Advertising industry. Affiliates, networks, traffic sources, account managers.
3. What is the biggest advantage of using "The Optimizer"?
It Saves You Time & Money.
It might sound just like another slogan, but if you think time & money are the 2 most important factors in this industry (yes ok, probably not only in this industry 🙂 ) if you want to scale your business.
Time: TheOptimizer can automate almost 100% of the daily manual boring optimization tasks, meaning you or your mediabuyers now have more time to focus on launching new campaigns, creating better ads, talking more to your reps, which are what make the difference.
Money: TheOptimizer is there 24/7. So every decision is made at the right time avoiding wasting money on non performing placements, and at the same time scaling profitable placements.
4. In your opinion, now that a lot of media buyers are moving to automation, how will this affect performance marketing?
I believe that with automation covering the optimization part, in order to be successful in performance marketing you now need to really be creative. Because basically creativity will be the only margin you'll have with your competitors, if everyone else as well is using automation.
5. What are you most excited to see or do in Barcelona?
Unfortunately, between the AW Labs and TheOptimizer Booth, the schedule this year will be very tight, so there will not be much time to visit the city. But I think I'll be able to attend a couple of parties anyway!
KJ Rocker
KJ Rocker is a CPA marketing expert who has been active in the performance marketing industry since he was only 14 years old. He specialises in digital marketing and generating leads. KJ is based in the UAE where he is the director of KJ Rocker F.Z.E, a performance marketing company.
Here's what KJ has to say about some of the biggest mistakes in CPA marketing, how to make the most of your data, and in which direction he sees CPA marketing going in the future:
1. What advice would you have given yourself at 14 when you entered the world of performance marketing?
To focus more on building my own team and build mailing lists, These two things are really helpful to take your business to the next level. By the time I realized how silly it was for not working on building up a team instead of working as a one man army and also by just wasting my traffic without collecting customer information.
2. In your opinion, what would be one of the biggest mistakes affiliates make when starting out with CPA marketing?
That would be to give up quickly or give up because they have burned their budget and are giving up, We all face such problems and failures but they key is to learn from the mistakes you made and work rectifying your mistakes, Whenever me and my team launch campaigns we don't expect them to be successful from day 1 , Instead we look at the ways we can optimize our campaigns and filter out bad performing placements and separate profitable ones form the ones which are making us lose money and that's how we make money. My 2nd advise would be to try to find someone who is willing to take you by the hand and show you how campaigns are launched you can find a couple of legit coaches in the industry!.
3. Who will benefit most from your speech at AWE, and why should they be sure to attend?
It would be the affiliates who are already promoting campaigns and looking forward to scale their campaigns. I have helped many affiliates to increase their revenues a couple of my clients have increased their revenues into millions of dollars, I will be sharing some techniques and personal experiences which can be used to make the most out of your data and also about how to collect your data and what to look into it .
4. How do you see CPA marketing developing in the coming years?
Our industry is on the forefront of the tech, it keeps evolving everyday and It may change in terms of we may see more clean and white-hat offers, More regulations and more advertisers but I don't see its going away anytime soon, As long as people need help making buying decision affiliate marketing will thrive. Its us affiliates who are a bridge between a consumer and the product and that bridge isn't going anywhere anytime soon …
5. What are you most excited to see or do in Barcelona?
See and meet people I have been talking to, My friends and colleagues from the industry who are just like my own family 🙂
Beautiful Barcelona
There's too much to see and do in a weekend, but thankfully, it seems like everyone on our team has been to Barcelona. We polled everyone, searched online, we even read books… here's the best of the best.
Map
Seven Surreal Sights

Beaches
Barceloneta: The biggest and "main" beach of Barcelona. It surrounds the breathtaking W Hotel… along with all the tourists. Easily the most crowded, this beach is known for pickpockets and shady salesmen. It's not our top pick, but it's definitely where the action's at.
Bogatell: Between Mar Bella and Nova Icaria, Bogatell tends to be cleaner and calmer than its neighbors.
Nova Icaria: Good for water sports, near a movie theater (English features). Usually a bit on the quieter side, but still lively.
Mar Bella:A bit secluded (even going so far as to feature a nudist section), the Mar Bella beach is quite close to CCIB – great for a post-networking dip in the Mediterranean.
Restaurants
Food is a clear highlight in any visit to Spain – with mediterranean inspiration and years of local tradition, you'll find nothing short of a dazzling array of flavors and unprecedented preparations.
But which to choose?
We've broken this section up based on the mood we think you'll be in when making choices. From impressive rooftop views to authentic locales, this list contains more than enough to fill your stomach throughout your visit.
Tapas & Catalan Cuisine
Pez Vela: One of the best places for Paella. What else needs to be said?
La Paradeta: This is where the locals get their fish. Not a luxurious place, but that's usually a good sign when it comes to local eats.
Bar Canete: Hidden away tapas bar with modern Spanish food meant to be shared.
Cal Pep: Fun, exciting experience – there's no menu. You just tell the waiter each round if you're still in for the next surprise. For the daring…
Bar Mut: Another tapas spot – this one a bit more expensive and swanky. Be sure to reserve your table ahead of time.
7 Portes: One of the oldest restaurants of Barcelona. Typical Catalan cuisine.
Not sure which to pick? You can also try wandering around Passeig del Born. There are a few tapas restaurants there (EL DISET, El Chigre 1769, Sagardi BCN Gòtic Restaurant, Bona Sort), so you can stroll around until the right one calls out to you.
Fancy Places
Disfrutar Barcelona: Exciting, exotic preparations – gastro stuff. "If it's small, you know it's fancy." Looks delicious.
One Ocean Club: This one is more exclusive – you need to be member to get in. If you want to go, feel free to contact someone on the Advidi team and we can likely get you in!
Carpe Diem: Located on the beach, this is an upscale spot with great views and a cozy setting.
Bravo24: Run by chef Carles Abellán, this modern restaurant combines tradition with new interpretations – always relying on fresh ingredients to bring the flavor.
Cecconi's: Great place for lunch or dinner. Modern-day classic Italian style.
Llamber: Modern take on classic Spanish dishes. Somewhat exotic atmosphere with artisanal preparations.
Casual Eats Near AWE
Looking for a bite between banter? Here are some nearby options near Fira de Barcelona Montjuïc:
Bars
After (or before) noshing on tapas, you'll surely want a taste of the local bar scene and nightlife. Here are our top tips for those looking to get tipsy – also broken up based on style.
Traditional Spanish Bars
Creps al Born: Lively and welcoming atmosphere. Find both locals and tourists mingling in peace.
Bar Sauvage: Smart place to go for cocktails and bites. Really cool interior.
Paradiso: Super cool speakeasy bar that's located inside another secret bar. You gotta experience it to understand.
Dr. Stravinsky: Crazy cocktails, hardly any beer… this is where you can find serious mixologists at work. Go bother them with your whacky ideas!
Dux: Gin and cocktail bar, gets really lively later at night. Nice for couples or partying groups.
Mr. Robinson: Food and cocktails right near Barceloneta beach. Stop by after lounging on the sand (or to charge your phone so you can report your stolen wallet).
N9 (Numero Nueve): Near the Museu Picasso in the heart of Barcelona. Delightful cocktails, warm environment.
El Xampanyet: Named after their own brand of sparkling wine, this local spot serves tapas as well – but be prepared for a wait, as it can get very busy.
Nightlife
Wanna change it up? Try partying on a boat: the Booze Cruise can get wild, so be prepared (and book in advance).
Music/Dancing
Nearby Adventures
Barcelona isn't the only draw in Catalonia. There are some refreshing getaways within an hour or two by train or car.
Sitges
This is the closest spot to escape the big city feeling, but thankfully, you won't sacrifice the fun – Sitges is a small town just outside Barcelona. It features its own nightlife, chill beaches, and some relaxing restaurants on the seaside.

Costa Brava
Heading up north, you'll discover some peace and quiet rather quickly. Costa Brava contains beautiful sea views, charming little towns and very few public transportation options (plan accordingly).
If you're here for more than just a few days, we definitely recommend checking out this beautiful stretch of mediterranean coastline!
Valencia
A beautiful, clean city with modern buildings and classical structures, Valencia is definitely worth the day trip. You can get lost in the winding city center, or take a stroll along the stunning City of Arts and Sciences.
A great alternative for those who like the urban feel, but want to escape the vastness of the Catalonian capital. It's definitely farther from Barcelona than the other options, but it's worth the trip (4 hours or so by car).
Meet Advidi in Barcelona
Let's chat! We've got some exciting things going on in Barcelona – not just our massive party (Advidi's Rooftop Party). You can meet us at the party… or you can find us on the meet market floor during AWE… or you can schedule a meeting with us directly…
Basically, you can't miss us… we'll be everywhere! But do plan ahead, as our schedules are already filling up.
AWE meet market location
You can find us at Booth A22, right near the café and the stage.
There's only one way to guarantee a meeting with us – takes two minutes:
BOOK YOUR MEETING
Enjoy the preparations and build-up, everyone. We'll see you in beautiful Barcelona nextmonth!