Amsterdam! Home to hundreds of cultures, thousands of entrepreneurs and, of course, Advidi. We love it!
It's no wonder so many affiliates call Amsterdam home. The stock market was invented here. Free trade and innovation have always taken precedence over restrictions and routine. It's a city driven by business – but never at the cost of good living. Its historic regard for stability and tradition blends with an innovative, forward-thinking mentality to create a strong sense of security, freedom and opportunity.
Everyone has their preconceived notion, and most are based in truth. It's a city of many facets – that's an essential part of its beauty. Whether you're here to visit us, check out the local affiliate scene or just enjoy the sights, this guide is here to help you find the Amsterdam you came to discover.
Table of Contents
8. Neighborhoods ("Stadsdelen")
IGB AFFILIATE AMSTERDAM
iGB hits Amsterdam in July 2019!
The conference
iGB Affiliate Amsterdam brings operators, affiliate programs, and affiliates together from all across the globe. There will be over 1500 affiliates that majorly work in iGaming, FX, and crypto present. This is what makes it "one of the largest collections of dedicated gaming affiliates in the world".
When: 16th – 19th of July, 2019
Where: RAI Amsterdam
Official hashtags: #iGBLive2019 #iGBAffiliateAMS
The Schedule
The event takes place from the 16th to the 19th of July however the exhibition is only taking place on the 17th & 18th. The other two days are filled with exciting networking opportunities. So make sure to check out the full agenda from iGB!
Why you should visit
Amsterdam has a lot of outstanding draws.
There are many reasons the cozy Dutch capital remains one of the hottest destinations for all types.
History and art: The Dutch have been around the block. Starting as a hodge-podge mix of little clans, they were united a few hundred years back and have been involved in their fair share of global dealings. (Okay, sometimes it was an unfair share.) The many museums and historically preserved dwellings pay constant homage to the city's rich past.
Water, architecture and/or city planning: The city itself is a living museum for anyone who loves water. The famous "Grachtengordel" is an inspiring and omnipresent achievement of water management, while the sea dikes and polders are a testament to traditional Dutch control over the wet stuff. As they say: "God created the world, but the Dutch created Holland."
Tulips, cheese and open markets: This is more applicable to the whole country, but you'll find many lovely flower and farmer's markets scattered around the city. The Netherlands is also home to many fine cheeses, including Gouda, Beemster, Edam and more.
Booze, babes and bluntz: The topic we can't ignore! The locals aren't as into it as you may think – coffeeshops and absinthe shots are not part of the culture. Enjoy, but don't be that bottom-of-the-canal-bound tourist drunkenly spinning in the bike lanes.
As you'll discover in the "Unique Places" section below, many of the city's most intriguing spots don't fall directly into any of the above categories. Amsterdam has long been an international hub – a melting pot much like New York (which was built by the Dutch – don't you forget it!).
It's this blend of the strange, the traditional, the chaotic and the comforting – all working in unison – that give it its undeniable charm. It's no wonder many who visit the city leave with plans to return, even permanently.
When to visit
"Tourist season" is from mid-April to mid-October, and spikes again during Christmas.
There's no wrong time to come, but you may want to consider the weather, affiliate conferences and major holidays/events.
The weather
Amsterdam is a beautiful city year-round, with endlessly energetic city life and predictable picturesque sunsets straight out of a… well, let's just say Van Gogh got it from somewhere. That said, there are a few things you should be ready for:
You should plan for rain any time of the year.
It's not always snowy during winter.
It's not always sunny during summer.
Just plan for rain. It's gonna rain. Also, it's pretty windy. And cold… and grey…
But those sunsets are magnificent!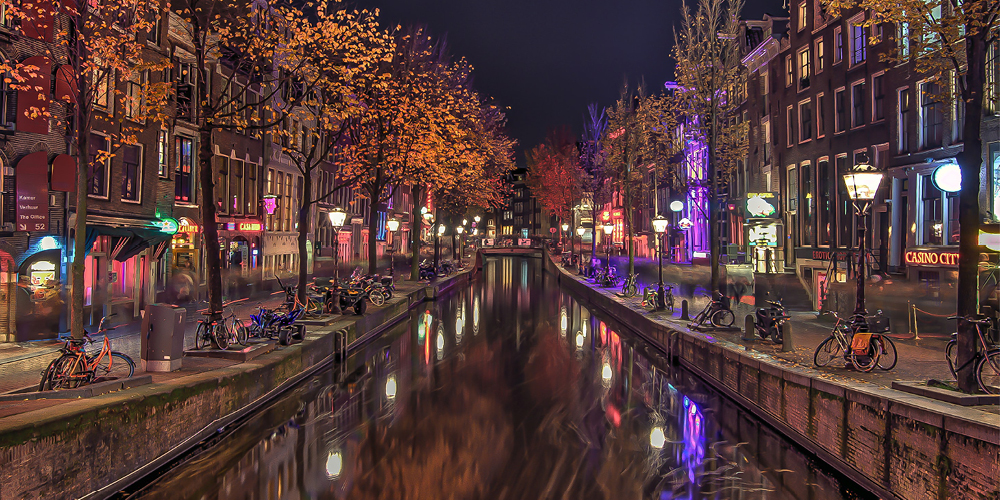 Affiliate conferences in Amsterdam
As well as iGB and Affiliate Summit Europe, which happened in March this year, there are two major affiliate events occurring each year:
Webmaster Access

WMA is perhaps the most valuable conference for Dating affiliates in Europe.
Webmaster Access is effectively the European twin to Las Vegas' interNEXT, with a heavy focus on the Dating vertical. If there's an up and coming trend in the industry, chances are good that you'll hear about it here first. Affiliates attend for free, which adds a nice incentive.
Amsterdam Affiliate Conference
The biggest affiliate conference in Amsterdam!
Amsterdam Affiliate Conference (AAC) is part of the iGaming SuperShow, which comes via the renowned iGB conference series – so you can bet it attracts some of the strongest players in the affiliate space. It's your annual portal to the heart of the iGaming world, featuring networks, operators, affiliates and more. It's usually held at RAI, a huge conference hall in a nice neighborhood towards the south end of the city.
Affiliate Meetups (Local Scene)
There are plenty of affiliates in the Netherlands, and Amsterdam is the central meeting point. In addition to the major conferences above, there are regular meetups for affiliates in the area. You'll need a private invitation for the majority. Check in with your AM to see what's happening in the near future.
Major holidays and events
King's Day (Koningsdag) – 27 April: Formerly Queen's Day, this celebration of the king's birthday is the largest Dutch holiday. Streets throughout the country flood with orange, resulting in much confusion for the unaware ("Are the Dutch always like this?"). It's a great time to visit. If you pack your orange suit, be sure you have the right date – it changed from 30 to 27 April in 2013, when the queen abdicated. You don't want to be like these guys – it's become a national sport to spot these wrong-day revelers!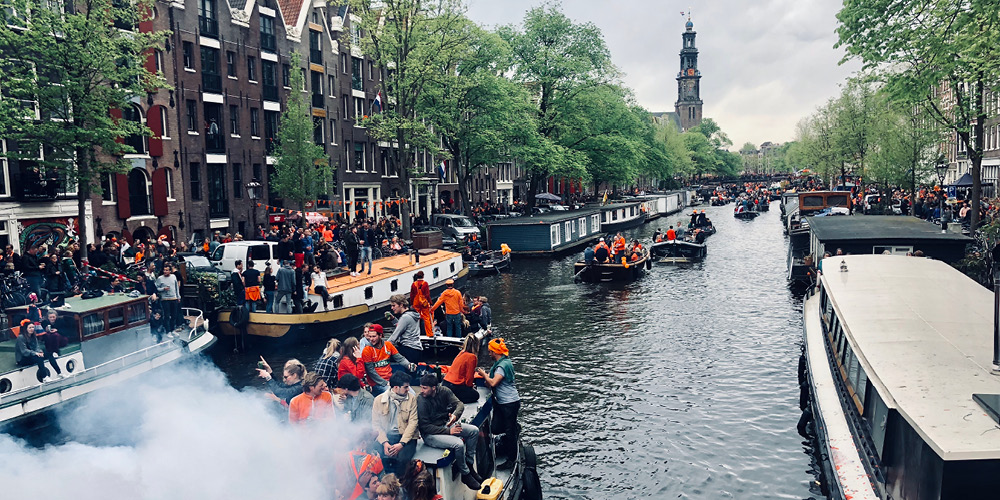 Festivals and parties: The Netherlands is famous for its many music festivals, with particular expertise in all things upbeat and electronic. You can get the best of Amsterdam and its music scene during ADE (Amsterdam Dance Event – which does its best to turn the entire city into a dance floor), but there are plenty of other events that are worth the trip.
Keukenhof / Tulip Season (March-May): Fancy flowers? You'll love the Keukenhof – it's packed with tourists but truly pretty. If you're not into long lines and excessive designs, you can take a tour along the tulip farms from mid March to mid May.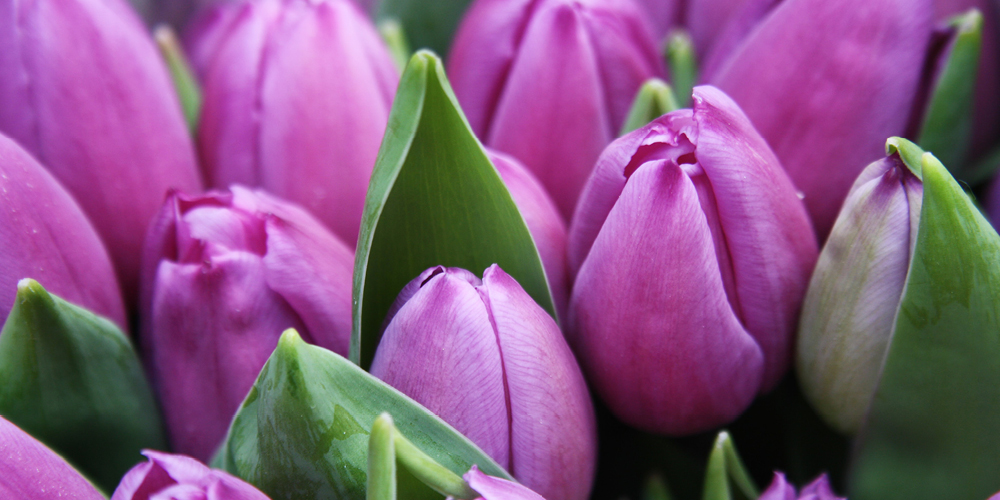 Zaanse Schans: If you missed tulip season, don't stress – Zaanse Schans is just as Dutch and delightful. If you have an afternoon to spare, we recommend a bike ride from Amsterdam to this gezellig area filled with windmills and historic homes.
Getting there
Amsterdam's Schiphol Airport is a major hub in Europe, meaning cheap flights can be found with relative ease.
The country is also easily accessed via train and bus from nearby countries, including the UK.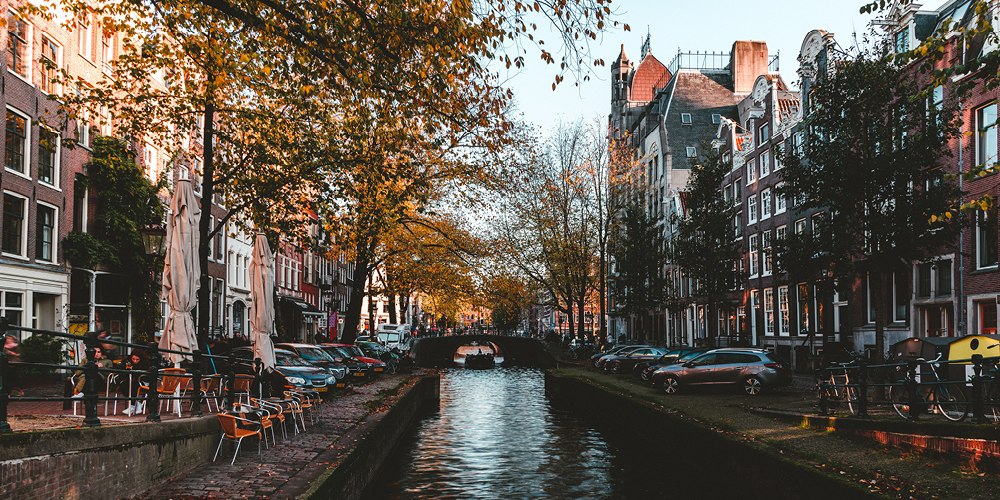 In our overview of apps for affiliate marketers, we mentioned Hopper – an app that optimizes your flight search and helps you buy at the right time. If Amsterdam has been on your radar, set an alert.
Arrival from Schiphol Airport
You have a few options. The train is the preferred method for locals – it runs regularly to all the major stations in Amsterdam and takes about 10 minutes. You can also get a bus or take a taxi from the designated taxi shelter.
On your first trip
First time in Amsterdam? Awesome!
You can't go wrong.
Getting lost, wandering through the maze-like city center, finding places and not understanding what they are (but using them as a reference point, even though nobody can understand your Dutch pronunciation)… yup, everyone has the same experience the first time around.
Before you leave central station, just remember the following:
The bikes don't stop. They ring their bell, then they hit you.
The trams don't stop. They ring their bell, then they hit you.
The cars… actually, they usually stop. But it's better not to take chances.
It's quite safe and you'll get with the flow quickly, but it can be overwhelming at first. Bikes rule, so look both ways before walking across the bike paths – even at crosswalks.
A few more notes for first-timers:
Everyone speaks English, and you don't have to be embarrassed about it.
If you are lost or need help, don't be afraid to ask around – shopkeepers, police and passersby are typically quite friendly.
Amsterdam's reputation precedes itself – it's not all prostitutes, parties and drugs. They're here, sure… but it's a very normal city, with normal people living normal lives.
If you can, take one day to wander without a plan. It's the best way to discover the city.
Hard drugs are illegal. Don't buy them from street dealers – it's usually baby powder anyway. Drinking and smoking pot in public are also illegal, but it happens… the most important thing is not to bother anyone.
Are Dutch people nice?
Yes. But we forgive you for not realizing this right away.
Where to stay
In such an accessible city, location is not as critical.
Anything within 20 minutes of Dam Square by bike can be considered central.
Prices in Amsterdam range from budget hostel options under €30 (if you can book them well ahead of time) to lavish hotels overlooking central canals. Staying further from the busy Centrum can even be beneficial – you'll see an area others usually don't get a chance to, and you'll get a break from the hustle and bustle of the center.
Check out the Neighborhoods section below if you're looking for a particular vibe beneath your balcony.
Getting around
Travel within Amsterdam is easy.
The public transport system is excellent, biking is ubiquitous, and most major attractions are walking distance.
Driving is the least efficient!
Biking
The Dutch way. The best way. The only way.
Grabbing a bike ("fiets") will change your experience. Everything in Amsterdam is accessible by bike. The city becomes small when you're cruising along the flat paths that snake along each canal and throughout every back alley.
Here's what you should know:
It's intimidating at first, but just do some observing, then go with the flow – that's most important. Most accidents happen due to hesitation and unpredictability. Despite the apparent chaos, accidents are uncommon.
Lock your bike! Bike theft is common.
You can often rent bikes for a discount through your hotel, or you can find them at one of the many rental shops ("fietswinkels"). Expect to pay around €7-10 per day.
Yield to traffic coming from your right – unless you can go fast enough to get through without causing any major damage.
People don't wear helmets. They make up for this by not falling over often – a tactic we recommend.
Don't stop in the middle of the bike path – pull over to the side.
Always turn your wheels at a sharp angle when crossing tram lines. Trust us.
Those little white triangles you see at intersections? They mean you're supposed to yield to oncoming traffic. (Remember them as "alligator teeth" pointed at the person who's supposed to yield.)
For further tips, check out this hilarious, yet accurate video (except for the potato, perhaps) from the Amsterdam tourism department. Don't become self a trammie!
Trams/metro/bus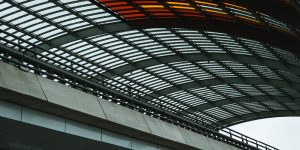 The public transport system is reliable and reaches most of the city. Longer trips (especially to Zuidoost or Bijlmer) are worth a metro ride, but otherwise, the tram and bus do well.
You can plan your trips online at 9292.nl ahead of time (they also have a convenient app).
Note that the system changes slightly at night. The night bus ("nachtbus") runs all night (from 1am-5am), but it's less frequent and costs a bit more.
If you're planning a lot of travel (more than 4 trips per day), you may want to consider the regional day ticket. Otherwise, temporary tickets will do. For especially long stays, invest in an OV-Chipkaart – it works on trams, metro, train and even the night bus.
Walking
Ah – truly the most environmentally friendly way to get around. Use our map! You'll get lost. The city's "U" shape will lead you in circles, but that can lead to exciting experiences more than it distracts you.
You can take a walking tour, or you can plan your own trip. We recommend getting lost on purpose and trying to find your way back. If you're planning on wandering, this Quora answer offers a great itinerary.
The Ferry (Amsterdam Noord)
The ferry (de pont) is free and runs throughout the night to the north of Amsterdam (Amsterdam Noord). We recommend checking it out; the up-and-coming area has an industrial, chilled-out vibe, and the trip across the IJ is pleasant in itself.
Train (outside Amsterdam)
Take advantage of the Netherlands' small size with a day trip to a nearby city! The trains are fast, comfortable and reliable. Check the schedule and get a ticket the same way you did from Schiphol.
Uber / Taxi
This is a good option for getting to and from the airport, especially with luggage, but it's not the most effective for getting around the city. Uber is readily available, and the taxis are centralized – dial 088 777 7777. Don't accept rides from people approaching you at the airport.
Neighborhoods ("Stadsdelen")
Amsterdam is comprised of many neighborhoods, similar to New York's boroughs.
Amsterdam was originally quite small, and grew out over time, creating "pockets" of purpose-driven communities around the center.
They each host a unique vibe, often stemming from the time in history they were developed.
Centrum (City Center)
Where most of the action happens! You'll likely start here, and can even spend a whole trip without leaving… but you should explore. The vibe is active and historic; a semi-hectic blend of photo-snapping visitors and lifetime Amsterdammers passing each other at high speeds along narrow streets.
Activity level: High
Tourist density: Too High
Accessibility from Centraal Station: Easy – walking distance
Top recommendations:
The Red Light District
Dam Square
Kalverstraat
The rest of Amsterdam
Rarely seen by tourists, the reason most of us are in love with Amsterdam actually lies outside the crowded center. Take a peek at the various neighborhoods and consider staying in one for a more informed perspective.
NDSM
This neighborhood in the north is up-and-coming; it's still dominated by industrial vibe, but some of the coolest bars and clubs are popping up here.
Activity level: Low
Tourist density: Very Low
Accessibility from Centraal Station: Easy (take the free ferry directly behind Centraal Station)
Top recommendations:
PLLEK (where we held our Advidi Adventure party)
NDSM Werf
IJ-Hallen (huge monthly flea market)
Noorderlicht Café
The Crane Hotel
Various festivals and events
Westerpark
The most beautiful neighborhood of them all! Okay, it's just really nice – and it's where the Advidi office is located.
Activity level: Medium-Low (unless there's an event at Westerpark itself)
Tourist density: Low
Accessibility from Centraal Station: Easy-Medium (10 minutes by bike)
Top recommendations:
Westerpark
Checkpoint Charlie
Pacific Parc
TonTon Club
Het Ketelhuis Theater
Noord
The other side of the other side of the water (along with NDSM). Quiet, open and calm. Great to escape the chaos of the inner city.
Activity level: Low
Tourist density: Low
Accessibility from Centraal Station: Easy (very fast ferry ride)
Top recommendations:
Cafe de Ceuvel
EYE Film Institute
Skatecafe
Pannenkoekenboot
Oostelijke Eilanden
The "Eastern Islands" are a bit removed from the city, and you will notice the difference; many of the buildings are new, built to accommodate the growing number of residents in the area.
Activity level: Low
Tourist density: Even Lower
Accessibility from Centraal Station: Medium-Difficult (not many trams or busses serve the entire area, but it's not far by bike)
Top recommendations:
NEMO
Pension Homeland
Muziekgebouw aan 't IJ
Java Island
Cafe Roest
De Plantage
Home of the zoo, this small neighborhood is off the beaten path, but full of lush greenery and a strong natural vibe.
Activity level: Low
Tourist density: Low-Medium (lots of hotels in the area)
Accessibility from Centraal Station: Medium (10-15 minutes by bike or tram)
Top recommendations:
Artis (The Zoo)
The Hortus Botanicus
Micropia
Oost
This multi-cultural neighborhood is a bit of a stray from the well-worn path through Amsterdam, which should only place it higher on your list of places to visit.
Activity level: Medium
Tourist density: Low
Accessibility from Centraal Station: Difficult (relatively speaking; it's far from the center)
Top recommendations:
De Biertuin
Brouwerij 't IJ
Oosterpark
Generator Hostel
Oosterbar
Bukowski
Volkshotel/Canvas
De Pijp
This is where the young and hip come to hang, along with being home to the city's most well-known market (Albert Cuypmarkt).
Activity level: High
Tourist density: Medium
Accessibility from Centraal Station: Easy-Medium (at the edge of the center)
Top recommendations:
Albert Cuypmarkt
The Butcher
Bakers and Roasters
Coffee & Coconuts
Bars and restaurants surrounding Albert Cuypmarkt
Oud Zuid
Straddling Vondelpark, this upscale neighborhood is home to Museumplein – along with many of the city's famous movers and shakers.
Activity level: Medium
Tourist density: Medium
Accessibility from Centraal Station: Medium (on the other side of Vondelpark)
Top recommendations:
Museums (Van Gogh, Rijksmuseum, Stedelijk)
Vondelpark
Bars and cafes along Overtoom
OT301
Oud West
This interesting area hosts many boutique shops, diverse cafes and great walking routes. Many hotels and the World Fashion Center mean more tourism, but the neighborhood is spread out and thus relatively quiet.
Activity level: Medium
Tourist density: Medium
Accessibility from Centraal Station: Easy-Medium (15-20 minutes by bike or tram)
Top recommendations:
Rembrandtpark
Breakfast Club
Foodhallen
Waterkant
Lot Sixty One (the coffee that fuels Advidi!)
Bos en Lommer & De Baarsjes
Formerly considered remote, Bos en Lommer has grown a lot in recent years. It's still a bit out of the way, but not a bad place to look for inexpensive hotels. Many of the best clubs hide in plain sight there.
Activity level: Medium
Tourist density: Low
Accessibility from Centraal Station: Medium-Difficult (further away, but well-serviced by public transport)
Top recommendations:
Bos en Lommer market
Hotel Not Hotel
De School
De Marktkantine
Lokaal Edel
Amsterdam Zuidoost
Hidden on the other side of Diemen (a different town), Zuidoost ("southeast") is home to the Amsterdam ArenA, where Ajax and the national team play. It's not the Amsterdam most expect when accidentally booking a hotel there… though the cheap prices can make it worthwhile, most will prefer to be closer to the city.
Activity level: Low-Medium (mostly locals)
Tourist density: Very Low (you are lost, my friend)
Accessibility from Centraal Station: Very Difficult (take the train)
Top recommendations:
Not coming here
Bijlmerbajes
Amsterdam ArenA and similar event centers
Map
Lost? That means you're doing it right.
But our interactive map can help you get back in action nonetheless.
Direct link (save it to your phone!)
Restaurants and food
Amsterdam has a lively international culinary scene.
Featuring everything from traditional Dutch dishes to Michelin-starred restaurants.
The world-renowned Dutch cuisine spans a broad range of exotic flavors and preparations, sure to inspire your taste buds across the entire tongue! From bread covered in butter and chocolate sprinkles to fried balls of gravy with questionable meat, there's something for everyone! As long as you like fried things and bread. (If that's not your style, don't worry – slimy raw fish are also available.)
Of course, if this scintillating array of options doesn't entice you, the international cuisine scene is sure to accommodate. You'll find plenty of Surinamese, Italian, Turkish, Asian and generally "anything but Dutch" restaurants.
Traditional cuisine
"Hollandse Nieuwe" ("Raw" Herring): This is about as traditional Dutch as you can get, dating back more than 600 years. The herring are not raw, but soused (cured in salt). But you won't care about that distinction while those slippery scales slide along your throat. Traditionally eaten with raw onions and only after June (the start of the season), it's worth a try… and it's better than the Swedish version, where they just let it rot instead.
Stamppot: Simple, heartwarming and excellent in the winter. Preparation is simple: mash some potatoes; add kale, spinach, endive or a winter green; then top it with smoked sausage (rookworst), a meatball (gehaktbal) or ham (ham). Cheese is optional. Definitely a favorite!
Erwtensoep: This thick split pea soup is another winter winner. Traditionally served with roggebrood (a semi-sweet rye bread) and cured bacon, it trades places with stamppot as the top choice once the weather turns cold. Making it in the summer is probably illegal – we've never dared.
FEBO: Part inside joke, part guilty pleasure, pure fried deliciousness. Where do you get the food at FEBO? From a hole in the wall! What's in it? Don't ask! Do the Dutch love or hate it? We honestly can't tell! Explaining FEBO would take more time than the weird cheeseburgers spend in their glass heating chambers (i.e. possibly months). Just avoid it. Or… don't. FEBO is a divisive topic among locals.
Restaurants – casual
Foodhallen: This modern food cart center features some of the most innovative food in town. It's relatively new and hosts a movie theater, art exhibition halls and events. Its location and diverse offerings make it a must-visit for foodies.
Singel 404: No-nonsense, easy, excellent sandwiches. Right in the center. Great for a quick refueling.
De Wasserette: A solid spot for lunch in De Pijp – stop in for a break while exploring the Albert Cuypmarkt.
Bakers and Roasters: The best breakfast place in town, with the wait time to prove it. Come super early if you want a chance at getting in without a wait – or just do like everyone else and put your name in, then stroll around De Pijp.
Cannibale Royale and Castell: Two great burger joints! Good burgers are common, but great burgers are tough to find. If you're a true fan, don't risk it – come to one of these spots.
G's Really Nice Place: It lives up to its name! This boozy brunch spot has a separate menu for bloody marys, and even offers a boat tour. Highly recommended for hangovers.
Restaurants – upscale
Harbour Club: With a few locations around town, this is one of the best places for fish. Its often-edgy interior is offset by high-class dishes and top-notch service.
Librije's Zusje: Really want to impress (or just love food)? The most famous Dutch chef operates this 2-Michelin-star restaurant in the Waldorf Astoria hotel. Global cuisine backed by local ingredients have earned this place its sparkling reputation – it may be the best restaurant in town.
Mossel en Gin: If you like mussels and gin… this place was made for you! Nestled near Westergasfabriek in Westerpark, it's a short stroll from the Advidi office.
Izakaya: Fancy Japanese-inspired cuisine in a trendy neighborhood. Great cocktails and a hip, yet calm atmosphere make it a great choice for meeting clients.
MOMO: Just around the corner from Leidseplein, MOMO balances delicious gourmet food with a "place to be seen" sort of vibe. Lots of fish and smaller plates.
Moon: Dinner with a view, anyone? Amsterdam's relatively flat skyline allows for stunning views across the entire city, and Moon is one of your best options to see it all. Pick a clear night and soak in the sunset over a glass of wine or "borrel" (snack).
Ron Gastrobar: Featuring a few locations around town (with various themes), Ron Gastrobar is the place to go for unique, interesting and delicious concepts. Upscale and a bit pricey, but worth the experience.
Vegan & vegetarian
Sla: This chain is telling of the health trend that has taken over the world lately. It's great stuff. Fresh salads with high-quality ingredients dominate the menu, and it's only slightly overpriced. Find them in various places around the city center.
De Bolhoed: Organic vegetarian with a full range of vegan options. Funky interior, right by the canals… great for a stop while walking through the Jordaan.
Meatless District: Pure vegan! It's funny, because many cities have a "meat district", but since they are vegan, they called it the "meatless" district. Clever! (The food is better than the name.)
Ninour: Open from 11am-6pm, this 100% vegetarian spot is packed with healthy, inspired food that tiptoes along the gastro trend borderline. Find it in De Pijp!
Unique places and must-see sights
There's too much to do.
We'll run you through some standouts, along with our personal favorites.
Again: you can't go wrong!
Museums: Amsterdam has more museums than we feel like counting – there's something for everyone. We suggest:
Bruin cafés: Found throughout the city, these cozy cafés are likely the best glimpse of Dutch life you'll encounter during your trip. The walls are adorned with relics of renowned revelers (both past and present). Each spot hosts its own set of returning locals – they're the key differentiator between these ubiquitous, seemingly standardized bars. There's no correct choice… just find one and pop in!
Walking through parks: The Dutch may not have much in the way of raw nature, but what they've built is pretty impressive. The parks are meticulously planned. Grab some food at the Albert Heijn (or other competing grocery store – but "AH" is the Dutch standard) and enjoy a picnic. Our favorites are Vondelpark, Rembrandtpark, Westerpark, Sarphatipark and Amsterdamse Bos (the "Amsterdam Forest" – complete with a petting zoo and rowing lanes), but all of them have their own charm.
Shopping in the Jordaan and Kalverstraat: Amsterdam is known for its great shopping – true to the Dutch love of good deals! Take a walk in the Jordaan and check out the "9 Straatjes", which feature boutique shops and traditional Dutch stores. The biggest shopping street is Kalverstraat, right through the center. Find the bigger brands there.
Begijnhof: This "hidden courtyard" is in the center of the city, yet completely obscured from street view. It used to be a nunnery, but now it's an oasis for a few lucky locals, along with a spot for tourists to take in during afternoon hours.
Swing at the roof of the Adam Tower: One of Amsterdam's newest attractions, the Adam Tower Lookout overlooks water between Centraal Station and the north side of town. Feeling brave? Swing off the edge of the building! Yeah!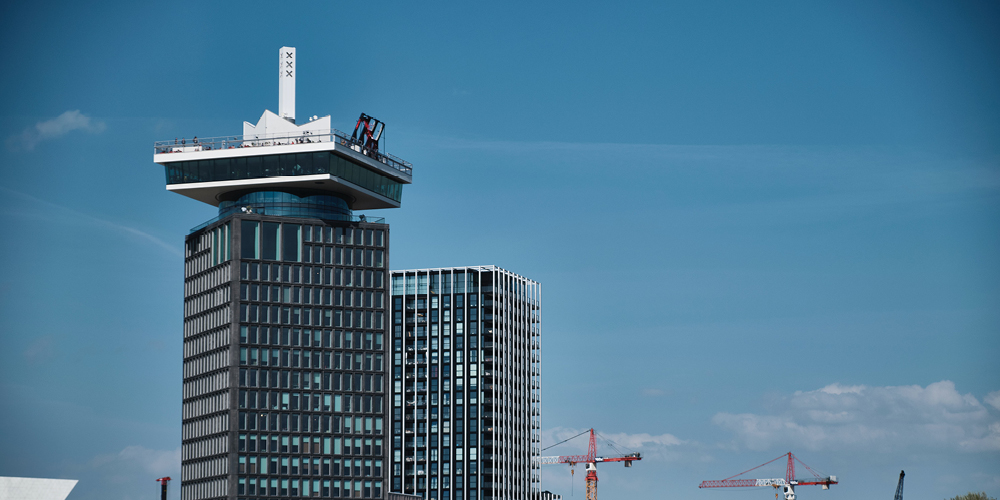 Wynand Fockink: This 17th-century liquor distillery focuses on jenever, the traditional Dutch spirit. The small "Proeflokaal" (tasting room) allows you to observe the distillation process while tasting the various gins and jenevers on offer. Great place for a quick shot of history.
NEMO: If you're traveling with kids (of any age), this is a must-see. It's a science museum for children, full of fun experiments and interactive exhibits. You can find it easily – it looks like a giant blue sandcrawler from Star Wars, sitting in the water near Centraal Station.
Sexmuseum Amsterdam: Located on a busy street in the center of the city, the Sex Museum seems small at first glance, but don't worry – it gets bigger once inside. It's more sophisticated than its Red Light counterparts, but if you're fascinated by the history of mankind's favorite pastime, this is the place to get context. Note that this is NOT the Erotic Museum, which is just a tourist-trap shop in disguise (like the "Cheese Museum"). In any case, it's very much aimed at tourists.
The Zoo (Artis): Catch 750+ species at Artis Royal Zoo – there are baby wolves, kangaroos and even a playful little elephant. One of the biggest urban zoos in the world.
Strandzuid (during summer months): When the Dutch built the Netherlands, they forgot something: a beach! The coastline is beautiful, but it's nothing like this "urban beach" – complete with sand, cocktails and lounge chairs.
Bijlmerbajes: This former jail has recently transformed into a bustling community center for refugees. They've created an escape room, coffee bar, regular events and soon even a hotel, all with the goal of helping each other integrate and collaborate. Check the activities page (in Dutch) for ways to join in.
Our favorite places
We love Amsterdam! You can find a sample of our favorite spots in Amsterdam on our recent blog post. Here's the gist:
Giovanni (Graphic Designer): De Waterkant for Surinamese food and drinks
Anetey (Market Analyst): Breakfast Club for delicious brunch in the center
Tania (Marketing Associate): The canals – done right
Pieter (Project Manager): The EYE Film Museum for movie history and a great view
Ben (Copywriter): OT301 for ping pong on Tuesday nights
Places to avoid
There are many tourist traps in Amsterdam.
We're not saying you can't have a good time at these places.
However, there are so many better options that they're considered a waste of time and money by locals.
Heineken Experience: There's Heineken everywhere (er, at least in theory). You can pay extra for it here if you like. Or, you can skip it and visit a local cafe instead. (Feeling especially spirited? Check out Wynand Fockink to get the Dutch distillery experience – no entry fee.)
Ice Bar: This is one of those places that seems like it's a huge attraction when you arrive, then years go by and you realize you totally forgot it exists. Nobody talks about it, nobody goes there, it's just weird.
Anne Frank House: This addition to the list may surprise you most, so let us explain. If this is an important place for you, it's worth the visit – but if your museum time is limited, you may want to skip this one. Although some call the experience "haunting" and "touching", it's often because of the nightmarish lines and the cramped space. The experience certainly isn't bad, but it's underwhelming considering the queue and costs.
The Banana Bar: This covers most sex shows in the Red Light District: they can be fun, but lean more toward the routine and uncomfortable than the sensual and erotic. The actors are, well, actors – this is their job, and it shows in the performances. Worth a laugh, but not the ticket price.
Leidseplein: This is the go-to party place for most tourists, and there are some nice spots (e.g. Chicago Social on certain party nights and The Waterhole for local music). However, it's also where you'll find "10 shots for €10" and urinating partiers rambling recklessly between tram tracks.
The Flower Market (Bloemenmarkt): The flower market between Leidsestraat and Rembrandtplein is built for tourists. For a real flower market experience, check out one of the many other open markets throughout the city. They usually have a few stands for flowers mixed among the other goods on offer.
The Bulldog Coffeeshop/Hotels: This chain of dumpy weed joints would rather sell you a shirt than a good time. The overpriced shop feels like a parody of itself, with low-quality chronic and a crappy customer experience. Check out any other shop or hotel instead.
Nightlife
The nightlife in Amsterdam is alive and beeping.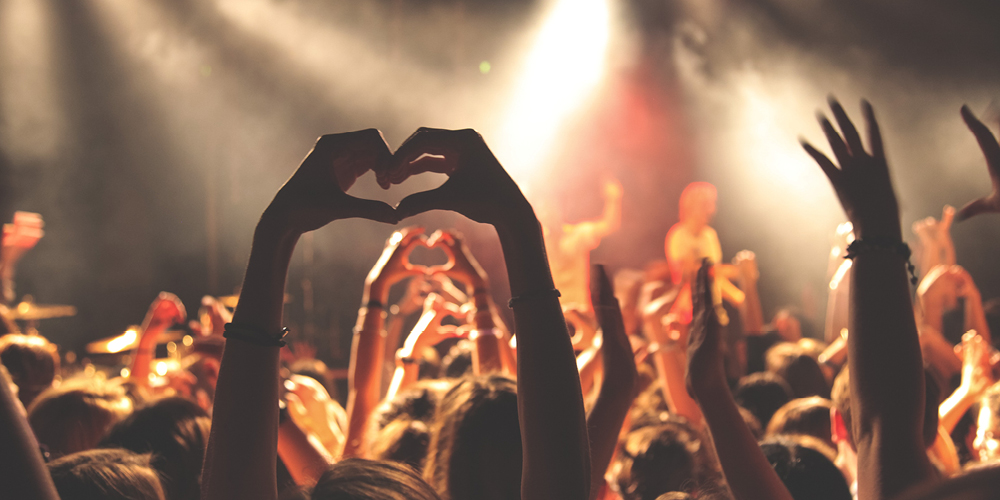 Though Amsterdam isn't quite the 24-hour party city that Berlin is, long nights of entertainment can be enjoyed any night of the week. The vibe is fun and laid back, driven by Dutch practicality – dressing comfortably often takes precedence over fashion. Electronic music is dominant, but there's enough diversity to satisfy anyone's tastes.
Note: If you're handy with Google Translate, Bart's Boekje is perfect for staying up to date with the latest happenings in town.
Ordering beer at a bar
"I wish they had bigger glasses for beer in bars! Why are they so small?!"
Kings of Advidi winner
Ordering beer is simple, right? Well, it is… but some customs here may be a tad different than you expect. The standard beer size is smaller than you expect, and pints are uncommon (and usually overpriced).
Study this pint primer first:
Fluitje: The smallest size. Means "whistle" – probably because that's the sarcastic sound you'll make when you realize it's little more than 2 sips.
Vaasje: Slightly larger – means "vase".
Pul / Groot / Pint: A pint. Not commonly used – mostly at bars serving tourists.
Got it all? Okay, now forget it! It's going to be different at every bar – some places will have all the options, while others won't let you choose. You should just order a regular beer (remember, everyone speaks English), or you can get fancy and call it a "biertje" (which means "little beer", though it's usually a standard size).
When you order a "normal beer" (biertje), you'll get a pilsner from one of the major brands (usually Heineken, Grolsch, Amstel, Hertog Jan, or Jupiler). There are also many excellent Belgian beers, including La Chouffe, Duvel, Affligem, Delirium Tremens, Kasteel… the list goes on.
Some of us in the Advidi office do not consider La Chouffe a beer; it is instead a godly nectar, more akin to pure honey or angel urine, complete with consequences of mythical proportions (it's got a wine-level ABV).
Cocktails
Compared to pretty much the entire rest of the world, cocktails are not popular in the Netherlands. If anything, bars tend to specialize in innovative gin and tonic preparations. Unless you're at an actual cocktail bar, trying to order anything beyond a shot or a cocktail on a list is risky… prepare for a cockfail.
Cool fact! The Dutch created jenever ("juniper"), an early precursor to gin that remains commonplace. Every bar has it, despite it being a relatively unpopular order. Try it! You'll see why.
Bars
Vesper and Bukowski: These are two different places, but deserve to be mentioned in the same breath. They each act as a hopeful refuge for lost cocktail aficionados, standing stalwart on opposite edges of the city. Vesper has a James Bond theme (obviously), while Bukowski has a… yup, a dead poet theme. Both are hip, fresh and lively on weekend nights; Bukowski is bigger.
Tales & Spirits: Similar in style to Vesper and Bukowski, Tales & Spirits is a bit more "hip" and slightly less focused on the craft, favoring a more social environment.
Roest: Right on the edge of the water, complete with a playground and nearby exhibition hall, Roest is one of the most popular places in the summer.
Hanneke's Boom: Despite often being overcrowded due to its long-standing popularity, this is a great place to see and be seen after work.
Café De Ceuvel: A lovely haven in the north. They will serve you on your boat, but we suggest popping onshore to explore the bohemian spot and nearby open community.
Brouwerij 't IJ: Once a pioneer in Amsterdam's budding beer scene, this place has become quite popular. It's known as "the windmill brewery" thanks to the classic windmill it sits beneath. Go for craft beers in a bustling environment.
Nightclubs
De School: The hottest club in town lately. Check the schedule to see what's up when you're around. They also have a gym, an art exhibition hall and more.
Claire: According to their website, translated to English, Claire is "Your best friend, affair, arch rival and the luminous piece in town." Regardless of what that means, it's a cool spot in the happenin' Rembrandtplein area.
Radion: "RADION, A SCALAR FIELD IN QUANTUM FIELD THEORY IN SPACETIME WITH ADDITIONAL DIMENSIONS." There must be one person behind the websites of all the clubs in town. Radion encourages the experimental and open-minded to find solace together. Check the schedule.
Kopstootbar: Named after the combination of a beer and a shot of jenever, it's a nice blend of bar and club in the Leidseplein area.
De Marktkantine: Another awesome spot that's taken the club scene by storm. It's close to the Advidi office and goes late into the night. Used to be a cantine for market workers, but has been converted into a one-space-fits-all-vibes club. Check the schedule.
San Francisco: In the center, right by the red lights, you'll find an odd club called San Francisco. It's old-school, with a 70s feel to the dance floor and a casual crowd.
Casablanca: Looking for some real karaoke?! It's here – in the very worst way. The later you go, the better the singing gets. It's open 'til 4am on weekends.
Lux: A solid go-to spot for weekday partying. It's open until 3am from Sunday to Thursday, and until 4am on the weekends.
Coffeeshops (cannabis shops)
Well, we've never been to one, but we hear these are the most important things to know:
If the sign says "coffeeshop", it sells cannabis; cafés are where you get coffee.
Contrary to common belief, the Dutch are not big smokers themselves. They're used to it being around, but the attitude leans toward tolerance rather than enthusiasm. Don't expect a stoner haven with people ripping fatties on every corner.
There were rumors of restricting purchases to locals, but it failed. Some border towns require a Dutch ID to prevent cannabis tourism from nearby countries. Funny enough, it's actually 100% legal to use cannabis, but not technically legal to possess it – so it's only legal if it's currently on fire, we think? Better light up when you see cops coming… just to be safe.
Most of the shops in the center are built for tourists. Expect higher prices, crowded spaces and blasé staff. To get a better vibe, venture outside the center.
You can't drink alcohol in a coffeeshop. Some places have separate areas to get around this, such as Kashmir.
Smoking marijuana on the streets is not allowed, and it's impolite. Find a sketchy back alley like you do back home, or find a secluded area in a park.
Dutch herb is strong, yo. Ask the "budtender" what they recommend based on your experience level. Space cakes can last for hours, so plan ahead!
There's a traditional way to consume hash or cannabis: in a large cone-shaped joint, mixed with tobacco. Pipes, bongs and other methods are rare.
If weed's your bag, surely you've done some independent research (and it's likely led you to Boerejongens). Coffeeshops aren't allowed to advertise, but comprehensive maps be found pretty easily online. Stay safe and enjoy!
Red Light District (De Wallen)
What can we say that you don't already know? This is where the prostitutes are – offering some of the best window shopping in the city. It's a lively, bustling area that features as many families during the day as it does horny drunks during the night.
It's generally a very safe area with lots of police patrols. Look out for drug dealers – they aren't dangerous, but don't get caught up in conversation.
Yes, people go in all the time. Prices average around €50-€100 for a session (or so we've heard).
The blue/purple lights mean you can expect a little something extra. There are a couple streets where transgendered workers display (some of) their wares, including the "Bloedstraat" – named after the blood that ran along it after executions at the nearby Nieuwmarkt weighing station.
The history behind the area is rich and full of seamen (hehe). For hundreds of years, sailors came to take a load off – resulting in its proximity to the city center, and also some of the dangers that used to lurk along the Zeedijk.
If you're feeling frisky, go for it; the women are tested and practice safe sex. They get benefits and are treated as normal employees. Beware that some women are indeed there as a result of trafficking, so you may be supporting a shady industry. It's mostly regulated and run by girls who truly want to be there, but it's not always the case.
The bars are overpriced and the sex shows are hit-or-miss. It's not the best place to party.
We suggest a walk-through, or better yet, a boat ride. You can get a revealing tour from the two oldest sex workers in the city – an enthusiastic pair of sisters (aptly named "Fokkens") in their 70s who still take clients.
Smart Shops & Drugs
Smart Shops: These are havens for heady hippies. Find your bongs, pipes, crack purity test kits and dick pills here. No true marijuana products can be sold here, so don't be fooled by that "Mary Jane Energy Drink" or "Cannabis Cookie". Most of it is scammy, tourist-focused garbage wrapped in a rainbow package. But stop in one for the experience, at least.
Magic Mushrooms: After a tourist death, the "real deal" has been banned and is much more difficult to find. However, you can find truffles (which contain the same active ingredient as the traditional magic mushrooms) at most smart shops. Be careful! Amsterdam is already a trippy place with its winding canals and neon lights. Find a safe place and plan ahead if you're going to indulge.
Hard Drugs: As mentioned, hard drugs are illegal in the Netherlands. You can find testing kits at many smart shops, so if you do let your wild side out, be sure to play safe. A few years ago, white heroin circulated as cocaine, resulting in deaths. Stick to the legal stuff!
More information
If you're looking for answers to your burning questions, the Amsterdam subreddit community is quite strong. Just be sure to read their extensive wiki before posting.
In addition, the tourism department in Amsterdam is excellent. You can find answers to most of your questions on the I amsterdam website.
And, naturally, your affiliate manager at Advidi can help you out! We're in tune with the city, constantly checking out the latest sights and events. If you're coming to town, be sure to let us know!
Visit the Advidi office
We love meeting our partners from around the globe!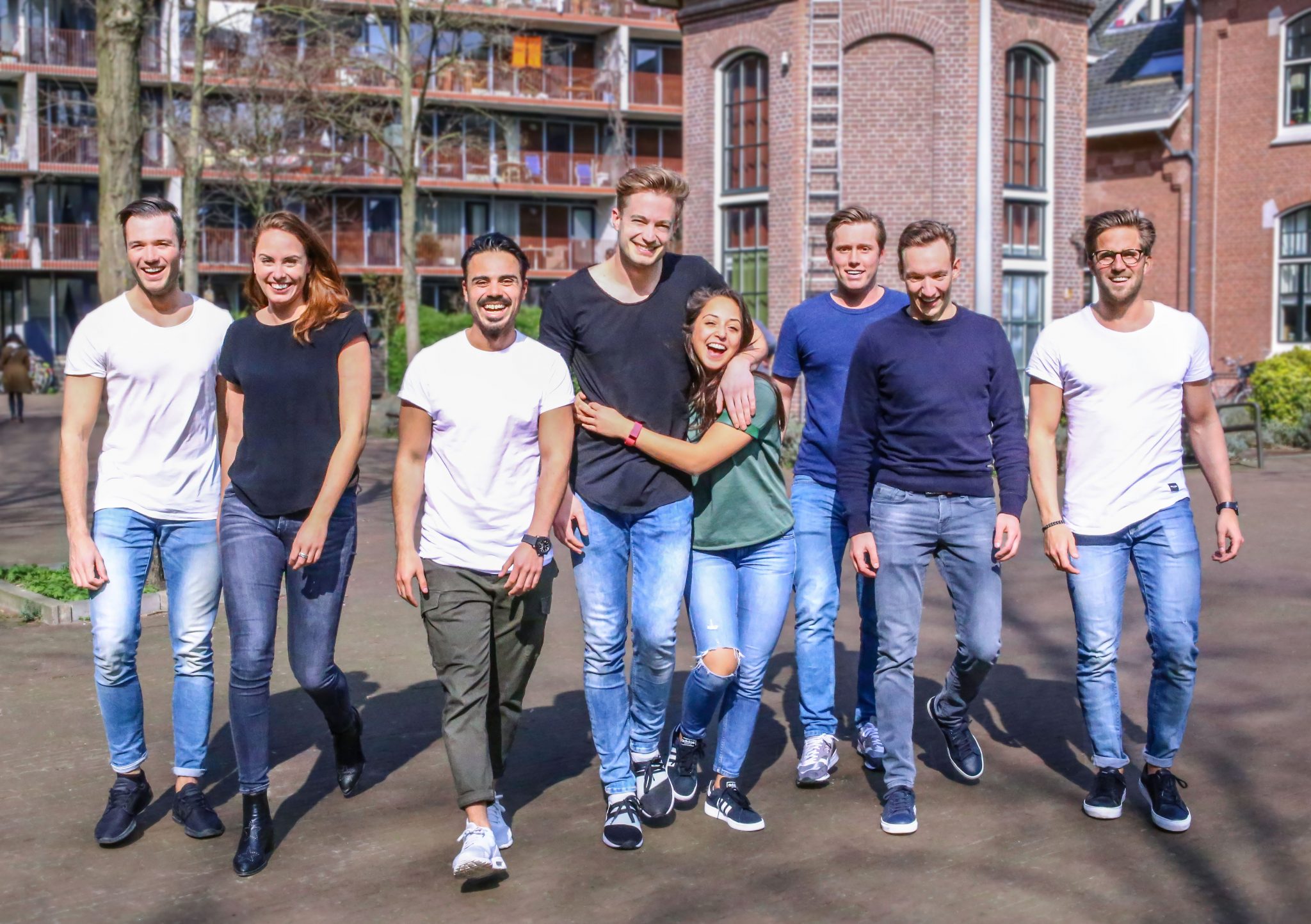 Ready for your trip?! There's just one last thing to consider!
We are always excited to meet our partners, and our centrally located office is set up to welcome you.In addition, you are always welcome to use our office as a workspace. Simply reach out to your Advidi contact and let them know when you're coming.
About Advidi
Advidi is an affiliate marketing network based in the heart of Amsterdam. We believe in putting people before profits, always selecting long-term, stable relationships in our business. This mentality carries over into our daily lives at the office – when it comes to working environments and treating our partners with respect, we're among the best of the best.
Discover your new career
Learn about our unique company
We work on a global scale, reflecting our internationally minded home in our day-to-day work. With offers across four verticals – Dating, Health & Beauty, Mainstream and iGaming – in more than 140 countries, we are the ideal partner for affiliates and advertisers who value trust, stability, opportunity and, of course, profitability.
In conclusion…
We hope this guide helps you get the most out of this amazing city that we call home! If you have any questions at all, just reach out to us.
We can be found on social media: Facebook | Twitter | Instagram | LinkedIn
We look forward to seeing you at the office  – or wandering lost through the canals…
Oh, and one last word:
Get out of the bike lane!!!