This February, Affiliate Summit will return to Europe for the first time in 11 years.
Taking place at InterContinental London – The O2, Affiliate Summit Europe 2018 (#ASEuro18) will build on the momentum set by Affiliate Summit West earlier this year – gathering the top minds in the industry to network, share knowledge and take our industry another step forward.
But wait, there's more!
To sweeten the deal for anyone making the trek to London, the organizers have coordinated a two-for-one: ASEuro18 will be held in conjunction with iGB's London Affiliate Conference (one of the biggest iGaming-focused events in Europe) at the nearby ExCeL.
If you're set on staying atop the affiliate industry, this twofer is a no-brainer.
In this guide, we'll break down:
By the end, you should have everything you need to enjoy a smooth, valuable trip to these landmark events. Without further ado…
The Conferences
Remember, there are two conferences taking place:
Your pass to ASEuro gives you free access to the LAC. You can also register directly for the LAC.
There are various pass types for each conference depending on your role in the industry, but note that affiliates attend both events for free!
Affiliate Summit Europe (ASEuro)
Affiliate Summit Europe will feature all the major draws of an Affiliate Summit-caliber event: a full meet market, outstanding speakers and unparalleled networking opportunities. The organizers of Affiliate Summit put extra focus into ensuring all attendees accomplish their goals at the event. Thus, you'll find a broad variety of networking events, first-timer assistance, diverse speakers and one of the industry's largest meet markets.
It's going to be one of the most important affiliate events of the year – and with free affiliate passes, there's no excuse to miss it!
When: 6-7 February
Where: Intercontinental London – O2 (London)
Who: All verticals are present, but there's special focus on Health & Beauty and Dating (affiliates and advertisers)
The schedule
ASEuro packs all the action into two days, so we suggest arriving a day or two beforehand to get ready.
You can find the full schedule on the website, but in short, it looks like this:
Tuesday: Registration; Content, Workshops & Roundtables; Networking Drinks; Party
Wednesday: Registration; Content, Workshops & Roundtables; Meet Market; Pub Crawl
As with all Affiliate Summit conferences, you can expect a star-studded lineup of performance marketing experts from across the board. More than 35 speakers have been announced already, including representatives from top companies like:
Uber
AirBnB
Adidas
CJ Affiliate
Deliveroo
Lenovo
In addition, there are a number of speakers working in refined niches, with exciting specifics to share about their experience. As such, expect the content to focus on high-level concepts and upcoming trends, along with detailed breakdowns of trends and tactics.
London Affiliate Conference (LAC)
London Affiliate Conference is run by iGB Affiliate and will also feature the iGB Affiliate Awards. This year is special, as it coincides with Affiliate Summit Europe. LAC takes place at ExCel, while ASEuro is nearby at InterContinental London – The O2. The focus of LAC will be exclusively on iGaming, though some themes overlap with the Mainstream vertical.
If you've ever considered running iGaming, we suggest stopping by LAC. iGaming conferences are notorious for over-the-top displays; it should be a great show.
When: 7-10 February
Where: ExCeL (London)
Who: iGaming + Mainstream operators and affiliates (More than 3000 in attendance)
The schedule
Find the full schedule on the iGB website; here's the gist:
Wednesday: Registration; Welcome Drinks; Official Opening Party.
Thursday: Welcome; Speeches and Round Tables; Networking Party by UPayCard. Speeches focus on SEO, mobile-first thinking, affiliate-operator relations.
Friday: Speeches and Round Tables; Official Networking Party. Topics focus on content, crypto, LatAm and security.
Saturday: Unwind Session by Intertops
Networking Tips & More
The distance between the two conferences is about a 15-minute taxi ride or trip on the Underground.
The events don't overlap directly; LAC really kicks off on Thursday, after ASEuro has concluded.
Each event has a networking app to help you meet with others and find services you're interested in. The links to these have not been released publicly, but check your email once you register. You'll get details on how to download each app.

The City
Also known as "The Big Smoke" (after a series of fires and fog in the '50s) or just "The City" (in reference to its world-leading financial district), London is among the largest and most spread-out cities in the world.
This means two things:
There are a lot of things to see and do
Getting to those things can be a real pain in the arse
Let's make things easy by focusing on the best London has to offer. The next section will be split into sections for various types of visitors:
It's my first time in London

I'm focused on the conference

I'd like to explore London

City Map
This custom map for ASEuro & LAC will help you navigate – it includes the conferences, key places and our recommendations: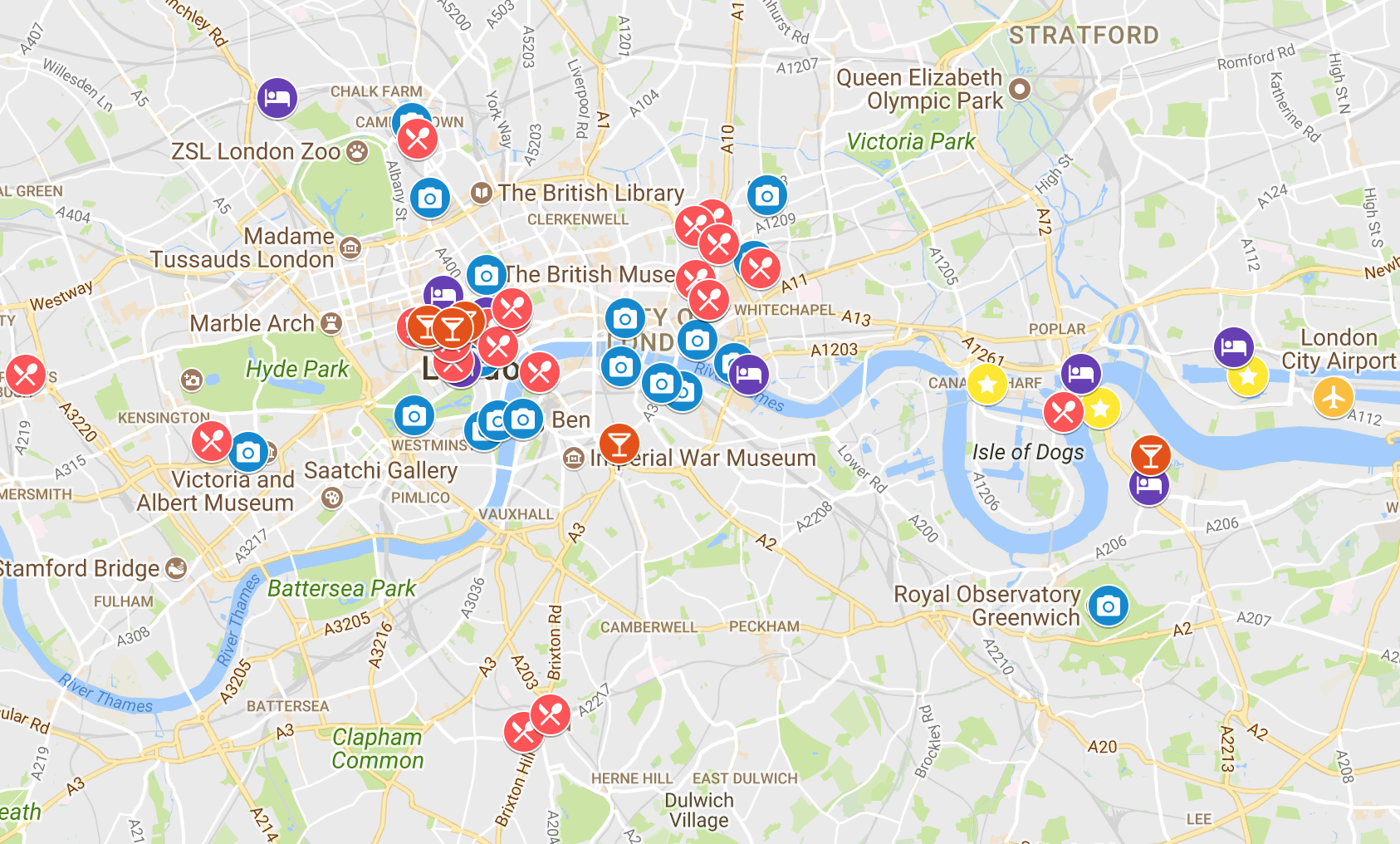 Note: The city of London is split into six zones, which give you a basic indicator of distance and correspond to public transportation costs. The conferences are in Zone 2 and Zone 3, meaning they're a bit outside the "Inner London" area, but still easily reached.
Top tips for first-timers
While it may not be as exotic as Bangkok or Vegas (to most), you'll still want to prepare a bit for London's size and way of doing things. Avoid hassles by covering these essentials.
Main attractions
You've seen 'em in the movies…
Big Ben
The London Eye
Buckingham Palace
Tower of London
Westminster Abbey
Natural History Museum
St Paul's Cathedral
These are all pretty cool spots, and we don't have anything bad to say about them. However, you can find plenty of detailed info on them elsewhere. If you're interested in seeing the typical tourist sights, we suggestion getting tourism suggestions from an in-depth resource like Lonely Planet.
Visas and passports
Most travelers gain an automatic 6-month visa upon entering. All you need is your passport – but make sure it isn't set to expire within 6 months of your arrival, even if you plan on leaving before it expires. This is good practice for travelers anyway, but UK officials are known for being strict, so get your ducks in a row before heading to Heathrow.
The weather
Hope you're ready to chill! February gets in the UK, especially London. Average temperatures range around 5-6° C (40-45° F) at the time the event takes place. You should also count on rain.
Don't forget your winter coat and umbrella!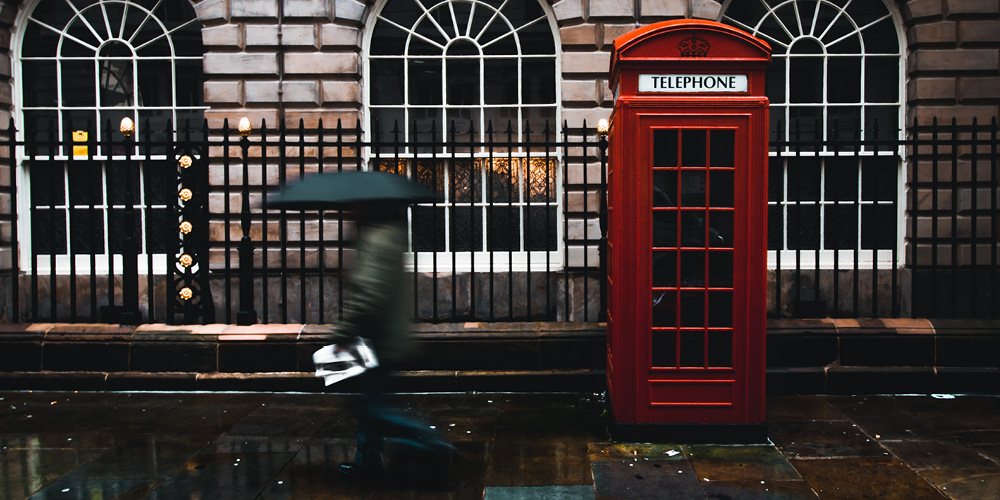 WiFi, computers and SIM cards
Both events will have strong WiFi. You can grab a prepaid SIM card if you're coming from outside the EU. (Remember that there are no longer roaming charges in Europe, including the UK.)
A few more tips on staying connected:
The Affiliate Summit Europe WiFi password is: ASW18WIFI
Free WiFi can be found in many places around the city; major chains like Starbucks are a good bet.
The power plugs are unique – find out if you need an adapter here.
Don't forget the spare battery for your laptop!
Need replacement parts or computer repairs? Check Tottenham Court Road (W1) for many options.
British customs
Pip pip! Cheerio! Nah, they don't really say that stuff. In fact, there's no real consensus on what British culture is; after hundreds of years and many beheaded kings and queens, it remains a mystery to many. Here's what we could uncover…
Tipping
Tipping is commonplace, but not at American levels. You should take a typical "friendly European" perspective – round up on smaller tabs, add 10% or so to larger meals and perhaps drop a couple quid for your bartender if you've been a nuisance long enough… though it's truly expected that you don't tip in pubs.
Afternoon Tea
Afternoon tea is a long-standing tradition with rich history. There are tons of afternoon tea places around London, and we highly recommend it.
The experience consists of tea (okay, you can probably have coffee instead… but c'mon man) and pastries or other snacks – sometimes even becoming a full meal. It's often done on Sundays, but can be enjoyed any time throughout the week. Many places specialize in afternoon tea, and you can expect a similar experience at each one. Consider it as a switch-up from your typical afternoon cup of joe.
London Pubs
This is where the fun is at… and at 6pm on a weekday, it's where you can find almost everyone in London. Whether it's a cozy local spot with outrageous regulars or a destination in the center of Soho, London pubs are notorious for their raucous atmosphere, heavy focus on pints of beer and general lively, "forget the workday" camaraderie.
Our suggestion is to find the one nearest your hotel and just show up without hesitation (or an invitation).
Transportation to and within London
London is big. One of the districts is large (and powerful) enough to earn the nickname "The City" – and it's just one part. Getting around quickly is an art to locals… and an exercise in frustration for tourists.
This section is focused on getting you to the city with minimal hassle, then making navigation within a delight (rather than a dilemma).
Flights
With London being a major international hub, you'll find plenty of options for arrival. The six airports serving London do complicate things a bit, though:
Heathrow (LHR)
Gatwick (LGW)
Stansted (STN)
London City (LCY)
Luton (LTN)
Southend (SEN)
The closest airport to the conferences is London City. If you are able to land there, go for it – it's a 15-minute cab ride away from the conferences.
Be sure to check the airport options when arriving, noting the distance to your end destination. Beyond London City, the airports are all relatively far, so don't go out of your way to cut down travel time from the airport unless it's similarly priced – you should always plan on extra travel time to and from the airport when visiting London.
If you're combining your trip with other destinations in Europe, you may also consider taking the train or boat from France, Belgium or The Netherlands.
Arrival from the airport(s)
Your ideal arrival path depends on the airport you've come in from. Only London City is within the city itself, so you should budget at least an hour (if not two) for your arrival.
In any case, you have a few choices – here are the pros and cons of each:
The train / underground: This is the preferred option for most airports. It's more expensive than the bus, but it can be faster and with lower wait times.
National Express busses: These are generally cheaper and usually have space for your luggage, but be warned that they're subject to London traffic. The commute may be smoother, but longer.
Taxi service: This will be quite expensive and still takes about an hour. Unless you have a lot of luggage, it's wisest to take the public options.
Getting around London
Walking
London is a great city for walking, especially combined with a bit of train travel. The city is packed with sights and unique vibes in each neighborhood, and walking is the best way to get a feel for Londoner life.
If you have some time to spare between meetings, consider walking to your next destination!
Uber / Taxis
Uber has a notoriously shaky relationship with the city of London, but it's still operating. There are also alternatives, such as MyTaxi and Kabbee, but Uber is still king.
If you'd like a traditional taxi, look for the black cabs. They're the ones you can waive down and hop in. Prices will be higher than Uber, but not exorbitantly so.
Public Transport
This is the most popular method of transportation for locals, and for good reason. The city is well-connected by its Underground rail system (called "The Tube"), which reaches far into the outskirts of the city. Rarely can you go more than a few streets before hitting an Underground station or a bus stop. Though prices are moderately high compared to other cities, it's still the best choice to get around London.
We suggest grabbing an Oyster card to get around (though day cards are also an option). After adding money to the Oyster card (plus a small fee for the card itself) and freely use most public transport in the city. Bonus: At the end of your trip, you can get the remaining balance + deposit back!
The nearest station to InterContinental London (ASEuro) is North Greenwich Station, and the nearest station to ExCeL (LAC) is Prince Regent.
You can find maps of the transport systems from TFA to plan your trips ahead.
Those double-decker busses you see in the movies
This should be in the public transport section, because they're really just normal busses, but we wanted to highlight the fact that those double-decker busses are REAL, and you can definitely use one to get around. There are also "Hop On, Hop Off" busses for tourists which take on the same style and can be used for similar purposes.
The bus brings another advantage – you'll move slower through the city, but you'll see much more than you would in the underground.

Near the conferences
Because the locations are a bit off the beaten path, you may want to limit travel time by sticking to the area. Here are our top picks to keep your visit convenient.
Hotels
Our custom map includes a number of suggestions throughout the city, but these hotels are in close proximity of ASEuro and LAC:
The Intercontinental Hotel (official ASEuro hotel): Affiliate Summit has reserved a block of rooms for a set price when you book using this link.
The Tower Hotel (official LAC hotel): iGB has reserved a block here. Contact their partner at Zibrant (Sarah@Zibrant.com) to book at a discounted rate.
Holiday Inn Express London – Greenwich: A cheaper option, this location is a few minutes' walk from the O2.
Radisson Blu Edwardian New Providence Wharf: More upscale, just across the water.
ibis Styles London ExCeL: Just across from LAC.
Note that AirBnB is also available in London. Try booking now if you hope for a spot near the venues. Average prices are $115 (~£85) per night.
Meeting places
Both events are in the same neighborhood, which is a bit outside the center of the city. Here are some spots to plan an event with minimal travel time:
The Pilot Greenwich (68 River Way) is a 5-minute walk from O2. It features live music, so may be not be ideal for quiet meetings; great for a pint after the event, though!
The Gun (27 Coldharbour) is just across the river and features some of the best pub food in all of London. It also has a breathtaking view of The O2.
Canary Wharf is a bustling neighborhood with shops, restaurants, pubs and more. A great destination with enough attractions to fill an afternoon or evening.
There are also a few restaurants located within The O2 nearby. These may be popular because of the conference, so we suggest booking ahead or trying a more interesting spot nearby.
Greater London – Hotels, Restaurants and Destinations
If you want to discover all that London has to offer, you'll need to go beyond the area where the conferences are being held.
As we said before, you can find most of the major tourist traps on big-name travel guides. This section is for those of you who have been there, done that… or for those who prefer to explore the secret side of new cities.
Hotels
Although these hotels are not near the events, basing your stay in another area will encourage you to explore while commuting to the area. Here are a few top choices from frequent visitors:
The London Edition (10 Berners St, Fitzrovia): Upscale, beautifully designed hotel just off Oxford street. Features dining, drinking and entertainment as well.
The Sofitel St. James (6 Waterloo Pl, St. James's): Walking distance from Piccadilly Circus and SOHO.
London Marriott Hotel Regents Park (128 King Henry's Rd): Good prices in a nice location – nearby Camden Town, Regents Park and the London Zoo.
Radisson Blu Edwardian (20 Mercer St): Upscale spot with chic decor and a great location in SOHO.
Food
Without a doubt, London is a food city. The local cuisine may be rather basic, but the city's prestige has brought a number of high-class restaurants… while its diversity provides a full platter of various ethnic foods and hidden haunts.
Here are the spots worth trekking to (or stopping by) – according to us:
Jago Restaurant (68-80 Hanbury St): Middle Eastern with a European twist.
Tramshed London (32 Rivington St): Some of the best steak and chicken you'll ever have.
Barrafina (43 Drury Ln): Michelin-starred restaurant with an open kitchen and elaborate dishes.
Dishoom (12 Upper St. Martin's Lane): Popular series of restaurants that don't take reservations, creating a lively hip atmosphere.
The Blues Kitchen (venues in Shoreditch, Camden & Brixton): American-style comfort food, upbeat bar with live performances. Open late.
Wahaca (various locations): Inexpensive, delicious Mexican street food with shared plates.
Shoryu (various locations): Excellent Japanese ramen, cheap prices.
Dinerama (Shoreditch): Awesome food market with various options at hipster stalls. You pay a small entry fee but it's worth it. Also has drinks.
Duck & Waffle (Liverpool Street): At 40 floors up, Duck & Waffle offers a fantastic view of the city and serves high-class food 24/7.
Nightlife & Entertainment
London is renowned for its broad entertainment scene, which encompasses everything from the vibrant pulse of Soho nightlife to the chill back streets of Camden Town.
Ready for some fun? Slide your finger down the list and pick one out. They all come recommended by locals who've been there, done that:
Clubs & Cocktails
Ronnie Scott's (Soho): Jazz club where Jimi Hendrix and Amy Winehouse have performed. They also do food.
Ministry of Sound (Elephant & Castle) – legendary electronic music club that hosts different genres depending on the night.
Soho House (Soho): Exclusive high-class dining and drinks. Members only… you must have your application approved in advance!
Cahoots (Soho): 1940s-themed cocktail bar in Soho with live performances.
Cirque le Soir (Soho): Club with a circus-like setting and people in costume; think bathtubs filled with colored balls and popcorn machines. Mainstream music.
The Box Soho: If you want in, you may have to know someone or get very lucky. This crazy-exclusive burlesque-like club features shocking avant-garde performances and becomes a dance club afterward.
Things to do
British Museum: This one deserves another mention, even though it's on most major travel guides. Information and entertainment meet at this fascinating, world-famous museum.
Tate Museum & Tate Modern: These museums bring the best in British and modern art, respectively. If you're passionate about art, there's no better place to go. Free entry and rotating exhibits.
Hampstead area: Great place to walk and get a sense of the city. Cute narrow winding roads, independent cafes, unique shops/boutiques.
Columbia Road Flower Market: World-famous for its flowers – second only to the Dutch 🙂
Borough Market: Upscale food market, wine bars with tastings, artisanal products.
Brick Lane Market and the Old Truman Brewery: Casual market with lots of independent jewelers, clothes, unique gifts and solid souvenirs. Also a lot of food, pastries, etc. Brick Lane is famous for its Indian restaurants.
Camden Town – huge market with loads of food, vintage clothes, etc. The KERB food market within is a very good hipster-esque section with innovative food stalls.
You can find many more suggestions on our interactive map.
Summary
For a city celebrating its 2,025th birthday, London has managed to stay impressively hip while cementing itself as a financial powerhouse – earning its status as one of the world's most important and diverse metropolitan areas.
This duality means your experience is in your control. Whether you're just looking for a quick conference-focused visit or want to explore everything on offer, you should now have the jumping-off points to create the ideal trip.
With just a month left, the task now turns to you – what will you do to make this the best trip of the year? You have the resource. Now turn it into action!
Meet Advidi there
The Advidi globetrotting team is at it again! We'll be on the ground at both ASEuro and LAC. If you'll be there as well, we'd love to talk to you about why we stand out in our primary verticals:
Health & Beauty
Dating
Mainstream
iGaming
Book a meeting in advance or contact one of the traveling team:
We look forward to seeing you there! Ta ta 'till teatime!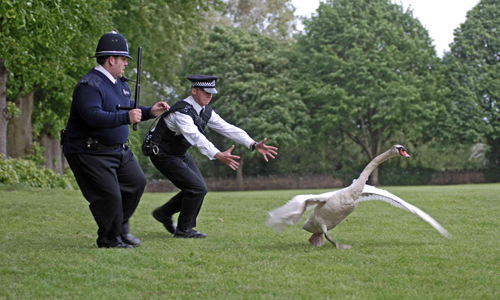 Meet Advidi in London!